Photo by Todd Owyoung
Rhett Miller returns to St. Louis with Salim Nourallah tonight at Off Broadway. Check out the full slideshow of Miller's band the Old 97's back in 2012.
This week is heavy with singer-songwriters and Americana which, to be fair, is sort of St. Louis' forte. Not-quite-radio-country acts like Rhett Miller and Sturgill Simpson kick off a great seven-day stretch that peaks this weekend with Jim Lauderdale and Leo Kottke. Foam hopes to replace its recently stolen sound system with a benefit show this Friday featuring a local lineup of eight bands ranging from acoustic folk to ambient and indie rock. If nothing else, Riff Raff is returning to the Ready Room, and you probably need that train wreck of trap beats and neon hip-hop in your life. After all, his PR team provided a local-centric flyer for this Sunday's show.
MONDAY, FEBRUARY 2
Rhett Miller w/ Salim Nourallah Monday, February 2 Off Broadway 8 p.m. | $15 By Roy Kasten Rhett Miller loves St. Louis, and with good reason. Cicero's Basement Bar sustained the fledgling Old 97's on pizza and packed crowds long before the band broke, and he has almost always routs through the River City when he hits the road, solo or with the 97's -- which is often. And this city loves him right back -- from his raspy croon to his pinwheel strumming (think Pete Townsend at Mach 10), from that rakish wail to those forever-fucked-up-in-love lyrics. Miller repays that affection by more than holding his own with just an acoustic guitar and those Lloyd's of London-insured locks. Opener Salim Nourallah grew up in Texas, but was born in Alton, Illinois. He has served as producer to both the Old 97's and Rhett solo, but his own music is much more than an alt-country footnote.
TUESDAY, FEBRUARY 3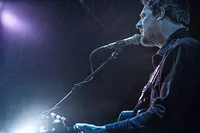 Courtesy of High Top Mountain Records
Sturgill Simpson Tuesday, February 3 Old Rock House 8 p.m. | $18/$20 By Roy Kasten Kentucky-born, Nashville-based songwriter Sturgill Simpson takes a perverse pleasure in being "too country" for country radio. Hell, he's too country for Americana radio, but that hasn't stopped the self-proclaimed King Turd of Shit Mountain from making the latter take notice and the former quiver in boots that wouldn't know shit from swing, Swift from soul. On his 2013 album High Top Mountain, Simpson proves he has soul and his own brand of swing with an outlaw slur and coal-country storytelling swagger -- part Waylon Jennings, part renegade bluegrass and all hardcore, no-bullshit country.
WEDNESDAY, FEBRUARY 4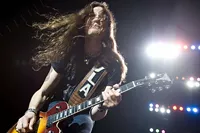 Tesla Wednesday, February 4 The Pageant 8 p.m. | $25-$35 By Ryan Wasoba From the RFT Music archives: The police reports say suicide and conspiracy theorists suspect Courtney Love, but has anybody thought to check Kurt Cobain's shotgun for the fingerprints of a member of Tesla? The motive is there: Nevermind is credited as the nail in the pop-metal movement coffin. But it's hard to imagine a band that was hit harder by the post-Nirvana fallout than Tesla. The hard rockers spent ten years avoiding glam-rock generalizations with jeans and T-shirts and a no-synthesizers policy, only to be dwarfed by Pearl Jams and Soundgardens with a similar (but more raw) aesthetic. (And somehow the band's 1994 album Bust A Nut was unable to rekindle the flame.) While its hair-metal contemporaries will always be canonized for their decadence, Tesla's legacy lies solely in its time-tested, blues-infused tunes. Hindsight has proven that the monster ballad "Love Song" has more staying power than David Lee Roth's aerial splits or Bret Michaels' hairline.
THURSDAY, FEBRUARY 5
That 1 Guy w/ DJ Feels Goodman Thursday, February 5 Old Rock House 8 p.m. | $13/$15 By Kristyn Pomranz From the RFT Music archives: Music critics are quick to compare That 1 Guy (né Mike Silverman) to Dr. Seuss, just because he plays a self-constructed instrument called the Magic Pipe that resembles a luleelurah. However, Theodor Geisel was no musician, and That 1 Guy is nothing short of a real life Ziggy Stardust sent to mock the mainstream. The musical savant's Magic Pipe is an instrumental coup of galvanized steel pipes, bass strings, processors, filters, plugs, wires, duct tape and probably some pieces of the ENIAC. He uses said contraption to magnetize minds with the alt-sex pulse of Nine Inch Nails, the lyrical irreverence of the Eels and Spinal Tap's sense of humor, creating a cumulative effect that inarguably kicks Dr. Seuss' ass.
Follow through for more shows in the week ahead. FRIDAY, FEBRUARY 6
Foam Benefit Show w/ Golden Curls, Whiskey Ginger, John Krane, Eric Hall, Hands and Feet, The Fog Lights, Zak M, Kid Scientist Friday, February 6 Foam Coffee & Beer 5 p.m. | $5 By Joseph Hess Local musician Mic Boshans never dreamed of owning a coffee shop, much less a music venue. But when Foam's former owner Mike Glodeck decided to close up shop Boshans swooped in to save the burgeoning venue. In only two months, Foam has become one of the busiest bars on Cherokee Street, hosting comedy nights, open-mics and, most frequently, live music. When the spot's P.A. was swiped last month, the music scene responded in kind by pulling together a quick benefit show to not only replace the stolen gear, but to supply the stage with an even better sound system than before. The line-up ranges from ambient acts like Eric Hall and Golden Curls to the colorful indie rock of Kid Scientist. Of special note on this show is Hands and Feet, a veritable one man band who just released one of our favorite records in recent memory.
Leo Kottke Friday, February 6 The Sheldon 8 p.m. | $40-$45 By Roy Kasten The world's greatest living partially deaf guitarist, Leo Kottke, hears what he needs to hear and plays what he needs to play. His second album, simply called 6- and 12-String Guitar, was released in 1969 and featured an armadillo on the cover -- a fitting symbol for such a tenacious, impenetrable root digger. Recorded in less than four hours, the album, as surely as any by Jimi Hendrix or Robert Johnson, changed guitar playing forever. Everyone knows Kottke as a virtuoso, but he should also be recognized for the emotional, even spiritual force of his music, which is always inseparable from his great wit and storytelling.
SATURDAY, FEBRUARY 7
Jim Lauderdale Saturday, February 7 Off Broadway 8 p.m. | $20/$25 By Christian Schaeffer As often happens in Music City, USA, you can be Nashville-famous but a relative unknown outside of the 615 area code. Singer and songwriter Jim Lauderdale has been a revered talent among country music fans throughout much of his 30-year career, working with country, bluegrass and rock & roll circles but retaining his dignified, twangy charms regardless of the medium. His output with Dr. Ralph Stanley has won him two Grammy awards, and in the past few years Lauderdale has sung and written alongside such talents as Elvis Costello and Laura Cantrell. But last year's twenty-track I'm a Song pairs his solid, unfussy songwriting with his own soul-stirring vocals -- no guest stars were needed to burnish his first-call talents.
Zak Marmalefsky Tape Release Show w/ Jack Toft, Little Cake, Demonlover Saturday, February 7 CBGB 9:30 p.m. | free By Roy Kasten The music of Zak Marmalefsky is simultaneously of this age and not of this world. With a finger-plucked guitar and a clutch of heartbroken but witty songs, Marmalefsky conjures Depression-era street corners and speakeasys, where his rich, sincere baritone crooning might have once made him king of the minstrels for a day. For now, he'll settle for an air of folk-troubadour mystery. Following in the footsteps of Leadbelly and Dave Van Ronk isn't for the faint of skill or heart; Marmalefsky has both. His music - sometimes poignant, sometimes off-color, often both at the same time - is never a throwback put-on.
SUNDAY, FEBRUARY 8
Riff Raff Sunday, February 8 The Ready Room 8 p.m. | $25-$30 By Tara Mahadevan Riff Raff had humble beginnings in the suburbs of Houston, Texas, with a promising future in basketball. But in 2003 he let go of that dream and decided to pursue a rap career instead, spitting rhymes over other artists' beats and crafting CDs at home while using the Internet to his maximum viral advantage. After a short stint on Soulja Boy's label SODMG, he signed a ridiculous eight-album deal with Diplo's Mad Decent label in 2012, releasing Neon Icon in 2014. Riff Raff is largely recognized for his crazy facial hair, outlandish style and colorful braids --a luminous, shining hip-hop icon, indeed. Neon Icon's first official single, "How to Be the Man," was no match for the second official single "Tip Toe Wing In My Jawwdinz," a tribute to Riff Raff's beloved sneakers. Though he's likely made a princely sum from his album deal -- he "used to drive a Focus" after all -- he's still rocking those Jordans.
Note: Though we wish we could, we can't feature every great show happening in town in just one post. Look for plenty more recommendations this Friday in our weekend shows post, peruse the St. Louis concert calendar for more ideas and let everyone know what else you're looking forward to seeing this week in the comments below. To be considered for coverage in RFT Music, submit show info online or drop us a line anytime.
RFT MUSIC'S GREATEST HITS
Remembering STLPunk.com -- How to View the Site Today and Find Your Old Profile Page "Where Did My Dick Go?" The Gathering of the Juggalos' Best Overheard Quotations The Ten Best Dive Bars in St. Louis The 15 Most Ridiculous Band Promo Photos Ever
---