[image-9]
We're nearly three weeks into 2015 but I'm calling it now: winter festivals are the best new trend this year. Hot off the heels of last week's Art of Live fest comes Dudes Weekend, a three day mish-mash of hot-rod guitar rock and pop-punk -- essentially the dad rock of the future (or present). Mid-week literally brings the noise with warbling bass beats from Xerome and the harsh, stringent sounds of New York's Pharmakon. Saturday comes packed with heavy rock in Greek Fire and Shooter Jennings. So, if you're bored this week, you're boring.
TUESDAY, JANUARY 20
The Howl w/ LifeWithout, Jr. Clooney, The Ultraviolents Tuesday, January 20 The Demo 7:30 p.m. | $8 By Joseph Hess By taking the chest-puffing chugga-chugga out of screamo, The Howl makes a refined rock sound peppered with frenetic riffs. The vocals here propel the whole affair but never quite take center stage, which allows ample space for guitar melodies to stretch out. The Chicago foursome stays grounded enough to be accessible, but its songs move at high-speed with a fierce punk fervor -- easy listening, this is not. Still, strong rock roots and the constant build and release of tension makes the Howl a sure bet for fans of loud guitars and then some.
WEDNESDAY, JANUARY 21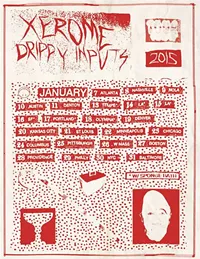 Xerome w/ Drippy Inputs, Trancers Wednesday, January 21 Blank Space 9 p.m. | $5 By Joseph Hess Last year, Jeremy Harris shed his long-time moniker of Lazy Magnet in favor of simplicity: Jerome had emerged a distilled form of warbling synth locked in succinct, static-y dirges. To further complicate his own naming convention, Harris has re-branded again, but really, who can blame him? Jerome isn't exactly Google friendly and Xerome seems to fit the gloomy boom that Harris worked so hard to carve out from years of harsh noise. This is dance music that revels in the journey above the overrated destination (most often referred to as the "bass drop" or the breakdown). The subtle depth here rewards both passive and active listeners alike.
THURSDAY, JANUARY 22
Pharmakon w/ Ghost Ice Thursday, January 22 The Luminary 8 p.m. | $10/$12 By Joseph Hess Margaret Chardiet cut her teeth on the New York noise scene at an early age, releasing her first record at seventeen. In that same year, she appeared on Pruient's release Worm in the Apple -- a result of hanging around Dominick Fernow's record shop Hospital Productions. She even helped run Red Light Distinct, a seminal house space for noise shows. This work culminates in Pharmakon, Chardiet's onstage persona that works through amplified percussion and strong guttural howls. Amorphous beats squeeze out driven sounds with a static glaze, moving stark feminine shrieks through a funnel of feedback. Chardiet conducts a stringent noise that recalls the most refined of this genreless genre -- fans of experimental music in general should take notice.
Read on for more shows happening in and around St. Louis this weekend. FRIDAY, JANUARY 23
Dudes Weekend w/ Bassamp and Dano, Better Days, Better OFF Damned, Braddock, Breakmouth Annie, Brickfight, The Chill Dawgs, Cool Mutants, Dethwarrant, The Dopamines, Eaten Back To Life, For The Last Time, The Fuck Off And Dies!, Guy Morgan and the FT Crew, The Haddonfields, Horror Section, Indonesian Junk, Lesser Apes, Nato Coles and the Blue Diamond Band, No Two Waynes, Pastaways, The Rackatees, The Raging Nathans, The Right Here, The Slow Death, Spruce Bringsteen, The Strait A's, Thirty Helens Agree, The Timmys, Two Houses, Ultraman, The Winchester Friday, January 23, Saturday, January 24, Sunday, January 25 Fubar 4:20 p.m. | $10-$30 By Jimmy Eberle From Dudes Weekend: Three Days of Punk Just Around the Corner: There comes a time when every True Dude must no-call, no-show to his/her respective industry job and participate in a drunken-shenanigan-filled retreat into the wilderness with his/her fellow man/woman. For St. Louisans, this is Dudes Weekend at Fubar, from January 22 through 24. What may look like just a few days of punk shows is really a nighttime version of day camp for befuddled adults who want to chug beers, talk about The Simpsons and wrap their arms around each other's shoulders and get pulled into a sing-along. Make new memories to forget later, all for the low price of $30.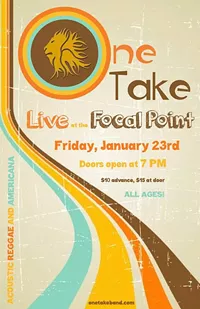 One-Take Band Friday, January 23 The Focal Point 8 p.m. | $10/$15 From Best Folk Artist St. Louis 2012 - One Take: Any band that combines reggae, world music, country, folk, jazz and acoustic pop has its work cut out for it -- not to mention the simplistic tag of "hippie music" waiting in the wings. Led by the creamy alto and fiddling of Danielle Aslanian and the songwriting of guitarist and singer Daryle Keefer -- and featuring Dennis Ward on bass and Brian Corbett on percussion -- the quartet couldn't care less how it's categorized. One Take's easy-flowing harmonies, restrained jamming and plaintive but optimistic songwriting are as well-suited for eclectic joints like the Venice Café as they are for the open road to Alaska, a destination the band reached this summer -- surely picking and singing at every campfire along the way.
SATURDAY, JANUARY 24
Greek Fire w/ Pistols & the Sisters Saturday, January 24 The Ready Room 8 p.m. | $15-$17 By Ryan Wasoba From the RFT Music archives: With stage names such as Moon and Johnny Venus and constant compliment fishing on its Facebook page, make no mistake that the members of Greek Fire want to be capital "R" Rock Stars. The group is certainly on the right track with its forthcoming album produced by Goldfinger's John Feldman (the same guy who gave Story of the Year's Page Avenue its sheen) and a main-stage spot at Pointfest 29. The Feldman sessions have thus far yielded the single "A Real Life," which shows the band delving further into the glam nu-metal shuffle of its fan favorite, "Doesn't Matter Anyway."
Shooter Jennings w/ Waymore's Outlaws, The Billy Berry Band Saturday, January 24 The Mad Magician 7 p.m. | $30 By Roy Kasten One should never put too much stock in "featured artists." That's as true for country music (and its offshoots) as it is for hip-hop, but on Shooter Jennings' most recent LP, The Other Life, the outlaw rocker enlists blues-howler Scott H. Biram, Americana chanteuse Patty Griffin and Jim "Dandy" Mangrum of Black Oak Arkansas -- and they all sound nicely matched for Jennings' strung-out and dissident country rock. As the son of Waylon and Jessi Colter, Jennings has fully absorbed the "Nashville sucks" myth; the pose would be tiresome if Shooter weren't such a deadeye songwriter and band leader.
SUNDAY, JANUARY 25
Tommy Halloran's Guerilla Swing Sunday, January 11 Jazz at the Bistro 10 a.m. | $34.95 By Joseph Hess From Best Band St. Louis 2014: Tommy Halloran and his backing band perform live almost every night of the week -- every week of the year. You'd think that a schedule like that could become a wearisome drag, but day after day Tommy Halloran's Guerrilla Swing hits with power, versatility and -- if you couldn't tell by the bandmates' smiling faces -- absolute glee. Besides blowing through classic covers and standards, the band is distinct and original, teetering between jazz and blues. And, really, no two shows are the same as Halloran often brings in other players to expand on the band's already huge sound. Maybe Dave Stone will join to play saxophone at a small gig at Blues City Deli, or they'll bring on a marimba player at Herbie's Vintage 72. No big deal. Just the best band in St. Louis, doing its thing -- and worth seeing every time.
Note: Though we wish we could, we can't feature every great show happening in town in just one post. Look for plenty more recommendations this Friday in our weekend shows post, peruse the St. Louis concert calendar for more ideas and let everyone know what else you're looking forward to seeing this week in the comments below. To be considered for coverage in RFT Music, submit show info online or drop us a line anytime.
RFT MUSIC'S GREATEST HITS
Remembering STLPunk.com -- How to View the Site Today and Find Your Old Profile Page "Where Did My Dick Go?" The Gathering of the Juggalos' Best Overheard Quotations The Ten Best Dive Bars in St. Louis The 15 Most Ridiculous Band Promo Photos Ever
---