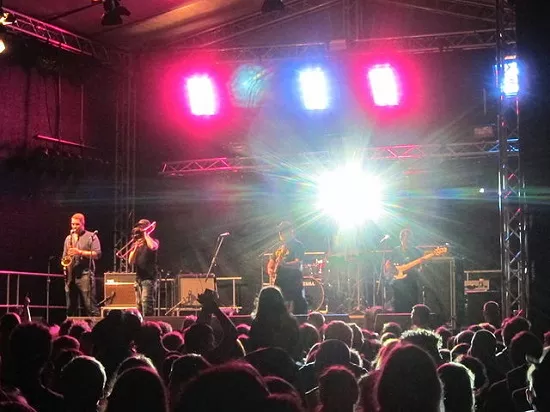 The Toasters will perform at Off Broadway tonight, January 16.
With newer acts like Streetlight Manifesto to OGs like Rancid and Reel Big Fish all still touring, it's clear ska never died. But probably before these guys even picked up guitars, there was the Toasters. The two-tone act was one of the first American bands that emerged in the early '80s and is readying to celebrate its 35th year of existence. The band's only one consistent and remaining member is Robert "Bucket" Hingley. Two other originals have since passed away and the fourth is in a British monastery.
So how does a band tour with only one member? "There are a lot of local bands and guest members from local bands," Hingley explains. "There are 150 guys I work with, guys I've been working with for years -- it's been running pretty smoothly." And yes, Hingley picks all the temporary members himself.
"I'm in touch with everyone," he continues. "That's one of the useful things about Facebook. If we're in town and one of the guys wants to jump onstage in their city, we leave a hole in the lineup. Once a Toaster, always a Toaster. You're never allowed to leave."
Hingley seems to like the spontaneity of these sets. "Bringing in new guys gives the original songs a twist," he says. "It keeps it fresh, keeps you on your toes."
While many musicians are ego- or money-driven, Buck's main concern is you. "The audience wants to hear your greatest hits, and they get mad when you play new music," he says. "They have a list of tunes they want you to play. We try to bring new tunes in, but slowly. The audience tends to pretty conservative, you know? A lot of artists forget to listen to their audience and what they want. You should never forget about who it was who helped you get there."
Still, he harbors some negativity toward those who listen to new tunes gratis. For instance, the band's newest single "House of Soul" was only released on vinyl. "We are not releasing LPs at the moment, only seven-inch vinyls along with our other albums," he explains. "With the state of the music business at the moment, I would rather take the Toasters' budget to subsidize touring than make new music.
"The problem is that young kids can get a Spotify profile and listen to music for free," he continues. "The music business has a problem with the musicians at the moment. There's no payoff; they are giving away stuff for free. The money is in the touring right now, for us. We are in a strange predicament, because the music industry is the enemy of the musician. We are being told by the establishment that 'your music is worth nothing' because it's free, and I don't agree with that statement. Musicians are expected to give away their music for free because people stream it and rent it for free. It's like a disposable razor, where you use it and throw it away. The listener has no investment in the music. I don't like where the music business is right now because it disrespects the artists."
The mini rant prompts us to ask what the outspoken singer thought about U2's free music, iTunes stunt. "Well, it's great for them because they're rich," he replies without hesitation. "It's a huge slap in the face for us independent musicians. It's like saying 'fuck you' to every independent musician out there. I don't respect U2 for that. It's one more nail in the coffin of the struggling, independent musician. The hell with U2 -- you can quote that. If they don't like it, they can sue me."
RFT MUSIC'S GREATEST HITS
The 15 Most Ridiculous Band Promo Photos Ever "Where Did My Dick Go?" The Gathering of the Juggalos' Best Overheard Quotations I Pissed Off Megadeth This Week, My (Former) Favorite Band The Top Ten Ways to Piss Off Your Bartender at a Music Venue
---