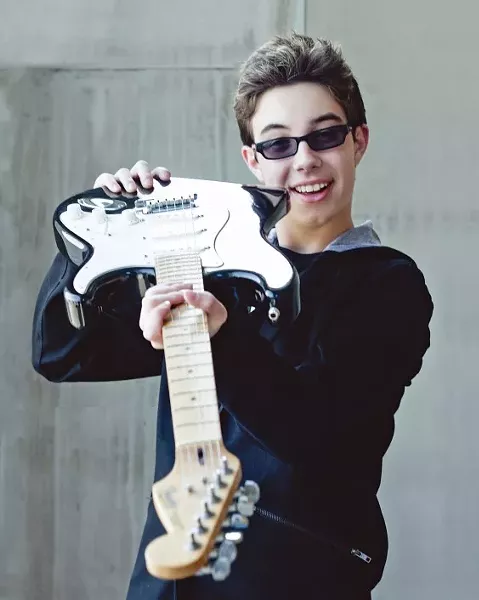 courtesy AliyaRose Photography
Fourteen-year-old Connor Low can outplay you. Bet on it.
When you're learning how to play guitar, you understandably might start with the easy stuff. Experts often recommend Van Morrison's "Brown-Eyed Girl," Tom Petty's "Free Fallin'" and The Ramones' "Blitzkrieg Bop" for novices because of those songs' simple chords or strumming techniques.
For the record, Eric Johnson's "Cliffs of Dover" would not be considered "the easy stuff." With its string-skipping antics and crazy time signature (or lack thereof)? No way, not by a long shot.
So when guitar virtuoso and "Dover" enthusiast Rhett Butler gave fourteen-year-old Connor Low a virtual high five for his rendition of the difficult composition, you know it was a big deal.
"GREAT JOB, Connor Low! That is the best one I have seen yet!" Butler told Low on Facebook.
See also: St. Louis School of Rock Teens Play Milwaukee's Summerfest, Taste Tour Life
It all started when Low, a Lake Saint Louis resident and student at School of Rock in Ballwin, uploaded a rendition of "Cliffs of Dover" to his YouTube channel that features covers and original music. But instead of playing Johnson's original version straight up, Low did something different.
"I thought, 'What if I did an acoustic arrangement of this song?' I play finger-style guitar, so I started working on it and found Rhett Butler's version," Low explains. "I downloaded the music for that and kind of took some from his and combined it with what I had done."
Proud of his work, Low took a chance and posted the video to Butler's Facebook page. That's when Butler -- who can play two guitars at once -- made the teenager feel like a king:
Low watched the view count for his "Dover" video climb.
"I was very humbled and honored," Low says. "He does a lot of two-handed stuff, and I'm really into that, so he's always been an inspiration."
Watch Low's version of "Cliffs of Dover" below:
That wasn't Low's first brush with greatness, though. Several years ago, the Liberty High School student and five-year guitar player performed the Eric Johnson composition for none other than, well, Eric Johnson. Low remembers running into Johnson near the men's room at the Old Rock House, where Johnson's band was hosting a meet-and-greet. The group asked if Low played guitar, obviously not knowing what they were about to witness.
On page two, watch Low perform with still more popular musicians!
courtesy Todd Morgan, BackBeat-Photography
Connor Low performs with El Monstero in December 2014.
"I played 'Cliffs of Dover' for the band and they were like, 'Oh my gosh,'" Low recalls. "I just played the intro for them, and he [Johnson] said, 'Wow, you're good!'"
But wait, there's more!
Low also joined premier Pink Floyd tribute band El Monstero on stage at the Pageant late last month. Low previously had watched his uncle Jerry Boschert -- known for playing with Trixie Delight, Lex Luthor, Kung Fu Cavemen and other local bands -- perform with the band during the guitar solo to "Money," and Low became determined to follow in his footsteps.
"I made a video covering every part of the song -- all the guitar solos and even the saxophone solo -- and I sent it to El Monstero's bassist Kevin [Gagnepain]," Low explains. Nothing happened immediately, but a few months later, Boschert invited Low and Gagnepain to perform Floyd's "Time" with him and his band during a birthday party. Impressed with what he heard, Gagnepain offered the holiday "Money" solo to Low.
Watch "Money" featuring Low below:
"It was truly amazing. When I went out there, the strings just played themselves," Low remembers about his time with El Monstero. "Hopefully I'll be back next year. Those guys are all amazing."
For now, the classic rock enthusiast will continue performing with the School of Rock house band and is looking forward to another run at being a SoR national AllStar. He's also booking gigs with his own pop-rock duo Irie Sun and is planning to release original albums this year.
"Music is my life, so I'll be a musician forever," Low says. "Being on stage, that's just where I feel at home."