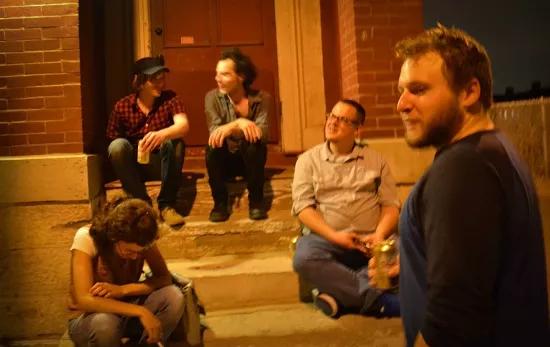 via Bandcamp
Traveling Sound Machine
A local six-piece that has hopefully endured a modicum of Gloria Estefan-related jokes, Traveling Sound Machine released its first, self-titled EP last fall. These five songs (plus a minute-long interlude of plinking piano and musical saw called "Ave Maria") are attractively moody and creatively arranged. This is a rock band at heart, using conventional structures and sequences to create tension and release.
But creative instrumentation — that, crucially, is organically integrated into these songs — gives the band something extra.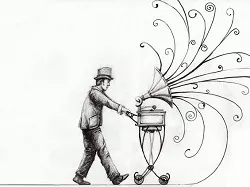 Sometimes the combination of Chris Kepley's trumpet and Ena Selimovic's accordion gives off whiffs of the old-world charm channeled by Beirut and others, as on the wheezing, dark-tinted oom-pah-pah of opening song "1911 (Circus Music)." It's an entrancing introduction to the band, and that waltz beat is given a major-key facelift on the peppy "Your Menagerie." For a moment, Traveling Sound Machine sounds like it could out-shanty the Decemberists, but Steve Larson's drum fills point to modern rock while Dave Anson's bubbly bass work offsets established rhythm.
That seems to be a working formula for the sextet: Use a few old-timey instruments and song forms, and dress them with modern production. Other songs in the set play it more straight; the skittering rhythm and well-deployed guitar effects from Josh Grogan on "Birds in the Trees" gives this collection its biggest punch while still maintaining its gray, gossamer drapery. Closing cut "To the Sea" is brooding, mercurial and a touch overlong, though it gives a good platform for Steve Lickenbrock's yearning vocals.
He's a solid leader for the band, though too little variation in his delivery often flattens the effect across this EP (the exception comes on "Your Menagerie" — when he reaches for the higher register, he shows both control and emotion). As a promising introduction to a new group, Traveling Sound Machine shows a band with a well-defined palette that is still working to meld the two sides of its personality.
Stream the album below:
RFT MUSIC'S GREATEST HITS
The 15 Most Ridiculous Band Promo Photos Ever "Where Did My Dick Go?" The Gathering of the Juggalos' Best Overheard Quotations I Pissed Off Megadeth This Week, My (Former) Favorite Band The Top Ten Ways to Piss Off Your Bartender at a Music Venue
---