[image-10]
This week's Art of Live Festival spans five days across five venues with a stellar roster of local and touring bands alike. Zola Jesus, Jukebox the Ghost and the Grifters are just three of many acts hitting St. Louis this week, which makes picking our weekly recommendations all the more difficult. Although festivals tend to be the catch-all for casual fans and die-hards alike, we prefer our shows to come in waves rather than have to pick and choose between a three stage affair on a single day (or weekend). Read on for more happening every night this week:
Pancake Productions' 14th Annual XRII Bonanza Blowout Spectacular w/ Dubb Nubb, Ellen The Felon, Syna So Pro, Willis, Whisky JANETor Monday, January 12 Foam Coffee & Beer 8 p.m. | free From Best Local Label St. Louis 2011 - Pancake Productions: Under the watchful eye of the inimitable king of quirk, Rob "Pancake Master" Severson, Pancake Productions' roster is fished from the deep, eclectic pockets of St. Louis' deranged pop scene. And it all started with some seed money the Pancake Master scratched together after making an appearance on the TV show Jeopardy! Seriously! So you like Bob Mould-inspired, Midwestern power pop? Cool, head down the Pancake Productions' sweets-and-cheap-beer aisle and grab the criminally underlooked Popular Mechanics album, Time and a Half. You say disjointed, avant-garde pop is your thing? Great, go talk to that weird dude with the headset and accordion, Googolplexia (Severson himself), busking in front of the store. If hipster-hop, chop and screwball, auto-tuned crunk tickles your fancy, go see the burnouts doing whip-its behind the store, King Kong Magnetics. And, of course, not enough can be said about St. Louis' slop-pop champs, Bunnygrunt. You can find its newest seven-inch, Lady, You Just Got Von Damaged!, in the garage department, just past the bubble-gum aisle.
DJ Mahf Tuesday, January 13 Pin-Up Bowl 10 p.m. | free From the 2013 RFT Music awards: DJ Mahf works from some place in his brain that pumps out enough enthusiasm to make his work look easy. Performing with a chilled zeal, the Indyground DJ interplays dense minutes of thumping samples with crackling movie clips and fine-tuned, one-and-two-handed scratches. He has already banged around Kansas City's spirited Middle of the Map Festival with labelmate Brett Gretzky, crossed the northern American border and cut and pasted for Red Bull's Thre3style competition this year. Whether live or replayed through Indyground's streaming footage, Mahf exudes the enjoyment he feels: In tempo he bobs at the waist, moving faster in the moments when he is inundated with the floor's energy, always looking pleased. It is Mahf's obvious enjoyment of his craft that puts his sets so squarely in the spotlight.
Radradriot w/ The Jockstraps, Loblolly, Mother Meat Wednesday, January 14 Foam Coffee & Beer 9 p.m. | free By Joseph Hess Little Rock's Radradriot has every element of an over-hyped garage rock band - thankfully without the hype. The duo brings jangly riffs with hooks that dig deep and a simple, yet playful approach to drums. Vocals teeter between lazy crooning and crazed shouting, adding a spastic tinge that makes each catchy song feel fallible. By marrying the energy of high-fleeting hardcore and the glossy sheen of psychedelia, Radradriot builds something wholly distinct in a genre known for adhering to tradition. Not that the band doesn't respect convention -- its songs still wash, rinse and repeat through verse and chorus -- just know that there's more here than first meets the ear. Local openers The Jockstraps have only been around for a few months and, in that short time, have shred through several sets of searing punk rock. Arrive on time and pick up their self-titled EP released (only) on cassette.
Landlady w/ Adia Victoria Thursday, January 15 The Demo 8 p.m. | $10-$12 By Christian Schaeffer Adam Schatz may have studied jazz theory at New York University, but his musical outlets -- the madhouse Beefheart workouts in Man Man, the dirtball country scuzz of Those Darlins, the samba-flecked jams of Little Joy -- point more to his pantheistic pop tendencies. Landlady is the principle creative outlet for this longtime sideman, and its debut LP Upright Behavior is a mish-mash of schizoid rhythms, High Life guitar strokes and always on-point harmonies. As a vocalist, Schatz's delivery is reminiscent of the warm, elastic tone from Maps & Atlases' Dave Davison, and his songs follow an internal logic that always returns to a melodic pleasure zone.
Read on for more recommended shows.
Jukebox The Ghost w/ Twin Peaks Friday, January 16 The Ready Room 8 p.m. | $16-$18 By Ryan Wasoba From the RFT Music archives: Jukebox the Ghost's breakthrough debut, Let Live and Let Ghosts, led the group on a two-year touring binge, topped by an opening slot for like-minded ivory tickler Ben Folds. Rather than make a tired sophomore record centered around its status as exhausted road warriors, the piano-guitar-drum trio lightened up its oft-dramatic tracks for Everything Under the Sun. The aptly titled collection of optimistic piano jingles plays like secular Sunday-school party jams.
The Toasters w/ Disputed, Snooty and the Ratfinks, Skaboom Friday, January 16 Off Broadway 8 p.m. | $12-$14 By Allison Babka Third-wave ska has a certain reputation among those who didn't appreciate trombones mixing with guitars in the '90s. The Toasters, though, can break through the cold heart of anyone who loathed Less Than Jake. As one of the longest-running third-wave groups, the Toasters has a sound that brings out more old-school ska tones than its peers do, combining them with calypso, R&B, pop and even a little funk. And having been instrumental in reaching out to both white and black audiences through music in the '80s, founding member Buck Hingley isn't afraid of a little political discourse -- keep an ear out for jerk-bashing through song lyrics and during breaks.
2 Chainz w/ Yo Gotti, Fabolous, August Alsina Saturday, January 17 Chaifetz Arena 7 p.m. | $39-$129 By Josh Levi For years now, 2 Chainz has been a towering giant in the worlds of hip-hop and pop culture. From his traphouse days as Tity Boi (one half of the Ludacris-approved rap duo Playaz Circle) to a cameo on TV's Two Broke Girls to features with pop icons Justin Beiber and Kanye West, 2 Chainz has successfully infiltrated all facets of the mainstream. Never one to shy away from the constant grind, the 37-year old rap genius has recently launched his own record label, the REAL University. In addition, leading to his upcoming third full-length album, the College Park rapper is dropping a new mixtape, TRU Jack City, on January 27th.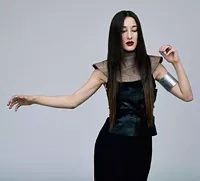 Zola Jesus Saturday, January 17 The Ready Room 8:30 p.m. | $15 By Diana Benanti From this 2011 interview: Zola Jesus is in a playground at midnight, and she's mucking in the darkest places, searching out tiny pains and feeding them blood and chocolate until they're large and capable of decimating cities. She's a conjurer, cloaking her voice in a strata of black magic and divined emotion. Zola Jesus is shaking you, showing you the yoke of sadness hanging like a pimp chain around your neck, and asking why the hell you aren't facing it, admiring its facets and polishing it up for the world to see. Because that's what she's done -- why can't you?
Good 4 The Soul Sunday, January 18 BB's Jazz, Blues & Soups 6 p.m. | $5 From Meet the 2011 Riverfront Times Music Award nominees: The brainchild of bassist John King, Good 4 the Soul is more than just another jazz quartet. Collectively, the East St. Louis-based group has decades of music experience, and its members have shared the stage with music legends like the Temptations and BeBe and CeCe Winans. Its talent and experience are immediately evident to anyone who's caught the group playing live for Jazz at the Bistro, where the group performs regularly. Although G4TS is an instrumental band, it doesn't hinder the group's versatility. Its repertoire reaches beyond jazz to seamlessly incorporate pop, soul, gospel and other contemporary styles of music.
Note: Though we wish we could, we can't feature every great show happening in town in just one post. Look for plenty more recommendations this Friday in our weekend shows post, peruse the St. Louis concert calendar for more ideas and let everyone know what else you're looking forward to seeing this week in the comments below. To be considered for coverage in RFT Music, submit show info online or drop us a line anytime.
RFT MUSIC'S GREATEST HITS
Remembering STLPunk.com -- How to View the Site Today and Find Your Old Profile Page "Where Did My Dick Go?" The Gathering of the Juggalos' Best Overheard Quotations The Ten Best Dive Bars in St. Louis The 15 Most Ridiculous Band Promo Photos Ever
---