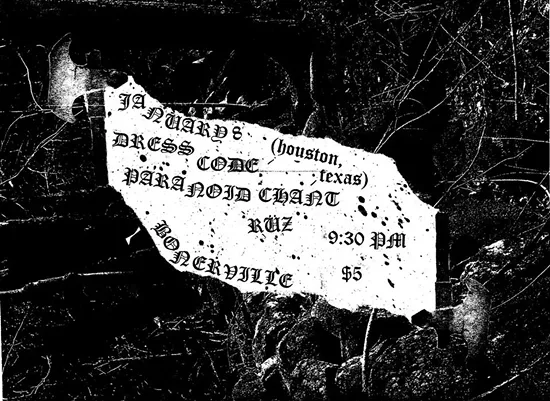 Like an Olde English Grave Site, by Beer Boi
Are you sick of being responsible? Does it annoy you to have to follow rules or be pro-social? Do you like basements? Well, if you are a goofy, degenerate weirdo who doesn't quite fit in anywhere else, you might consider our city's hardcore/punk shows. Your underlying anger problems can be brought out to their fullest potential (in a positive way). These are my recommendations for great local and national bands that don't play five-minute (marathon!) songs or remind you about drink specials. General rule of thumb: If you have five bucks and can show up by 9 p.m., then it's go time in the pit. One, two, fuck you!
Dress Code, Paranoid Chant @ Ask A Punk January 8 9 p.m. / $5
Word must have spread about the Sentenced show last week, because Texas just keeps coming back for more facetime with drunken Midwest mongoloids. Houston's Dress Code and Paranoid Chant are on the prowl and ready to give us a heaping helping of that one-two stomp brand of hardcore that would make any skinhead smoke dope. If you like 86 Mentality and/or buying eye patches to cover up a slam-based disfigurement, this might be the perfect reason to get a babysitter.
Ripping Flyer for Johnny's Birthday
The Coneheads, Genocide Pact, Maximum Effort, Black Panties @ Ask A Punk January 10 9 p.m. / $7
Calling all punks: This is a party for Johnny B, a.k.a. the Dumper drummer extraordinaire/heart of Shaved Women. That's right, our lil scamp managed to last another year in the trenches of tour life and dive bars, and he's ready for some b-day spankings. Honestly, there might not be a better odd combo of touring bands to do it with than the Coneheads' lo-fi Devo sound and Genocide Pact's ripping East Coast death-metal riff storm. This partybration is so exclusive that even the most jaded of punks haven't given a proper address in the secret coded messages left around town on receipts and water towers. If you get a golden ticket, you'd be a party-pooping chump to skip it.
Dumb Records STL Invasion w/ Soap Scum, SAP, Diaper Rash, Maximum Effort, Nos Bos @ Melt January 15 9 p.m. / $5-$7
Springfield's finally coming to take their lemon tree back from us. Line the bags of sand up and down Cherokee Street and pack your Super Soaker tanks full of slime, 'cause this means war. But really though, Dumb Records is one of the coolest one-stop DIY shops in the compound that is Dumb Records/Black Sheep Cafe/skate park/studio/etc. Springfield, Illinois, has always been one of the most excitable and welcoming tour stops for STLians to start or stop on the way from/to home. It's time to return the favor and pogo till our knees shatter. (P.S. The guys from Soap Scum make the best fliers.)
RFT MUSIC'S GREATEST HITS
The 15 Most Ridiculous Band Promo Photos Ever "Where Did My Dick Go?" The Gathering of the Juggalos' Best Overheard Quotations I Pissed Off Megadeth This Week, My (Former) Favorite Band The Top Ten Ways to Piss Off Your Bartender at a Music Venue
---