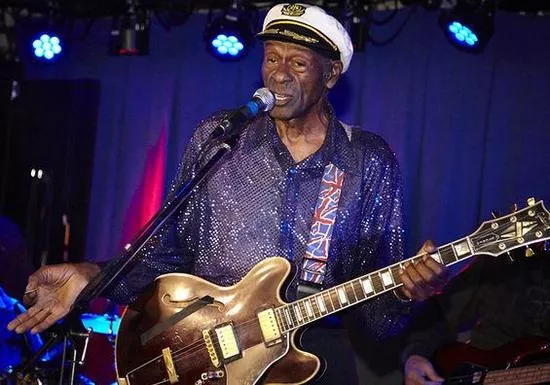 Steve Truesdell
Chuck Berry addresses the crowd during an October 2013 show at Blueberry Hill.
Chuck Berry's nearly two-decade residency at Blueberry Hill is the stuff of legends, chronicled in publications including Rolling Stone, the Wall Street Journal and, of course, RFT Music. His October show marked the 209th consecutive gig at the venue.
"No other superstar rock & roller has played that many shows in one single venue," says Berry's long-time friend and owner of Blueberry Hill, Joe Edwards. "He's played every single month from 1996 through his 88th birthday week in October 2014."
See also: The Best Moments of Chuck Berry's Shows at Blueberry Hill, as Told By His Bandmates
Now, that streak has ended. Rumors began swirling in the fall that the October show would be his last, marking a retirement from live performances. At the time, Edwards quickly shut those rumors down, telling the Post-Dispatch, "He might decide to not play every month. Whatever he wants to do is fine with me. But he hasn't told me anything about [retiring]."
Still, November and December passed without performances, and there aren't any new dates on the venue's calendar, either.
See also: That Time Chuck Berry Punched Keith Richards in the Face
So what's to blame? Turns out, it's just these damn bitter cold St. Louis winters.
"He's taking a pause during the winter weather," confirms Edwards. For his Blueberry Hill gigs, Berry -- who owns two homes in the St. Louis area [one in Ladue and one just outside of Wentzville] -- always drives himself in.
"He never left St. Louis," Edwards says. "Born and raised here. Other superstars moved out, but he never did."
See also: Chuck Berry's St. Louis Homes and Properties Before He Was Rich and Famous [Photos]
Admittedly, traversing the frozen tundra in the winter months probably isn't always the most pleasant of experiences for an octogenarian, so it would make sense that Berry has decided to sit this one out. Edwards tells us that he is not sure when the shows will resume.
"I think once winter's over it will become clearer," he says.
Stay home, rest up and stay warm, Chuck. Rock & roll will be waiting for you at Blueberry Hill when you return -- right where you left it.
RFT MUSIC'S GREATEST HITS
The 15 Most Ridiculous Band Promo Photos Ever "Where Did My Dick Go?" The Gathering of the Juggalos' Best Overheard Quotations I Pissed Off Megadeth This Week, My (Former) Favorite Band The Top Ten Ways to Piss Off Your Bartender at a Music Venue
---