Andrew Koh
Mvstermind Einstein of M.M.E.
We're getting a fresh start in 2015 and looking ahead to the new sonic awesomeness that St. Louis musicians will bring. The talent pool in this city continues to grow, and that promises nothing but good things for our local culture and notoriety.
But we've been down this path before. At the end of December 2013, we predicted what might happen for eight local acts that we dubbed "the ones to watch" for 2014. So how did last year turn out for these brilliant creators and performers? We went straight to the musicians themselves to find out. (Not all eight acts could be reached for comment.)
See also: - Eight St. Louis Bands to Watch in 2014 - Six St. Louis Musical Acts to Watch in 2015
Matthew Sawicki
Tok
TOK
Our original assessment:
You typically don't expect a lot of full-out dancing at hard-rock shows, but that's exactly what you get when you see Tok. The twist is that the most energetic dancing spectacle happens onstage instead of on the floor. Brothers Bryan and Matt Basler have made a name for themselves by being able to moonwalk while playing guitar, ensuring that we appreciate their swagger and humor just as much as we do their grungy songs. Tok released volumes one and two of Gold Dollar Hen House this year, with the band's website promising a third soon. We'll be grateful for that, but what we're really anticipating is another YouTube installment of Bryan teaching us how to do stuff.
And now:
Name something in the original blog post that we predicted would happen but didn't. Matt Basler, bass and vocals: Well, we did make a video where Bryan teaches everyone how to make the Pioneer Woman's "Simple Sesame Noodles." And we did release Gold Dollar Hen House Vol. 3. But there were secret goals that we didn't achieve. This year, all goals, secret or otherwise, will be met. That's our resolution. Get big muscles, eat healthier, meet secret (and not so secret) goals.
What was an interesting twist in 2014, and how did you deal with it? Spencer Markowski joined the band as the third brother. We just gotta change his name to Basler and fill him with our blood.
What should people expect from you in 2015? This year, Tok just wants to make more stuff and do more things -- more songs, more videos, more touring. We've been playing shows within a five-mile Midwest radius, but it's time to see those beaches. We are a mighty eagle, but our wings are curled tightly against our body. This year, we spread them. We soar. Soar don't snore. That's the motto. Tok: Soar Don't Snore.
Also, we're putting out an album of covers from our favorite Internet weirdo, Tonetta.
Find Tok on Facebook, Twitter and Bandcamp. Watch a video!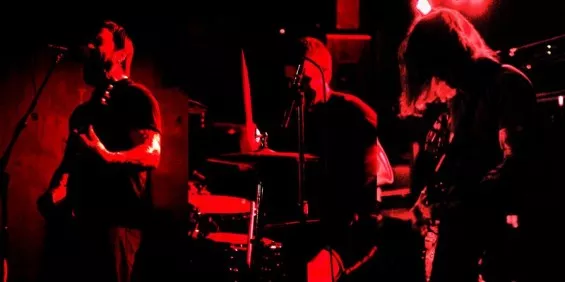 Christopher Jordan
The Lion's Daughter
THE LION'S DAUGHTER AND INDIAN BLANKET
Our original assessment:
Yes, they're two different bands. Yes, they play wildly contrasting styles of music. Yes, they're an unlikely pair at first glance. But after metal band the Lion's Daughter and folk group Indian Blanket jointly put out A Black Sea last month, we can't help but hope they'll become a permanent supergroup like the Traveling Wilburys, but with more Devil horns and mayhem. Individually, each band has nabbed acclaim within its respective genres. Together, though, their combination of earnest words and emotive howling, plucky strings and growly guitars pushes us into a dark place tinged with hope -- "doom-folk," if you will. And we will. And we want more, dammit.
And now:
Name something in the original blog post that we predicted would happen but didn't. Rick Giordano, guitar and vocals for the Lion's Daughter: You hoped Indian Blanket and ourselves would become a permanent doom-folk supergroup. Instead we went off on our own and wrote the meanest, ugliest, shit noise we could come up with for our big return to being a band that nobody likes. In the meantime Indian Blanket are finishing up an awesome new record that's soon to be covered in everyone's jizz.
What was an interesting twist in 2014, and how did you deal with it? We were surprised when everyone backed us in raising money for Stray Rescue, resulting in thousands donated and us learning that not everyone on Earth is a selfish shitbag. Pig Destroyer invited us out for shows that we totally did not deserve to play, which was insane. And then our friend Mikey Teesdale died and the rest of the year sucked.
What should people expect from you in 2015? We're gonna work really hard on our hairstyles, making our egos bigger, making our music more mediocre, charging more money for shows...ooh, maybe we can even get played on the Point this year! Ya know, all the stuff that's important to St. Louis bands.
Find the Lion's Daughter on Facebook and Bandcamp.
More on page two!
Jason Stoff
Arthur and the Librarian
ARTHUR AND THE LIBRARIAN
Our original assessment:
It's been a while since we've had a full-on Arthur & the Librarian sonic assault. The folk group has played a few shows this year (a toy drive concert happens Saturday, December 21, at the Demo), but it hasn't released an album since 2012's Reverend Whitepigeon Speaks on Love and the End of the World. That's just cruel, which is why we're glad the five-piece has been recording during the past several months and plans to release a new album in 2014. Confession: We've heard portions of the development, and we're excited about where the band's tighter storytelling, stellar arrangements and more mature tones will be taking us. Plus a new album surely means an increase in shows, right? Come on, guys, we're ready to get our sing-song on.
And now:
Name something in the original blog post that we predicted would happen but didn't. Chuck Crittenden, guitarist and manager: We didn't end up releasing our second record in 2014 as originally planned or play as many shows! A lot of this had to do with schedules not lining up as smoothly as we hoped. But also we spent a lot of time making sure that we were all 100 percent happy with the final product.
What was an interesting twist in 2014, and how did you deal with it? The album getting pushed back for a variety of reasons was both the biggest twist and a bit of a letdown for us, to be honest. We took it in stride and continued to write new material in the meantime. Last year was a transition period for all of us, and we're so excited and ready to knock 2015 out. We have a big band retreat planned to write more new material soon.
What should people expect from you in 2015? We are releasing our second album, Island of the Lotus Eaters, on February 17. We are releasing teaser audio and some teaser videos in the weeks leading up to the release. We plan to write a new EP for (hopeful) release later in 2015. We are all now located in one city and plan to reconnect and play more and more shows this year.
Find Arthur and the Librarian on Facebook, Twitter and Bandcamp.
Leo Davis
M.M.E.
M.M.E.
Our original assessment:
With in-house songwriting, recording and mastering, M.M.E. could give how-to lessons in DIY. Led by rapper and producer Mvstermind (Muhammad Austin), this crew of versatile hip-hop artists was on fire in 2013, grinding out shows, collaborating with other musicians, releasing joint and individual albums, and tirelessly promoting the heck out of all of it through every social-media channel out there. And they've got even bigger plans for 2014 -- plans that include some major touring. The gifted supergroup successfully tested the touring waters this fall and, with savings and a bit of funds collected from an Indiegogo campaign, is now is planning where else to spread the St. Louis gospel around the country. With talent and chutzpah to spare, 2014 could be the year that M.M.E. become household initials.
And now:
Name something in the original blog post that we predicted would happen but didn't. Malcolm "Con" Chandler: One thing that you predicted/hoped would happen in the last post that didn't happen is the major touring. We really want to tour but just can't crack the code to make such things happen yet. I can't really give a "for sure" on why though; I guess we just need more fans.
What was an interesting twist in 2014, and how did you deal with it? Muhammad "Mvstermind Einstein" Austin: For me it would actually be Ferguson. When things first started to break out, we were trying to figure out our position. We're so passionate about the things we believe and the changes that need to happen. When it first took place, it almost immediately removed myself from a musical environment and was out there on the front lines about every day, working tirelessly to figure out the response. Eventually I figured it was better use of my time was to use music as a platform. We are artists -- the art translates certain things that can't be directly digested. It's message in this music and visuals, it's what these kids listen to religiously. Want to ensure a better future for tomorrow? Make sure we can feed these kids some dope, artistic, thought-provoking music, and they will do all of the rest. With everything going on in St. Louis, across the nation and around the entire globe, we -- our thoughts, our gut feeling -- we channel it into the art, which I feel is always key for a social movement. A renaissance of artistic expression could result from this situation of "turmoil."
What should people expect from you in 2015? Charles "Ciej" Jacobs: In 2015, expect more love and music from us to the world and shows out of state. Or more of the same stuff you're getting from us now, but with more quality or on tighter platforms. We keep learning as we go along, too, so just expect an explosion of growth and cold shit here and there till it's everywhere from MME. [We] could low-key fuck around and turn St. Louis into some wild-ass city for art -- but it is though, so that last statement is geared more toward the citizens. I'm not trying to change people, neither, but I at least want everyone to feel safe about actually enjoying themselves at more of these shows 'cause it's cool to be yourself. If you're ready to be free, fuck with us, got damn me. Ayyyyye.
Follow Con on Facebook, Twitter and Bandcamp. Follow Mvstermind on Facebook, Twitter and his website. Follow Ciej on Facebook, Twitter and Soundcloud. Watch a video!
Bryan Sutter
Bear Hive
BEAR HIVE
Our original assessment:
We sort of wanted to call upon Scooby-Doo to solve the mystery of when Bear Hive will release its album, but things sound like they're finally moving along for 2014. It's no secret that we're fans of the young trio's work; Bear Hive has been on our "best new band" and "band to watch" lists for a while now. And though we've enjoyed the indie band's Death Cab for Cutie vibe during its live shows this year, we're ready to have new stuff in our earholes all the time. The group has been recording and mixing at Bird Cloud Recording with Ryan Wasoba, so we know the output will be spectacular. But, dammit, that carrot has been dangling for a loooooooong time -- feed us, already!
Name something in the original blog post that we predicted would happen but didn't. Nate Heininger, drums and keyboard: The original post was all about wanting our record to come out, and while it was released in 2014, it still took most of the year! We're extremely happy with how it turned out, though, and the response has been great.
What was an interesting twist in 2014, and how did you deal with it? The most interesting thing that happened to us this year was when we decided to cover LCD Soundsystem for An Under Cover Weekend. It was a huge challenge, and we had to bring in some talented people from St. Louis to help, but it was probably one of the most fun and rewarding things we have ever done.
What should people expect from you in 2015? In 2015 we're looking forward to continuing to promote our album, playing more shows, and writing new music. We plan to get back into the studio and record another album later this year.
Find Bear Hive on Facebook, Twitter and Bandcamp. Watch a video!
RFT MUSIC'S GREATEST HITS
The 15 Most Ridiculous Band Promo Photos Ever "Where Did My Dick Go?" The Gathering of the Juggalos' Best Overheard Quotations I Pissed Off Megadeth This Week, My (Former) Favorite Band The Top Ten Ways to Piss Off Your Bartender at a Music Venue
---