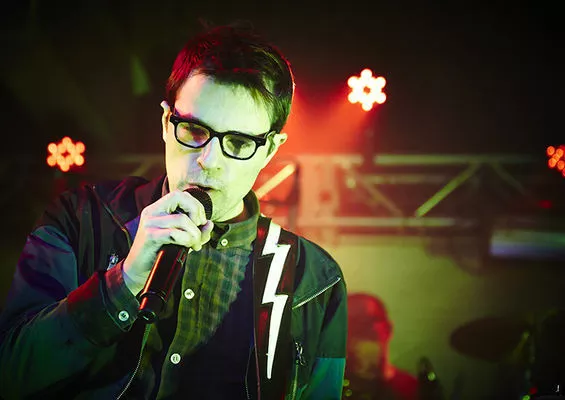 Steve Truesdell
Rivers Cuomo performs with Weezer at Plush.
Do you have any idea how many concerts happen in the St. Louis metro region each night? From big-name spectacles to intimate local gigs, from monstrous city arenas to tiny St. Charles bars, there are hundreds -- seriously, hundreds -- of shows that Gateway City music lovers can enjoy seven nights a week. All genres. All lengths. All levels. "Baseball heaven?" Forget that, St. Louis is music heaven.
2014 was a banner year for music in St. Louis, so below, we're putting the spotlight on ten of the best shows we saw. We were completely sucked in by the musicians' banter, stage presence, visual aids and, yes, their musical prowess. These folks gave us the full package, and we're not going to forget them anytime soon. Our top ten shows are here, but you can find even more of our favorites in our slideshow.
And don't worry if the concert you adored isn't listed here! Try as we might, we just couldn't make it to every show in an official RFT role. So while we enjoyed big names like Jack White and Slayer or locals like El Monstero and the Blind Eyes, we did so as fans, not necessarily as journalists. We want to know about your faves, though, so tell us in the comments which shows you thought rocked!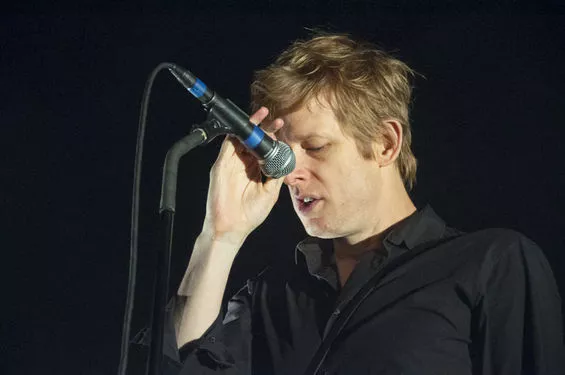 10. SPOON
We've been Spoon fans for a while now, so it was nice to see the band nix its usual stiff stage presence in favor of some loose rock-and-roll swagger at the Pageant on September 20. Completely locked in, band members rotated instruments like a game of musical chairs, and Britt Daniel tried -- and adorably failed at -- the classic "kick the mic stand and retrieve it with your foot" rock-star move. Tight orchestrations plus a phenomenal light show made this a night to remember. Read our review of Spoon here and see more photos here.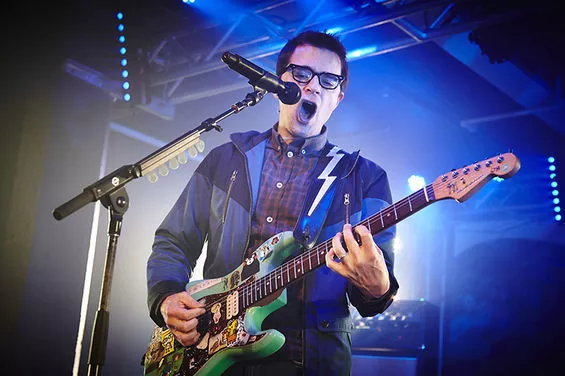 9. WEEZER
We were baffled to find out that Weezer would perform at a post-marathon party, but when Rivers Cuomo recently eschewed the midlife-crisis ennui that had plagued the band since the mid-2000s, a crazy new world opened up for the former alterna-gods and its fans. On October 19, Weezer sprinted through its set in just over an hour, but the band packed every minute with longtime anthems and new feel-good tunes. The show was a surprisingly good fit for the low-capacity confines of Plush, which will close for good January 3. Read our review of Weezer here and see more photos here.
8. MILEY CYRUS
Miley Cyrus certainly isn't for kids anymore. When shaved her head, air-humped Robin Thicke and started wearing marijuana onesies, we had a feeling that was the case, but her spectacle at Scottrade Center on August 10 sealed the deal. Well, for us, at least; looking around the arena, it seemed like many parents still were holding out hope for the former Hannah Montana. That wasn't happening, though -- not with Cyrus grinding against everything from a giant wolf statue to a flying hot dog. Read our review of Miley Cyrus here and see more photos here.
Page two has even more awesome shows.
7. GWAR
Not counting a young lady's foray into puberty, blood usually means bad things -- trauma, injury, even death. For Gwar and its fans, though, torrents of blood are even better than living in a land of puppies, rainbows and chocolate. The metal monsters drenched concertgoers with (fake, thank goodness) bodily fluids at Pop's on October 29, squirting the scarlet nectar from nipples, penises, udders and ... WAIT, WHAT WAS THAT THING? Read our review of Gwar here and see more photos here.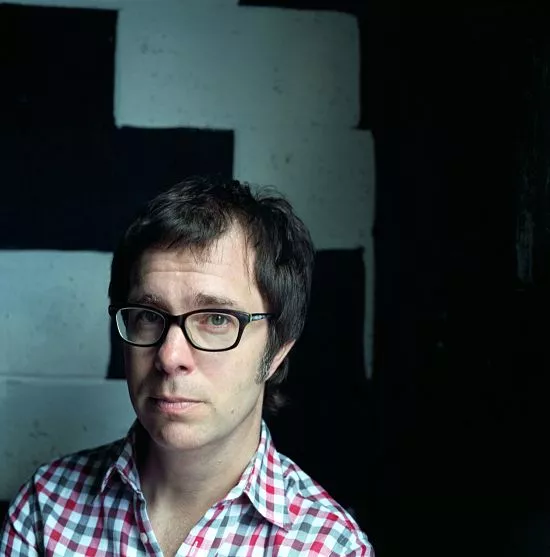 Michael Wilson
Ben Folds performed with the St. Louis Symphony at Powell Hall.
6. BEN FOLDS WITH THE ST. LOUIS SYMPHONY
We're not going to lie to you: Ben Folds has been our imaginary alterna-piano-god boyfriend since butterfly clips were a thing. But as we've matured, so has our appreciation for Folds' penchant for full-orchestra composition and for his commitment to showcasing the beauty of the symphony. A frequent St. Louis performer, Folds returned to Powell Hall on April 12 and 13 for a passionate stint with the world-renowned St. Louis Symphony, featuring his own moving, carefully composed concerto. Um, yeah, we got the vapors. Read our Ben Folds/SLSO review here and read our interview with Folds here.
5. RUN THE JEWELS
When Run the Jewels hit the stage at the Ready Room on November 24, the St. Louis metro region had just descended into chaos after a grand jury had announced an hour prior that Ferguson officer Darren Wilson would not be indicted for fatally shooting Michael Brown. Killer Mike, half of the RTJ duo, questioned the decision from the stage, giving a passionate, tearful speech about the implications for both his family and for society before pairing up with El-P for a memorable, fiery show. Read Killer Mike's speech here, read our review of Run the Jewels here and see more photos here.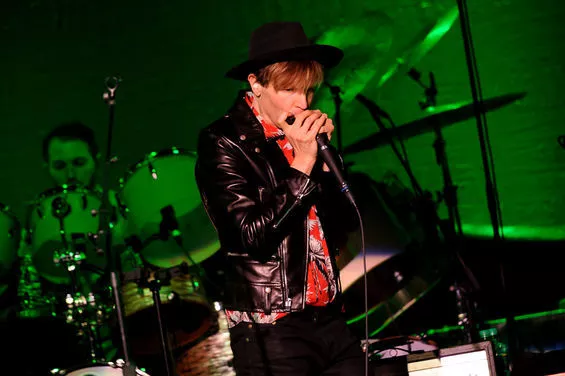 4. BECK
Once upon a time, Beck loved St. Louis. Until he didn't. Or maybe he did and we just didn't know it because he stopped coming around. Whatever. Angels still sang when he finally returned to the Gateway City on July 16 for an outstanding show at the Pageant. Looking younger than a man in his 40s has any right to, Beck pulled hit after hit from his long catalog and blocked off the stage with police tape. Finding out that Beck was still plenty weird was a lovely surprise. Read our review of Beck here and see more photos here.
Who made the top three? Go find out!
3. GARTH BROOKS
Sometimes you remember a show because it was spectacular, and sometimes you remember a show because Justin Timberlake sat next to you. Garth Brooks was magnificent in his own right, feeding a hungry St. Louis four straight nights of energetic concerts (December 4-7) at Scottrade Center. After a thirteen-year hiatus from touring, Brooks certainly was back with a vengeance, but his number-one fan nearly stole his thunder (that rolls). Timberlake took a break from his own tour to watch Brooks from the cheap seats -- literally, he sang along from the arena floor just like everyone else. As if that weren't enough excitement, Brooks then helped the St. Louis Blues give kids a hockey clinic. See more photos of Garth Brooks here.
2. PEARL JAM
Pearl Jam's October 3 concert at Scottrade Center was one of the best concerts -- and one of the best St. Louis Cardinals pep rallies -- we'd seen not just in 2014, but ever. Certainly, it was one of the longest. With the Cards improbably coming from behind to beat the Los Angeles Dodgers in a National League Division Series game that was beamed across monitors around the arena, euphoric fans were primed for greatness. PJ's three-hour show felt like a sincere love letter to its St. Louis followers and included hits and rare gems from the band's 25-year career. Longtime Ten Club members especially loved "Chloe Dancer/Crown of Thorns," the astounding trance-like ballad conceived by Mother Love Bone, of which Jeff Ament and Stone Gossard were members in the late '80s. Read our review of Pearl Jam here and see more photos here.
1. OUTKAST
When Outkast was announced as LouFest's main headliner, we lost our collective shit. We'd been praying, scheming, begging for this to happen for ages, especially since the duo had been on hiatus for more than a decade. But as Andre 3000 and Big Boi finally hit that big stage in Forest Park to commemorate 20 years together, we realized that we were watching one of our longest-held musical dreams come to life, and we wept a little. The show was every bit as powerful as we'd hoped, with tributes to Michael Brown, penis pantomiming and good old-fashioned stage swagger. Andre 3000, in particular, was electrifying, absolutely owning that stage as well as everyone on and around it. The man was a performer, and he helped LouFest climb to an even higher rung on the festival ladder. Read our review of Outkast here, read our complete LouFest coverage here and see more photos here.