Photo by Steve Truesdell
The Schwag returns to the Pageant for New Year's Eve.
For many, the new year is a time for transformation. Resolutions will be broken, but for one night we can party with every intention of keeping those promises of self-improvement. Whether you're embarking on a new personal journey or just want to kick this year to the curb, celebrations are in order. The following guide will help you decide how to spend those precious last moments of 2014.
Buku w/ Royal, Blaze Luminous, Dub Heezy, Hype Myke Wednesday, December 31 Plush 8 p.m. | $14/$18 By Joseph Hess After news of Plush's imminent closure, the cold reality set in that nothing lasts forever -- even beloved venues. It seems like talent buyer Jill Cherkas just hit her stride before the rug was pulled out. Although a few events remain beyond this night, Pittsburgh's Buku feels like a fitting end to Plush's four-year run here in St. Louis. Expect emotive waves of bass to warble up and down the four-story clubhouse.
Oh, and Plush is liquidating its entire stock. That means half-off drinks all night long. Tattoo a cab number on your inner wrist -- the price of removal is cheaper than a DWI.
---
Eyes Wide Shut Masquerade Ball w/ DJ Blackguy, DJ Vthom Wednesday, December 31 Atomic Cowboy 8 p.m. | free By Joseph Hess If you woke up thinking, "This new year I need to get weird with it," read no further. Start planning your attire for an event based around the cult movie about Illuminati-esque orgies. One has to wonder why Atomic Cowboy didn't go full-on Kubrick with this mess. Guess I'll have to crash the party as a droog, codpiece and all.
---
Free Year's Eve
w/ 18andCounting, Hi Freq, Dolor, DJ Boogieman Wednesday, December 31
Blank Space
9 p.m. | free
By Joseph Hess
Like its namesake, Free Year's Eve welcomes all with the promise of free music. Dolor brings fresh cuts from the fringes, taking on the confines of hip-hop with an outsider sound. 18andCounting spits rap through noise, crushing elements of kraut rock with heavy lyrics. Both artists collaborate on the track above, so it's not out of the question to think the two might weave solid waves onstage. Because it's free, it's the perfect stop for show-hoppers -- not to mention a great destination for those ringing in 2015 on the cheap.
---
Hazard to Ya Booty Wednesday, December 31 The Gramophone 8 p.m. | free By Allison Babka From Six St. Louis Acts Named After Body Parts: You guys, our bootys are in so. much. trouble. Ever since Hazard to Ya Booty dropped its new album in December, our asses have been getting a nonstop workout. Can dancing make you pull muscles? Ass muscles? We swear that it's happened, but Hazard's self-proclaimed "crunchy funk" is totally worth the burn. Channeling James Brown's soul, Flea's groovy bass and plenty of smooth, sexy horns, Hazard to Ya Booty ensures that we don't ever want to sit down.
Follow through for more parties on New Year's Eve.
Little Big Bangs Wednesday, December 31 CBGB 10 p.m. | free By Joseph Hess We get it: Some of these parties come with too many bells and whistles. And they're expensive. CBGB provides a stripped-down affair with an extended set St. Louis' beloved Little Big Bangs. This gig is tailor-made for weirdos who don't mind getting a little messy. It's nearly impossible to avoid bumping shoulders in the close confines of this shotgun-style bar. But that's a good thing -- New Year's Eve is here to bring us together.
---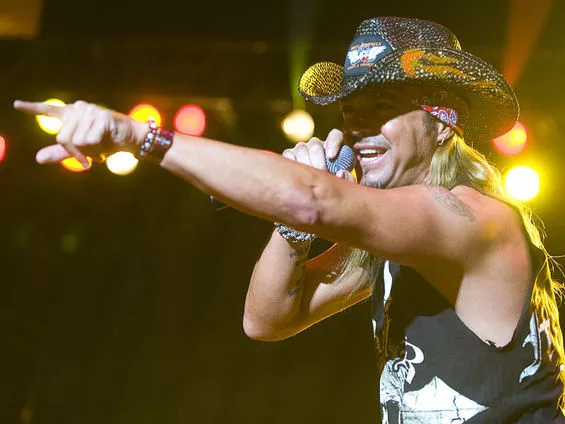 Bret Michaels NYE 2015 Wednesday, December 31 Hollywood Casino 11 p.m. | $100 By Allison Babka On New Year's Eve, you ain't lookin' for nothin' but a good time. Fortunately for St. Louis, Bret Michaels wants to give you something to believe in. Over the years, hair-extension fan Michaels has expanded his personal brand by starring in VH1's Rock of Love dating show and winning the third season of Donald Trump's Celebrity Apprentice. But no matter where his reality-show acumen or solo career may take him, the Poison frontman always returns to the stage to talk dirty to fans and do the unskinny bop. Plunk down a Franklin for this casino show and expect to hear a full catalog of '80s glam-metal hits, unabashedly punned here for your pleasure.
---
New Year's Eve Metal Assault w/ Grand Inquisitor, Encrypted, All The King's Horses, Compelled To Destroy, Some Kinda Khaos, Spirit Of Chaos, As Each Second Fades, Metanoya, Washco Fubar 7 p.m. | $8 By Joseph Hess Bless its blackened heart, Fubar tends to be the stomping ground for metal acts who fly right under the radar. The owners here don't collect the largest checks, but they take risks -- which pays out in spades for music fans. This is the perfect dimly lit dive to discover new bands, but bring earplugs. The name "New Year's Eve Metal Assault" is no bluff. Check out Grand Inquisitor below for proof:
---
The Schwag Wednesday, December 31 The Pageant 8 p.m. | $10 By Joseph Hess Tribute bands tend to be a cash grab, but the Schwag takes the spiritual approach when channeling the Grateful Dead. The group invokes the feeling of Garcia and company, propelling itself beyond the confines of covers and into inspired psychedelic space. In many ways the Schwag is an original band, but founder Jimmy Tebeau prefers to wear the Dead on his sleeve. But make no mistake -- he's as authentic as they come.
Ring in the new year with an aural acid trip (no drugs required). On this night the Schwag will be joined by Hoop Conscious Girls, Soulshine Liquid Art Light Show and Astral Gypsies Giant Puppets.
---
TIMECHASER - An End of the Year Celebration of St. Louis Nightlife
w/ Downstereo, Blank Generation, Mathias and the Pirates, DJ Mahf, Farout, MC Scrub, MME, Family Affair, DJ Needles, Mark Lewis, Hal Greens, Dino, John Cobb, Scotty Mac, Michael Bishop, Brad Scheske Wednesday, December 31
Empire Hall
9 p.m. | $20
By Joseph Hess
TIMECHASER welcomes showgoers to a three-ring circus of hip-hop, DJ and dance music. While most parties on this night aim to drown patrons in a big vat of bubbly, art is the sole focus at Empire Hall. Both the FarFetched and IndyGround collectives merge for a gala of progressive sound from the greater St. Louis region. The lineup reads like a survey of the year's strongest performers -- this night should kick off the new year with an overwhelming sense of unity.
---
xNYEx at Lemp
w/ Mariner, Plunge, Lion House, Moonasi, Jr. Clooney Wednesday, December 31
Lemp Neighborhood Arts Center
7 p.m. | $7
By Joseph Hess
Lemp Neighborhood Arts Center provides a safe haven away from bar culture, catering to music fans of all ages. Straight-edge New Year's Eve is an annual tradition for the venue, which typically features two things: art and bottled water. On this night, LNAC offers punch, a waffle bar and couches to sleep on for attendees who're too tired to drive after the show. "No booze, no drugs, no jerks," indeed.
The lineup includes three touring acts in Moonasi (Texas), Plunge (Texas) and Lion House (Kansas City). Local rippers Mariner and Jr. Clooney open this post-hardcore sleepover.
RFT MUSIC'S GREATEST HITS
Remembering STLPunk.com -- How to View the Site Today and Find Your Old Profile Page "Where Did My Dick Go?" The Gathering of the Juggalos' Best Overheard Quotations The Ten Best Dive Bars in St. Louis The 15 Most Ridiculous Band Promo Photos Ever
---