[image-10]
New Year's Eve brings lofty expectations for lavish parties and because we, as a people, build this night up so much, it tends to end in disappointment or disaster. As you read our rundown for the week ahead you might notice only one show gets the spotlight for Wednesday but don't worry, we also have a comprehensive guide to the drunkest night of the year. After all, this column is called "Out Every Night" for a reason -- so you can find an excuse to leave the house all 7 days of the week. But don't let that stop you. If we left out your favorite show for the week ahead, let your fellow readers know about it in the comments below.
The Stone Sugar Shakedown logo, taken from the band's Facebook page.
The Stone Sugar Shakedown Monday, December 29 Cicero's 8 p.m. | $6 From the 2012 Best Of St. Louis Awards: When the average citizen thinks of jam bands, names like Phish and Widespread Panic come to mind. But Led Zeppelin jammed too, and Stone Sugar Shakedown's blues-steeped explorations tend to resemble the latter. The band sounds and looks transplanted from the 1970s, with hints of the Blues Brothers and Funkadelic, and it doesn't hurt that singer Tracy Gladden can alternately channel Grace Slick and Roberta Flack. It is no surprise that Stone Sugar Shakedown is incredibly active with appearances at clubs and festivals throughout the Midwest. The band is a crowd pleaser; it is sometimes funky, sometimes psychedelic, but it always infuses its tunes with an energy that only true believers in the power of rock can embody.
Since 1902 w/ We're Bears, The Jockstraps, DJ Jake Leech Tuesday, December 30 Plush 8 p.m. | $5 By Joseph Hess Like most bands that show great promise early on, Since 1902 split just when it seemed to build momentum. Released early last year, the group's last record Slightly Elevated displays a range of blown-out folk jams rife with vocal melody. Horns punctuate pieces and express a striking contrast to jangly guitar, which alternates between fuzzy chords and sharp, acoustic riffs. Since 1902 sounds so confident in driving what would otherwise be soundtrack-esque songs over the edge -- and at times -- right into rip-roarin' rock territory. Thankfully, the holidays tend to bring bands back together for one-off gigs like this and Plush's recent announcement to close on January 3 transforms this concert into a must-see event.
Bret Michaels NYE 2015 Wednesday, December 31 Hollywood Casino 11 p.m. | $100 By Allison Babka On New Year's Eve, you ain't lookin' for nothin' but a good time. Fortunately for St. Louis, Bret Michaels wants to give you something to believe in. Over the years, hair-extension fan Michaels has expanded his personal brand by starring in VH1's Rock of Love dating show and winning the third season of Donald Trump's Celebrity Apprentice. But no matter where his reality-show acumen or solo career may take him, the Poison frontman always returns to the stage to talk dirty to fans and do the unskinny bop. Plunk down a Franklin for this casino show and expect to hear a full catalog of '80s glam-metal hits, unabashedly punned here for your pleasure.
Relentless Approach w/ The Warden, Pizza Boys Thursday, January 1 Melt 9 p.m. | $5 By Daniel Hill Relentless Approach is a Notorious B.I.G.-themed hardcore band. Yeah, you read that right. While the recordings contain no actual rapping per se, the band itself is thematically centered around the late Biggie Smalls and the content of his songs. The name Relentless Approach is culled from the lyrics of "Machine Gun Funk," and most (if not all) of the band's tracks share titles with Notorious B.I.G. ones: "Who Shot Ya," "Juicy," "Hypnotize" -- hip-hop classics reimagined as hardcore songs, but not in a cover-band way at all. Relentless Approach writes its own searing music, with lyrics that run parallel in subject matter to the originals. Relentless Approach contains members of Quad Cities' weed-drenched Lord Green, a now-defunct stoner rock/hardcore outfit and St. Louis favorite. Remnants of that band's sound can be heard in RA; the marijuana is clearly still essential to the process.
Follow through more happening in and around St. Louis this weekend.
Funky Butt Brass Band Friday, January 2 Jazz at the Bistro 7:30 p.m. | $20 Roy Kasten There won't be a fleur-de-lis drop, parades or creole cabbage when Funky Butt Brass Band takes the stage for its annual New Orleans New Year residency at Jazz at the Bistro. But who needs that stuff when you have a band like FBBB? The sextet can play brass-band jazz and horny funk in the pocket and in the tradition, but it's just as exciting when it takes risks -- which it does often on its new album Sugar Sugar Whomp Whomp. Hip-hop, rock, gospel and even country-blues slosh and slide across the record, all the way to the closing "South Side Suite," a truly great (and unsentimental) paean to the river city.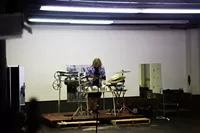 Rob Funkhouser w/ Posture, Organized Crimes Friday, January 2 Schlafly Tap Room 9 p.m. | free By Joseph Hess Bloomington-native Rob Funkhouser can assemble a playable drumset from piles of what others would describe as "trash" and make it sing with the range of a tiny orchestra. His approach to percussion is more melodic than rhythmic -- but that's not to say he lacks the latter. With a subtle hand, Funkhouser strikes nuance into beats that feel natural and not restricted by regiments of classical or jazz music. Self-described as "noise," his sound feels more approachable than others who wave the same flag, and it's not a bait-and-switch. Funkhouser succeeds by bridging the gap between dense sound art and esoteric drum music.
Photo by STL Homegrown Products
18andCounting Saturday, January 3 HandleBar 10 p.m. | free By Ryan Wasoba Stan Chisholm uses the 18andCounting pseudonym for every aspect of his art, whether it is his cross-medium visual work or his Unstrumental raps, but 18andCounting is most visible as a prolific DJ. Chisholm spins records the way a jazz soloist quotes bebop licks, with a wealth of information at his disposal and the taste and technique to react to exactly what his situation demands. Lately, 18andCounting sets have involved live collaborations with musicians like So Many Dynamos drummer Clayton Kunstel, a format that many turntable handlers are not brave enough to attempt. Chisholm's adaptivity is a reminder that he is first and foremost a great musician, even if a conventional instrument is nowhere to be seen.
Blank Spell w/ Latex, Skin Tags, Q Saturday, January 3 Melt 9 p.m. | $5 By Joseph Hess Three days into the new year is about the time resolutions start to fall apart. Philadelphia's Blank Spell plays a quick and dirty kind of nihilist hardcore - the perfect soundtrack to kick those promises of self-improvement to the curb. Guitars swarm around fixed punk beats and give an aggressive backline to shrieking vocal work. The singer's feminine howl provides a counter sound to the masculine drive of Blank Spell's short but succinct set of songs. Riffs come doused in dischord, blending unsettling sounds with a rushed sense of urgency. Everything here lands between punk and noise rock - right between the music dorks and the mosh pit.
Les Gruff and The Billy Goat w/ Cara Louise Band, Adam Klein Sunday, January 4 The Demo 7:30 p.m. | $10 By Mabel Suen From Meet Les Gruff and the Billy Goat, Songwriter Billy Croghan's Americana-Based Band: St. Louis native Billy Croghan grew up on a steady diet of singer-songwriters -- music he says his "old man listened to." Inspired by artists including Cat Stevens, James Taylor and Waylon Jennings, he set out to learn guitar, later studying classical technique in college and writing his own set of Americana songs tinged with folk, country, blues and roots. Today, he performs his songs in Les Gruff and the Billy Goat, a band that includes members of the Last Night, Aye Sir Owl, the Boxcutters and more.
Note: Though we wish we could, we can't feature every great show happening in town in just one post. Look for plenty more recommendations this Friday in our weekend shows post, peruse the St. Louis concert calendar for more ideas and let everyone know what else you're looking forward to seeing this week in the comments below. To be considered for coverage in RFT Music, submit show info online or drop us a line anytime.
RFT MUSIC'S GREATEST HITS
Remembering STLPunk.com -- How to View the Site Today and Find Your Old Profile Page "Where Did My Dick Go?" The Gathering of the Juggalos' Best Overheard Quotations The Ten Best Dive Bars in St. Louis The 15 Most Ridiculous Band Promo Photos Ever
---