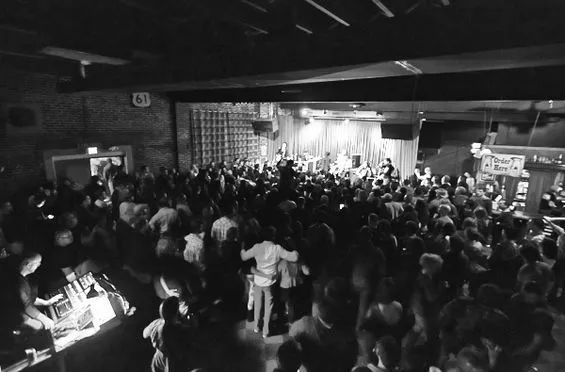 Photo by Theo Welling
Kentucky Knife Fight performed their final show to a sold-out crowd at Off Broadway.
When local bands form, they become part of their city's DNA. Even in the digital age, music can reach an audience years after its members have passed, so the mere act of writing, recording and performing adds to the ether of St. Louis art. Music is an aural look into the lives of the people, and by taking account of the bands we lost in 2014, we can learn more about each other through the music of today.
See also: Six Reasons Why Bands Break Up, A Comic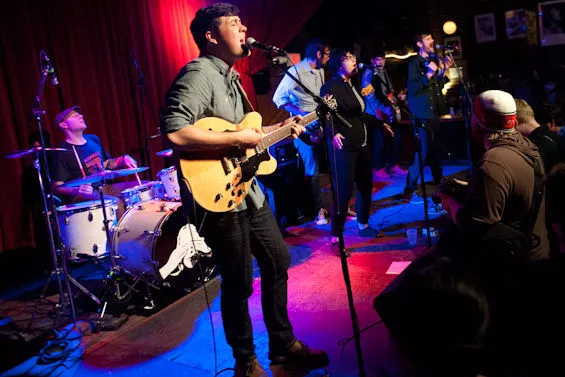 Photo by Jon Gitchoff
The Blind Eyes split back in March following a packed performance at Off Broadway.
From Best Band to Die in the Past 12 Months St. Louis 2014: We have repeatedly sung the praises of pop-rock quartet Blind Eyes, so it was especially sad to see the band bow out with a farewell performance in March. The group consistently delivered bouncy, danceable guitar rock that managed to be both effortlessly catchy and lyrically incisive. Frontman Seth Porter bent his crooning vocals around both swinging grooves and near-punk blasts of eighth notes in a way that always complemented the melody of the song and brought it together. Blind Eyes also appeared to be climbing to new heights with the late-game addition of guitarist Andy White, who slid perfectly into the group's established sound while bringing welcome lead-guitar heroics to the fold. Last year's World Record EP showed how promising his addition was, but it now remains as a marker of what could have been.
See also: The Blind Eyes Breaks Up - Farewell show March 15 at Off Broadway
---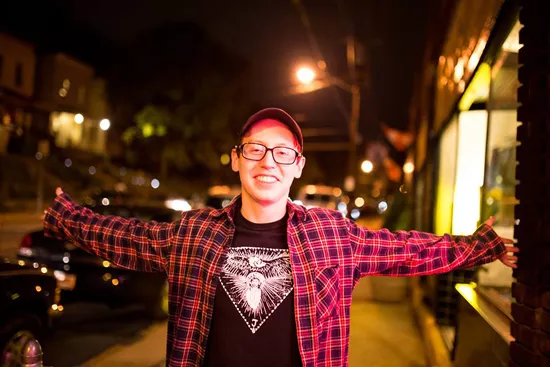 Photo by Daniel Hofmeister
Burrowss frontman Matt Stuttler currently slings fuzzed out guitar rock in Shitstorm.
Every major city's music community has a person like Matt Stuttler -- someone who works like glue to keep things together. On top of booking, promoting and playing some of the best shows in town, he also runs Eat Tapes, a local cassette label. Between helping others with their own musical endeavors, Stuttler somehow found the time to hit the stage with rock outfit Burrowss. The band hurried through classy hooks with rushed beats and searing guitar work in a feedback-laden mess.
Remember that Pete & Pete episode when Pete's dad challenged Inspector 34 to perfectly eat a plate of BBQ? When 34 finishes without making a mess, he fails the contest because BBQ is supposed to be messy. Stuttler has an innate sense of songwriting, and thankfully he's learned a lesson or two from Pete's dad. If you missed out on Burrowss, Stuttler's new group Shitstorm sounds like a direct sequel. What started out as a solo project has morphed into a classic power trio.
See also: Matt Stuttler Makes a Shitstorm of Garage Rock in St. Louis
---
Photo by Bob Reuter
Matt Meyer of Ded Bugs.
This one especially hurts because the Ded Bugs never cited any real reason to split -- outside of the fact that 25 is a nice round number. Although the band has slowed in recent years, it accomplished things most punk groups dream of, like touring Japan and opening for the Dickies. After five albums and two and a half decades of playing live, the Ded Bugs bowed out in November to make room for the next generation. Guitarist Matt Meyer is especially focused on the future, as he mentors for young rock band Million Hits.
See also: Ded Bugs Celebrate 25 Years as a Band With a Series of Shows Starting Tonight
---
Photo by Mateus Mondini
Doom Town's Ashley Hohman and Ben Smith (foreground).
For roughly four years, Doom Town was the barometer for punk rock in St. Louis. Led by the bass and guitar duo of Ashley Hohman and Ben Smith, the band had constant output that consistently challenged what it means to be punk rock in a city with such strong roots in the genre. With five releases and a successful European tour, Doom Town leaves behind an audible legacy that future bands in this city will draw inspiration from -- whether they know it or not. Hohman and Smith formed rock foursome Self Help near the end of Doom Town, which can be found further down this list.
See also: Doom Town's Split LP with Autonomy Marries Gloom-Rock Melody with Raw Intensity
Follow through for more bands that called it quits this year.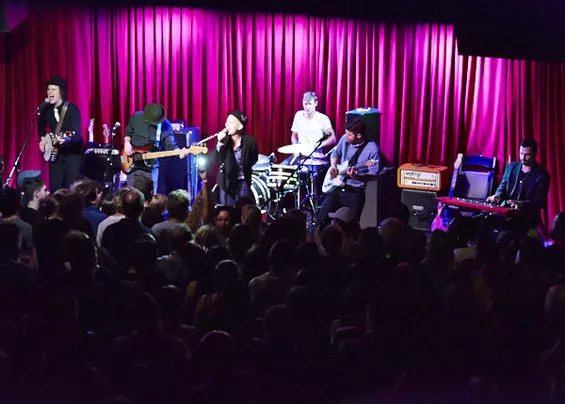 When Kentucky Knife Fight split in November, it had only just released its best album to date, Hush Hush, eight months prior. That was enough time for the band to feel the frustration of never quite breaking through to a wider audience. In fact, Kentucky Knife Fight started off 2014 as victims of auto theft, only to have their beloved tour van returned to them in a crumpled mess.
But Jason Holler's poetic vocals and Nate Jones' infectious riffs broke through to a small yet dedicated audience in St. Louis. When the band announced its decision to split, we here at RFT were broken-hearted. It seems like adorning bands with awards year after year won't do anything to turn the tide of destiny. Fret not, remnants of Kentucky Knife Fight reside within the excellent Yankee Racers.
See also: St. Louis' Kentucky Knife Fight to Call It Quits With a Farewell Show November 22
---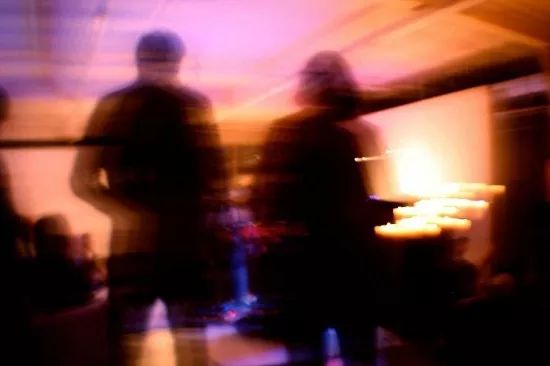 The duo of Travis Bursik and Patrick Weston brought expressive ambient songs by working in perfect sync. The slow flow of meditative drone could be disrupted by one false move or adjustment, but both Bursik and Weston worked as if they were psychically connected, painting huge, vibrant walls of sound. In a genre that typically gets passed off as background sound, Ou Où built a live soundtrack to the collective consciousness -- music deep as depth of the ocean, sitting there for those brave enough to dive. For those craving more: Bursik now works as a solo artist and can be followed here.
See also: Travis Bursik Slows Down Time With His New Album Slow Milk
---
Photo by Stephen Houldsworth
As Doom Town, Ashley Hohman and Ben Smith pushed punk rock through smart songs with audible layers. Late last year, the two formed Self Help with Chris Eck (of Shaved Women) and drummer Leo Jalipa, taking on a stripped-down sound. The parts here are laid bare with clever riffs and a strong yet simple approach to structure that recalls '80s shades of no-wave and post-punk alike. Doom Town must have locked Hohman's voice away, because here she runs rampant with a full-bodied howl. Melodies take center stage in a band without frills -- aurally naked with nothing to prove. Self Help released its demo in April and followed with a short string of shows this past Summer before Smith moved to Texas.
See also: New Band: Meet the 2014 RFT Music Award Nominees
---
Stonechat played a musical bait-and-switch by feigning indie pop with bursts of math rock and noise. Guitar melodies were thrown down the stairs, only to be dragged up by the busy pitter-patter of drummer Charlie Nehr. The band spent most of its musical life as a duo, but the recent addition of keyboardist John Beabout brought a spastic carnival rip to tightly wound songs. The clash of metallic guitar against a hodge-podge of bright synth drew blood in a genre known for padding with soft sounds. The trio split only months after releasing BACCO, a strong five track offering that included a series of mini-comics drawn by artist Curtis Tinsley. In the tradition of bands too hard to categorize, Stonechat never found its wider audience but is destined to inspire a fresh crop of local weirdos.
See also: Stonechat Releases BACCO Tonight at Cafe Ventana; Preview A Track and its New Comic
---
Times Beach deserves a proper obituary, but the band was so short lived and writer Jenn DeRose summed up the band so perfectly for the 2014 RFT Music Awards:
Raw Pop, the latest release from Times Beach, is best suited for play during a game of beach blanket bingo on the moon, preferably with a tire fire blazing in a crater nearby. As its succinct title suggests, Raw Pop incorporates punk and hardcore influences, which Times Beach members have intimate involvement from prior and current projects, with components of lo-fi pop and surf-rock. This mixture of genres creates a turbulent whirlpool of hypnotic hooks and sweet, swirling riffs that pull the listener deep into blissful oblivion. Produced by St. Louis ex-pat and pop-punk expert Mario Viele, Raw Pop is a gorgeous, must-own summer blaster, available on cassette or digital download.
Times Beach broke up earlier this year when founding member, guitarist and singer Mark Plant relocated to Chicago. His current project Military Police can be found here.
See also: Times Beach Releases Raw Pop This Saturday, Opens for Perfect Pussy
RFT MUSIC'S GREATEST HITS
Remembering STLPunk.com -- How to View the Site Today and Find Your Old Profile Page "Where Did My Dick Go?" The Gathering of the Juggalos' Best Overheard Quotations The Ten Best Dive Bars in St. Louis The 15 Most Ridiculous Band Promo Photos Ever
---