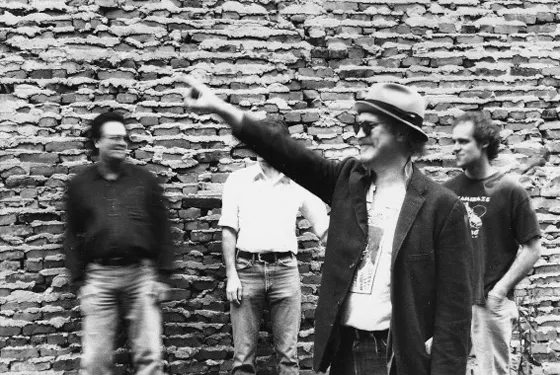 bob-reuter.com
Kamikaze Cowboy
Christmas is upon us, and that means inoculating yourself against the relentless onslaught of much of the Christmas carol canon. To save your ears — and to celebrate the seasonal offerings of some local artists — senior music writers Roy Kasten and Christian Schaeffer will count down twelve of the finest holiday jams from St. Louis artists each weekday from now through December 24.
Day 9: Kamikaze Cowboy, "White Christmas/Silver Bells/White Christmas" (2000)
See also: The 100 Greatest St. Louis Songs
Bob Reuter fucking hated Christmas. I know because he told me so, many times. But as with everything the songwriter, band leader, photographer, writer and DJ said, the statement had more than a few meanings. For Reuter, the happiest time of the year was often a lonely and resentful time. But maybe he despised the season because deep down, like all of us, he wanted to love it — and then the fucking choirs and the sidewalk Santas and the bullshit — as only Christmas can do bullshit — would start up again, like a toxic, sticky, fake snowfall that never ends. Or so it so often seems.
And that's the emotional weather report churned out by Bob Reuter and Kamikaze Cowboy, the band he led through the '90s and the early 2000s. Featuring producer Mike Martin on bass, Mike Enderle on drums and John Horton (of the Bottle Rockets) on guitar, the band rocks all hell's silver bells out of two of the most beloved (and, in certain moods, most detestable) of Yuletide tunes. Punk bands have often screwed with these songs, but no band has ever mashed them up as Kamikaze Cowboy did (Reuter even gives a snarling parody of another sacred pop text: the chanted refrain of Darlene Love's "Christmas Baby, Please Come Home").
Still, the band is clearly having a blast, and expressing some kind of demented affection for these classics, with Horton shredding on guitar, Enderle laying into his kit and everybody going berserk on the sleigh bells. "What do you mean no presents this year?" Reuter says at the end. Probably not, but the greatest gift for Reuter was punk-rock love.
Where you'll find it: Though it's long out of print, the Better Than Fruitcake: Nourishing Holiday Classics by St. Louis' Finest Rockers collection from 2000 laid the groundwork for Matt Harnish's (of Bunnygrunt fame) A Very Bert Dax Christmas annual STL holiday compilations. It deserves a reprint.
The First (Reuter) Noel: As heard and seen in a performance of an early, original tune called "Christmas Song" (recorded for Meadowlands Showcase TV, a late '80s-'90s New Jersey cable program produced by Michael Raso and John Fedele), Bob Reuter sounds like a country-folk crooner looking for a muse. But the lines "There ain't no snow on the ground and my thermostat has been turned down/The Christmas lights are gone and I'll spend Christmas nights alone — to live" are still somehow classic Reuter.
See also: The 12 Best Songs for a St. Louis Christmas
RFT MUSIC'S GREATEST HITS
The 15 Most Ridiculous Band Promo Photos Ever "Where Did My Dick Go?" The Gathering of the Juggalos' Best Overheard Quotations I Pissed Off Megadeth This Week, My (Former) Favorite Band The Top Ten Ways to Piss Off Your Bartender at a Music Venue
---