Kelsey McClure
A scene from St. Louis' only late-night show, STL Up Late.
Rather than write a long-winded love story about comedy in St. Louis, RFT Music decided to reach out to the scene's key players for their side of the 2014 comedy story. We asked them to submit a meme, GIF or two-sentence summary of their 2014 comedy experience. A few went straight to photoshop while others went the route of shameless self-promotion. All in all, the collection is just about as true as it gets -- without jokes, we'd only have ourselves to laugh at.
So to start things off, our contribution explains just how overwhelming keeping up with the jokes became. We are the girl, St. Louis comedy is the Diet Coke.
Chris Cyr Cofounder and cohost of Wild Card Comedy
"A fairly typical night in 2014 featured three open mics, a nationally known touring comic, an improv show, and four other locally produced standup shows all going on at same time. Unless you mastered time travel, there was no way you could see every single great show this past year, and that is fantastic."
@wildcardSTL | Wild Card Comedy
Josh McNew Producer of STL Up Late
"STL Up Late produced 32 original, live, late-night talk shows, including a show in New York, Kansas City and at the Saint Louis Art Museum. Writer Bobby Jaycox also made buttons with the logo on them, which is also pretty neat."
Brandon Judd Standup comedian
"St. Louis standup had a great showing at the St. Lou Fringe festival. New comics joined us. Some comics left us. Some of our good friends opened for legends, and my first review said I was gay."
Jaysen Cryer Improviser
"Turns out you can make this shit up."
@theimprovshop | The Improv Shop
Chris Ward Cohost of Loser. - A Live Action Shame Show
Chad Wallace Founder and host of Comedy Shipwreck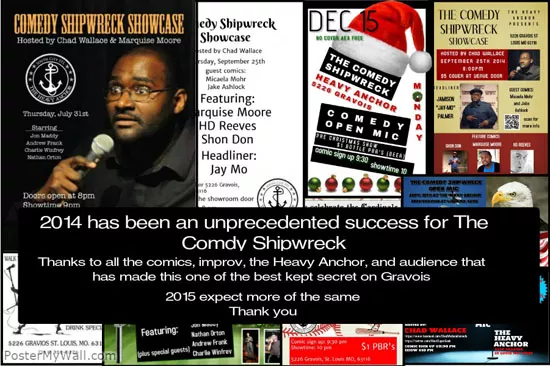 Stryker Spurlock Comedian and host of Contraceptive Comedy
"We were joined by a good amount of promising young comics (Andrew Mihalevich, Milly Naeger, Matt Rose, etc.), as well as new shows (Picnic Time, No Straight White Guys, Sorry, Please Continue..., Stupid Brain, etc.). And Stryker finally got his fucking driver's license."
@StrykerSpurlock | Contraceptive Comedy
Note Stryker just recently celebrated his eighteenth birthday and has had his driver's license for less than six months.
JC Sibala Cofounder and Cohost of Wild Card Comedy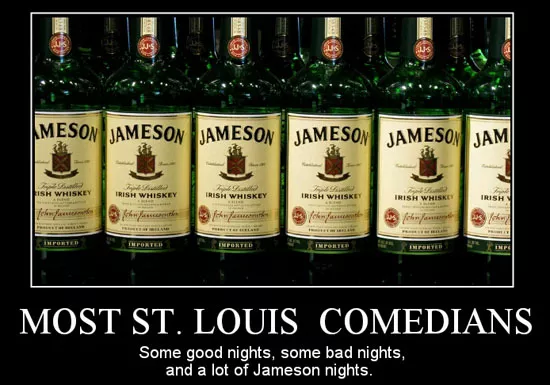 Jeremy Hellwig Cofounder of Sorry... Please Continue
"This year the St. Louis comedy scene got big enough that to try to sum it up in two sentences would be disingenuous, maybe even insulting. Then I make fart sounds with my mouth."
Comedy VS Everything | Sorry... Please Continue
RFT MUSIC'S GREATEST HITS
The 15 Most Ridiculous Band Promo Photos Ever "Where Did My Dick Go?" The Gathering of the Juggalos' Best Overheard Quotations I Pissed Off Megadeth This Week, My (Former) Favorite Band The Top Ten Ways to Piss Off Your Bartender at a Music Venue
---