[image-10]
Touring acts tend to travel less this time of year but St. Louis has no shortage of shows. Thank the tireless efforts of acts like Mark Dew and the Soulard Blues Band for holding it down week after week. Fans of rock should keep an eye on the legendary Sebastian Bach or the one-two punch of Tilts and Bug Chaser at the Firebird. Treat yourself to a show or two before the hectic holidays and, as always, leave a comment below and let us know what you're looking forward to.
Soulard Blues Band Monday, December 15 Broadway Oyster Bar 9 p.m. | $6 Roy Kasten From the 2014 RFT Music Awards: One day, dear reader, the Soulard Blues Band will be no more. It's just a fact. And one day you'll wonder why, despite all the opportunities every other day of the week, you never saw this St. Louis institution in its prime -- and no, the band's prime ain't over. If somehow you've never danced your ass off when Art Dwyer lays down a bass line as smooth as crushed velvet, or when Marty Abdullah swings his phrasing on "Kansas City Blues" or "Dust My Broom," or when Tom Maloney plays a solo that would make his mentor (the late, great Benny Smith) smile, well you really should. Don't take this band for granted. Pay your respects soon; they've been earned.
Sebastian Bach Tuesday, December 16 Pop's Nightclub 7 p.m. | $10 Allison Babka As rock stars age, one of two things usually happens: They either invest in their craft and come out with stronger material than that of their heyday, or they reinvent themselves so many times that you're not exactly sure what they are anymore. Sebastian Bach is somewhere in the middle, though he leans a bit more toward path No. 2. Since parting ways with metal band Skid Row in 1996, Bach has performed on Broadway, fought with Mötley Crüe's Nikki Sixx and literally turned himself into Maroon 5's Adam Levine for a singing competition. But he's also continued to pump out music, and his fifth solo album Give 'Em Hell shows quite a bit of maturity in both his voice and his songwriting.
Sean Rowe w/ Brian Henneman Wednesday, December 17 Off Broadway 8 p.m. | $10-$15 By Christian Schaeffer If Sean Rowe were content with merely being a folk singer, the effects of his evocative story-songs and his cistern-deep vocals would be compelling enough. It's the range of his songs' arrangements, taken with his John Fahey-esque guitar technique, that make Rowe's records and particularly his shows worth catching, and this year's Madman LP shows Rowe's rusticated pop sensibilities alongside his more discursive sojourns. For a performer more accustomed to small house concerts, Rowe's show promises intimacy even in the relative splendor of Off Broadway.
Tilts w/ Traindodge, Bug Chaser Thursday, December 18 The Firebird 8 p.m. | $10 By Christian Schaeffer Sure, Tilts titled its last LP Quatro Hombres as a nod to ZZ Top, but the album title also speaks to the bond of these four dudes and the riff-rock they revel in. Since guitarist and lead singer Andrew Elstner decamped to Florida, Tilts shows have become few and far between, so this week's holiday homecoming concert has a little something extra. Tilts completists can prep for the show by digging into the recently uploaded digital-only demo collection Dilts on Bandcamp, which kicks off with a song called -- wouldn't you know it -- "ZZ Tilts."
Follow through for great shows happening in the weekend ahead.
El Monstero Friday, December 19 The Pageant 8 p.m. | $27.50-$47 From Best Tribute Band St. Louis 2012: Now in its fourteenth year, El Monstero is an institution. Each December (and in the last two years, July), an all-star cast of premier St. Louis musicians combines forces to pay tribute to Pink Floyd and the bombastic spectacle that is its stage show in a series of sold-out concerts. What makes El Monstero special is that the production is never stagnant. Yes, the group covers the big hits and always delves into Dark Side of the Moon, but it also mixes curveballs like "Free Four" into its sets. All songs are played with ace musicianship: The group plays as a tight unit but can cut loose with dazzling solos during jams. And the bells and whistles get more sublimely ridiculous each year. Just when you think El Monstero has exhausted every trick known to a rock show, it flies a friggin' helicopter into the Verizon Wireless Amphitheater. Perfect for die-hards and casual fans alike, El Monstero is the ultimate Floyd tribute experience.
Glass Animals Friday, December 19 The Ready Room 8 p.m. | $18-$20 By Melinda Cooper From this review of Glass Animals at LouFest 2014: The simple, well-planned drums combined with tasty spaces leave enough room for the gently crisp vocals to shine. The bass never got too busy to allow everything to breath and develop character independently. Oddly, the band's cover of Kanye West's "Love Lockdown" showcased its style possibly more than anything else in the set. The contrast between the original and this take drew the attention to Edwin Irwin's phrasing choices as well as the band's overall accompaniment well beyond what a concentration of originals might have done. It didn't hurt that everyone knew it well enough to sing along either.
The Sheldon 8 p.m. | $20-$25 By Roy Kasten Like under-cited influence Steve Earle, songwriter Patterson Hood isn't much of a singer, but those limitations matter little when he has a tremendous band behind him. A brainiac in Southern-rock clothing, Hood can perform like a force of nature when Drive-By Trucker guitars blaze around him. And yet even when standing solo, he can make you feel the stories of the Southern working class -- the "heathens," as he calls them -- as if you've known his characters all your life, or maybe even been them yourself. You may not find yourself fist-pumping to "Look Out Mountain" or "Hell No, I Ain't Happy" in the polite Sheldon Concert Hall, but you'll dig his Southern thing all the same.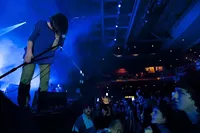 Cage the Elephant w/ Cold War Kids Saturday, December 20 Pop's Nightclub 7 p.m. | $28-$32 Matthew Jackson From this concert review in the RFT Music archives: Nobody would claim Cage the Elephant has reinvented the garage-rock wheel, but it performed as if it had. Songs like the risible rap-rock of "In One Ear" may induce wincing, and you wouldn't be entirely wrong in calling Elephant's sound nothing more than well-polished pastiche. No matter, too, that its lyrics are made from duct-taped platitudes and home-brewed stories. Its best songs were greater than the sum of their parts: as snotty and jukebox-ready as "Soil to the Sun," "Back Stabbin' Betty," "Wicked" and "Wall" are, they were turbulent and spacious in concert, slippery as goose shit and twice as loose. These were songs that amend definitions and obliterate distinctions.
Mark Dew Sunday, December 21 Hideaway Restaurant & Lounge 8 p.m. | free To walk into the Hideaway is to enter a place that seems frozen in time, where the dozen or so seats around the piano are packed with your grandparents' friends, decked out in chunky jewelry and tilted fedora hats. Ostensibly, they're here to listen to Mark Dew play -- he's here Wednesday, Friday, Saturday and Sunday nights -- but you're just as likely to hear one of those old-timers sitting around the piano trill Charlie Rich's "The Most Beautiful Girl." And when Dew finally has his turn at the mic, he'll say something humble, like, "I apologize; it should have been in the key of F." No matter. Dew is the conductor of this time-traveling train, and everyone's on board. Dew, who is blind, has been the piano man here for nearly a quarter-century and jokes that the best part about working here is, well, getting paid. He marvels at the younger set trickling in and its knowledge of the Cash and Sinatra songbooks: "The more the crowd gets into it, the more I play," Dew says. And that's enough to keep him around. "I'm not quite ready to be out to pasture," he says. "Yet."
Note: Though we wish we could, we can't feature every great show happening in town in just one post. Look for plenty more recommendations this Friday in our weekend shows post, peruse the St. Louis concert calendar for more ideas and let everyone know what else you're looking forward to seeing this week in the comments below. To be considered for coverage in RFT Music, submit show info online or drop us a line anytime.
RFT MUSIC'S GREATEST HITS
Remembering STLPunk.com -- How to View the Site Today and Find Your Old Profile Page "Where Did My Dick Go?" The Gathering of the Juggalos' Best Overheard Quotations The Ten Best Dive Bars in St. Louis The 15 Most Ridiculous Band Promo Photos Ever
---