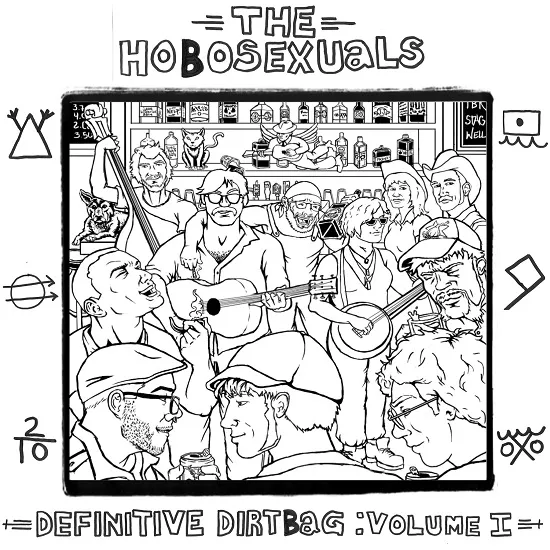 The cover of the new album features several of St. Louis' finest musicians.
What's your poison? Take a look at the tracklist of the Hobosexuals' latest, and there's a good chance the junk-store country band has it in stock. Be it "Bottle of Gin" or "Whiskey at the End of the World" for spirits lovers, "Stained in Wine" for the sommelier set, or "Caffeine, Nicotine and Reefer" for those who like to mix uppers and downers, the band is holding. With their debauchery so clearly transmitted, it's up to leader Ryne Watts and his accomplices to tell these stories in varying shades of twang and surprising levels of heart.
The cast of players, so neatly illustrated on the album jacket, is basically a Big Muddy Records revue: Members of the Loot Rock Gang, Alley Ghost and Jack Grelle's band fill in on pedal steel, harmonica and harmonies, and the ramshackle atmosphere makes it sound like an after-hours jam.
Watts' other project, the Campfire Club, took a similarly holistic pass at Americana on 2011's Tin Can Telephone, and Definitive Dirtbag is adept at shuffling through song styles, most of which are marked by Watts' genteel guitar strums and his long-time bandmate Coop's banjo work. The loping, piano-and-sax-driven "Stained in Wine" channels the late-night tales of early Tom Waits, while the true-to-life tale of south-city thievery "Gettin' Robbed" sounds like Leo Kottke and makes getting mugged seem almost pleasant. And while it isn't exactly a Porter-and-Dolly joint, Watts' duet with his fiancee (and occasional RFT Music writer) Cassie Kohler, "I Ain't Taking You Home Tonight," is a fun tale of a randy lass and her reluctant would-be paramour. (Spoiler alert: The couple in the song ends up boning).
The Hobosexuals occasionally pushes the sad-sack country tropes a bit too far -- how the band stretched the domestic discord of "I Slept in My Van" into a six-minute track is anyone's guess. At least the group sounds like its members are having fun. But Watts' has always hidden an unexpected sweetness amid his wry lyrics, and closing cut "Hair-Lip Dog" puts aside some of the dirtbag dress-ups and broad strokes of the earlier cuts and settles into a gentle, nearly introspective groove.
Pick up the new album at the band's record release show this Saturday at Off Broadway. 9 p.m. / $5.
RFT MUSIC'S GREATEST HITS
The 15 Most Ridiculous Band Promo Photos Ever "Where Did My Dick Go?" The Gathering of the Juggalos' Best Overheard Quotations I Pissed Off Megadeth This Week, My (Former) Favorite Band The Top Ten Ways to Piss Off Your Bartender at a Music Venue
---