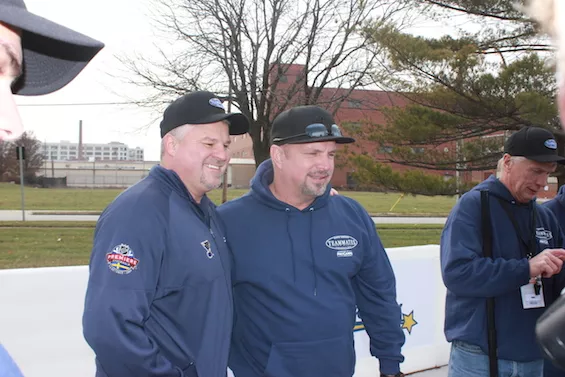 Allison Babka
Former St. Louis Blues right wing Kelly Chase and country star Garth Brooks are "Teammates" for life now.
Do country music and hockey mix? The former conjures up images of cowboy hats and tractors, while the latter brings to mind mouthguards and Blur's "Song 2." These aren't exactly related interests.
But in St. Louis, anything goes, especially when there's an opportunity to help local kids. That's how country megastar Garth Brooks and a bevy of St. Louis Blues players got together to bring hockey to children at the Mathews-Dickey Boys and Girls Club in north St. Louis.
See also: - Photos: Garth Brooks Wows Scottrade Center - Justin Timberlake Spotted in Crowd at Garth Brooks Concert at Scottrade Center: Photos, Video
Getting out of his hotel room before his fourth sold-out show at Scottrade Center on December 7, Brooks met up with current Blues defenseman Barret Jackman, Hall of Famer Brett Hull, former team stalwarts Kelly Chase, Bobby Plager and others to coach a few rounds of youth hockey at the Mathews-Dickey outdoor rink. Brooks' Teammates for Kids foundation provides scholarships for children to attend ProCamps sports camps that are hosted by professional athletes in all disciplines.
"Even though my name might be on the sign, I'm the same exact piece of the pie as these guys [the Blues players] are," Brooks told media at the event. "These guys, they love children. So I'm just real proud to be part of it."
Brooks is coordinating a Teammates ProCamp in each city on his world tour, which kicked off in Chicago on September 4. The country star's visit to St. Louis coincided with unrest and discussion after a grand jury recently decided not to indict Ferguson police officer Darren Wilson fatally shot eighteen-year-old Michael Brown, but Brooks said nothing could have stopped him from putting the clinic on.
"It's about children in need, and unfortunately, you've got children in need everywhere," Brooks said. "Fortunately, you've got people like Mr. Matthews [Martin L. Mathews, who cofounded the Mathews-Dickey Boys and Girls Club in 1960] who dedicate their lives to taking care of these families. That's what it's all about."
Smiling and clapping from the rink wall, Brooks watched dozens of kids show off their hockey skills under the tutelage of the Blues players and later gave shoutouts to the girls for competing as hard as the boys and singling one youngster out for her goalie expertise.
"Watch out for this one," Brooks said. "I think she only let one shot slip by."
Judging by their tweets, the Blues players seemed to love the event as much as Brooks did:
Brooks even donned a Blues jersey during Sunday's performance:
Just don't ask Brooks to wear skates himself. While he said he's a hockey fan, he also admitted that he's "just not much of a player."
"It just doesn't make any kind of physics for this big ass to be on skates," Brooks laughed.
On page two, see photos of Brooks and the Blues players hanging with the kids!
Allison Babka
Garth Brooks talks about his Teammates for Kids foundation.
Allison Babka
Garth Brooks talks with media at Mathews-Dickey Boys and Girls Club.
Allison Babka
Garth Brooks gives an air high-five while former St. Louis Blues right wing Kelly Chase walks with young hockey players.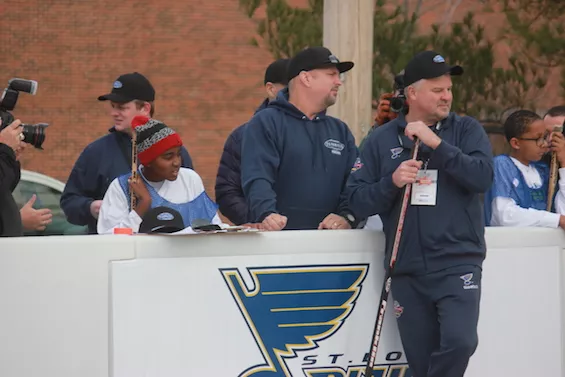 Allison Babka
Garth Brooks (center) and former St. Louis Blues right wing Kelly Chase watch a play unfold near the goal.
Allison Babka
St. Louis Blues defenseman Barret Jackman chats with a new fan.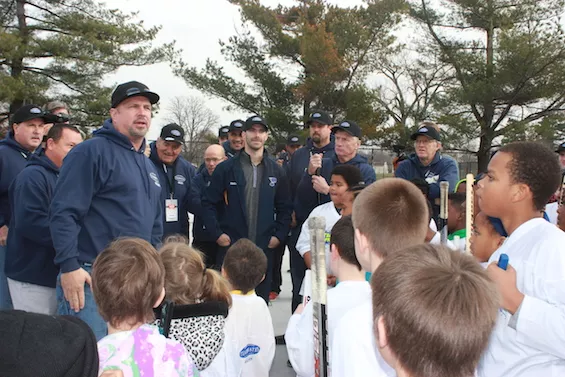 Allison Babka
Garth Brooks compliments Mathews-Dickey kids on their hockey prowess.