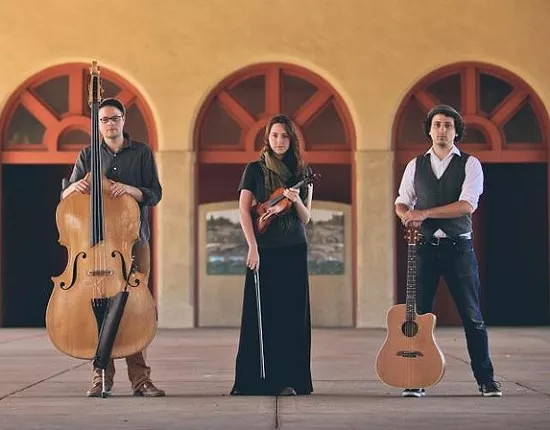 Billy Sukowski via Mt. Thelonious' official website
Mt. Thelonious
Staring at a spot on the floor, a slight young guy in a wool knit cap picked out an ascending line on his acoustic guitar. A few bars later, the violinist came in. Her long sweater swirled around her as she plucked the strings, the two parts bouncing off one another. A third musician, wearing several jackets and a grumpy expression, pulled low notes out of his blond standup bass.
As the guitarist approached the mic to sing, a high-pitched whine shrieked over his voice. Feedback.
The guitarist was Ian Lubar, the violinist Alyssa Avery and the bassist Mark Wallace. Together, they're Mt. Thelonious, and their show on Friday, November 21, at the Schlafly Tap Room was both their first and last in St. Louis for the month.
The trio is pretty young, just a few years out of college, and working to cultivate a larger following aided by a string of recent tours to each of the country's coasts.
"We're trying to get out as much as possible, you know, without living in the poorhouse," said Lubar.
The three of them are talented musicians, but they're in that awkward phase between garage-band status and having "made it." That means sometimes having to deal with the weird and the unfortunate, like the phantom whine that kept howling in the mix.
"Welcome to our avant-garde set," Lubar joked into the mic.
An hour or so earlier, the band's members stood out in front of the bar, reflecting on all that's happened since they released their first demo two years ago. It was a cold and rainy night, and aside from the driving rockabilly of the Bible Belt Sinners bleeding out onto the street, Locust Street was quiet.
They talked about meeting at Webster University, where they studied jazz performance (thus the reference to the eccentric pianist and composer Thelonious Monk). The music the group plays now has a similar aesthetic to jazz, according to Avery: "It's very responsive, it's very much in the moment," and heavily based on improv.
Mt. Thelonious is adamant about not being a jazz band, however, even though Wallace said the group is frequently mischaracterized that way. "We'll pop into a town, and people will show up, and obviously we're not playing jazz," he said with a look of exasperation, "and they get disappointed and leave."
The band's interweaving of various musical textures makes for a cool sound, but it's also tough to categorize. That might explain how they ended up on a bill with a harder-rocking band like BBS.
Mt. Thelonious' music gets compared to everything from Andrew Bird to Mumford & Sons to the Grateful Dead, although that last one mostly comes from old mountain hippies.
"Nationally, on our tours, we generally get put up by hippies," Wallace said.
"Yeah," Lubar added, "they've been great to us."
At any rate, the band's members say they're not that worried about categorizing themselves. And as the show progressed, Mt. Thelonious worked in influences of folk, blues, and even something like gypsy-jazz. Though there weren't any hippies there, there was a decent-size crowd that night, with a mix of age groups. Lots of family and friends, it seemed, milling around with pints in hand.
Continue to page two for a surprise onstage engagement.
Finally, after a few songs, the sound issues were resolved, letting the musicians settle into their set. Avery bowed a soulful solo on the band's cover of "In the Pines," and all three showed off their chops on "Time," an original that sounded like mutated bluegrass.
Late in the night, the band broke into a rollicking, folkified version of "Sympathy for the Devil." The audience crowded up to the stage, whooping and hollering. Wallace glared down as they stomped their feet and bounced along to his bass line. Lubar was practically shouting into the mic: "Pleased to meet you, hope you guessed my name!"
Then, the group invited Jeremy Shanas to the stage, a friend of the band and a talented musician in his own right. Shanas, a big bearded guy with Ginsberg glasses (the words of some guy in the audience), led them through a few more traditional folk songs he'd written.
Shanas then asked his girlfriend, Elizabeth, to come up near the stage so he could sing something he'd written for her. She stood up front, and the musicians kicked off a cutesy love song. An awful lot of cameras appeared.
The band fell to the background for the final verse, which ended with Shanas asking her to "please say those words: I do, I do, I do." He set down the guitar, and produced a ring.
The ensuing commotion around the happy couple upstaged the last few songs, as the band quietly finished the set. But its members didn't seem to mind too much. It had, overall, been a good night. Even Wallace smiled.
RFT MUSIC'S GREATEST HITS
The 15 Most Ridiculous Band Promo Photos Ever "Where Did My Dick Go?" The Gathering of the Juggalos' Best Overheard Quotations I Pissed Off Megadeth This Week, My (Former) Favorite Band The Top Ten Ways to Piss Off Your Bartender at a Music Venue
---