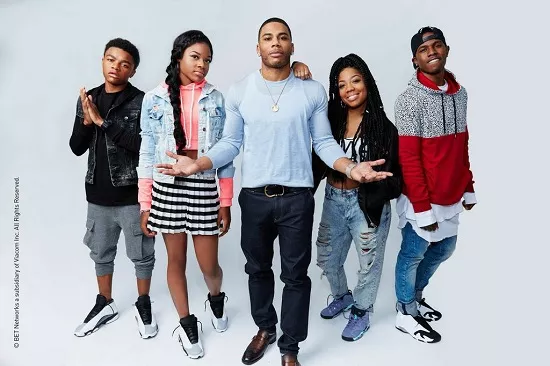 via BET
The Saintliest of Lunatics, Nelly, with his family.
If you were hoping Nellyville would be an insightful look at the life of a rapper who has been notoriously private until now, prepare to be disappointed. Aside from a few very raw scenes, this show is little more than fluff with some staged drama.
St. Louis rapper Nelly has joined Rev Run, Coolio and other fizzling pop stars who are trying to grab some last limelight through reality TV. After his latest album went largely unnoticed in 2013 (you know, that one you probably didn't hear about until you read that last sentence), he has turned to television. Nellyville is airing on BET in eight hour-long episodes.
See also: Extended Nellyville Trailer Reveals Focus On Rapper's Blended Family and Home Life
The show opens with an introduction to Nelly's family. He has adopted the two children of his sister -- whose death from leukemia was highly publicized -- Lil Shawn and Sidney, and has two kids of his own: Chanelle (Nana) and Tre. Add to the mix Nelly's new girlfriend, Shantel Jackson (Floyd Mayweather's ex).
The first episode begins with Nana arriving home from college to spend a weekend with her family and Shantel. First things first: What the hell was that thing that sucked her suitcase downstairs? It was like the giant version of that tube/vacuum thingy that takes your check to the teller at bank drive throughs. We don't even get a hint of an explanation, so we're left to assume that the Jetsons used to own Nelly's mansion. After her luggage is magically whisked away (possibly to another realm), Nana is welcomed by her family and banter ensues. Tre wanders into the other room and presumably drinks chocolate milk for the next two episodes of filming.
Shantel Jackson has arrived in town for the weekend and spends most of the show failing to make a connection with Nelly's daughter, Nana. After being rebuffed with extreme prejudice when she offers to set Nana (whose boyfriend recently died) up on a date, she redirects by encouraging Nelly to have a discussion with Nana about her boyfriend's death, then makes sure to take credit after he talks to her. All of her interference and attempts at "girl talk" just leave her looking a little too desperate to join the family.
While the kids spend some time upstairs in a huge recording studio where Lil Shawn makes mixtapes and plays Xbox, Nana relates to her siblings that she's having some trouble dealing with the recent death of her boyfriend, Mario. While the circumstances are never really explained, we can extrapolate that Mario was shot outside some sort of a club where he and Nana were spending the evening. After encouragement from Shantel, Nelly tries to comfort his daughter for her loss on camera, but the moment falls flat after so much staging.
Downstairs, after Nelly recovers from the shock of hearing that people go bowling in LA, he rounds up the family and heads to Lindenwood University to award his Black and White Ball scholarship to this year's winners. (We'll skip the car conversation where Nelly brags about his twenty-year-old daughter being a virgin.) At the ceremony, Nelly visits with Mike Brown's parents, who he had invited, and offers condolences and any help he can give.
After so much tension, a cheesy family bowling game seems to ease everyone's mood.
Continue to page two for insight into the second episode of Nellyville.
Episode two opens with yet another forced conversation of grief when Nelly "interrupts" his nephew writing letters to his deceased mother. The real shame of this is that Nelly seems to really care about his kids and the various stages of the grieving process they are all going through, but the set-up conversations feel insincere and hollow.
This episode focuses on Nelly and his nephew Shawn attending the BET Awards in Atlanta. We meet Nelly's gal Friday, a giant dude named "Three," as they pick up his sick new Bentley from the dealership. We watch in awe as Nelly becomes the first proud American to own a Bentley with a chrome hood.
Back in the Lou, Shantel is trying once again to reach out to Nelly's kids. This time she is determined to have a weekend with his niece Sydney that outdoes the boys BET Award vacation. What could top being on the red carpet with the likes of Nicki Minaj and Pharell? A cooking class, of course. As they whip up some brownies, you can finally sense some reality in the show when Sydney looks as bored as we feel.
Nelly dresses up Shawn and his friend Cam in matching bright red and yellow outfits (while hilariously calling them "Ketchup" and "Mustard") and dons his own matching black ensemble before heading off to the BET Awards. Nelly again talks with Mike Brown Sr. at the show, and Snoop Dogg addresses the Ferguson incident and asks everyone to put their hands up.
Not surprisingly, Shawn and his buddy steal the new Bentley and go for a ride the next morning, whereupon they fail to pick up chicks. After getting lost for hours, they arrive home and Shawn explains that he woke up and was bored and decided to take the car so as not to disturb his uncle's sleep. Nelly does a lot of stern talking, and then tells them not to do it again as if they're precocious toddlers who got into mommy's makeup.
There are a few true notes of reality as the family shares a conversation too private for the cameras when Shawn comforts his little sister over their mother's death and Nelly joins them. Afterward Shawn and Nelly visit Shawn's mother's grave for the first time. Shawn cries in the cemetery before Nelly talks to his sister in the grave in a truly sad moment.
The one thing the show does well is remind us why we like Nelly. Despite creating one of the best-selling rap albums of all time, he hasn't lost all touch with reality or reached Kanye levels of insanity yet. His home is luxurious but modest. He still says things like "ghetto MacGyver" and cranks out folksy wisdom to his kids like, "Be on your P's and Q's."
Country Grammar: A Lesson In Nelly's Vocabulary
Incognegro: A black person dressed inconspicuously.
Dummied: Pissed? Confused? Even Urban Dictionary couldn't clear this one up for sure
Nelly's quote of the week:
"How yo' black ass allergic to chocolate?!"
RFT MUSIC'S GREATEST HITS
The 15 Most Ridiculous Band Promo Photos Ever "Where Did My Dick Go?" The Gathering of the Juggalos' Best Overheard Quotations I Pissed Off Megadeth This Week, My (Former) Favorite Band The Top Ten Ways to Piss Off Your Bartender at a Music Venue
---