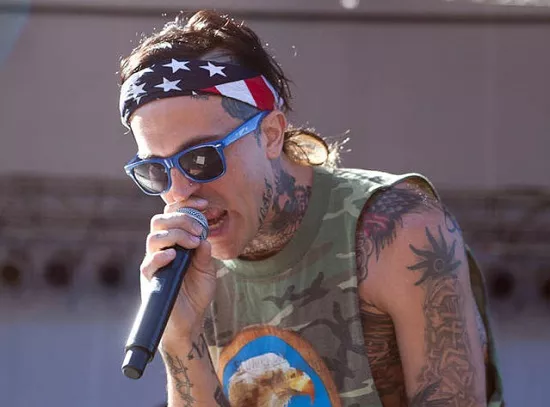 Rock Cousteau via Wikipedia
Yelawolf will perform at the Ready Room on December 4.
Before the year's over, hip-hop has decided to take a major swing (and a hit) in St. Louis: This month, we've got emcees from every corner of the U.S. coming through. As it gets colder, warm up with a little heat from some of our favorite artists from New York, Philadelphia, Alabama, California and the good ol' Lou. Hopefully we'll get a little head-nodding and booty-shaking out of you, too.
Yelawolf with Rittz, Big Henry and DJ Klever at the Ready Room December 4 7 p.m. / $22-$75
Yelawolf had a rocky start to his rap career. After self-releasing a few projects and getting dropped from Columbia Records, the heavily tattooed rapper was finally picked up by Interscope in 2010 and Shady Records in 2011. Since then, it's been bliss: The Yelawolf now has four studio albums under his belt as well as an engagement to Canadian singer Fefe Dobson. He is also now slated to release his next project Love Story with Shady Records. Come early to catch Strange Music signee Rittz.
Bahamadia with Georgia Anne Muldrow, Dudley Perkins, Kankick, Hawthorne Headhunters, Con and Nappy DJ Needles at Blank Space December 6 8 p.m. / $10-$13
After dropping her debut project Kollage in 1996, Bahamadia's career came and went for awhile. However, it now seems like the self-proclaimed queen of underground hip-hop is here to stay. After the success of her 2006 album Good Rap Music, the Philly rapper is now promoting her fourth release Here, which features collaborations with many notable artists, including Erykah Badu, Talib Kweli and Sweetback.
Lil Debbie with Caskey, Doughboy, V$A, and Cory Miller at the Firebird December 6 7 p.m. / $18-$20
Lil Debbie? More like Lil Spitfire. The California born and bred rapper first got her name with the now extinct rap group White Girl Mob, which included the infamous Kreayshawn and V-Nasty. While Kreayshawn stole the limelight for a while with the song "Gucci Gucci," it now seems to be Debbie's turn. Have you heard her songs "Slot Machine" and "Bitches"? If not, take a listen -- Lil Debbie stays winning.
Indyground Live with Dom Chronicles, Farout, J Bomb, DJ Mahf, Steddy P, Darryl Apollo Dixson, Visual and DJ Alex Reed at 2720 Cherokee Performing Arts Center December 27 TBA
Indyground was founded in Columbia in 2004. Since then, the indie label has released over 30 projects by some of St. Louis' most beloved rappers, including Farout, DJ Mahf, Dom Chronicles and Steddy P. The label usually hosts a huge annual end-of-the-year bash in Columbia, but last year, Indyground switched things up by launching a Live In Concert series at 2720 Cherokee in June and December. Arrive on time to witness the natural energy and positive vibes of Indyground's full artist roster, plus a few others.
RFT MUSIC'S GREATEST HITS
The 15 Most Ridiculous Band Promo Photos Ever "Where Did My Dick Go?" The Gathering of the Juggalos' Best Overheard Quotations I Pissed Off Megadeth This Week, My (Former) Favorite Band The Top Ten Ways to Piss Off Your Bartender at a Music Venue
---