[image-10]
Although Garth Brooks has four concerts planned at the Scottrade Center this week, fans should wait with bated breath. The larger than life country star just canceled his recent appearance on the Tonight Show -- he said it "seemed distasteful" in light of recent events in Ferguson. Regardless, there's always something to do every night of the week in St. Louis. Read on for just a few highlights in the coming week, and if you don't see a show you think other readers might want to know about, share it in the comments below.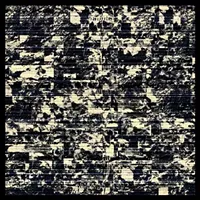 Haunter Monday, December 1 Lemp Neighborhood Arts Center 8 p.m. | $5 By Joseph Hess Iowa native K. Arthur Miller aka Haunter brings huge, slow burning songs that could only come from the flat heart of Midwestern America. While the noise clearly comes through patient use of electronics, the textures feel earthly and familiar, invoking nostalgia. Haunter climbs a steady incline by building layer upon layer of stringent sound. Harsh tones are introduced with a subtle hand, careful not to interrupt the cyclical, hypnotic drone. Haunter is made for deep listening -- an aural meditation.
White Mystery w/ Animal Teeth, Dad Jr., Shitstorm, The Jockstraps Tuesday, December 2 Foam Coffee & Beer 8:30 p.m. | $6 By Christian Schaeffer St. Louis only has room for one Red Rocker in its heart (St. Hagar, pray for us), but Chicago prefers its fiery-maned rock stars with a little less Cabo Wabo and a whole lot more raw rock power. Alex White has been a mainstay on the city's garage rock scene since she picked up a guitar and fronted the Red Orchestra in her early twenties. Alex and her similarly ginger-haired brother Francis Scott Key White have joined forces for the two-piece White Mystery, a scuzzy, jangly, full-throttled take on the Velvets/Stooges canon.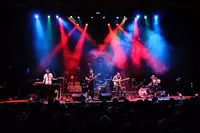 Alt-J w/ Vance Joy, Meg Myers Wednesday, December 3 The Pageant 8 p.m. | $37.50-$42.50 Joseph Hess Alt-J updates the recipe for Britpop, driving simple melodies through strong vocal harmony. Fuzzy synth provides thick skin for a fragile guitar sound that couldn't stand alone -- but Alt-J gives greater context to simple, infectious riffs through a careful arrangement. The drums are loose-fitting, but that's not to say the rhythm section feels sloppy. A stricter percussive sound might suffocate the key moments where voices, strings and keys come together. In that, the band's best weapon might be its use of space.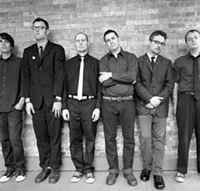 Mustard Plug Thursday, December 4 Off Broadway 7:30 p.m. | $12 By Daniel Hill From the RFT Music archives: Ah, ska: the genre that won't quit. From the original Jamaican ska born in the late '50s to the "2 Tone" of the '70s and, yes, even the oft-ridiculed "third wave" ska-punk of the '90s, the infectious upstrokes and "pick it ups" central to the ska sound always seem to come back around -- sometimes to the chagrin of purists. Yes, Reel Big Fish got really annoying really fast, but it was far from the standout of the genre. Bands like Skankin' Pickle, the Blue Meanies, the Pietasters and even St. Louis' own MU330 proved that third-wave ska can be played in such a way that it doesn't make one want to shove a fork in one's own ear. Mustard Plug is another of these bands -- formed in 1991, it has been expertly balancing the punk and ska elements that have defined the genre for more than twenty years.
Follow through for our weekend recommendations.
Story Of The Year w/ Greek Fire Friday, December 5 The Pageant 8 p.m. | $15-$18 By Allison Babka It's now been eleven years since Story of the Year released its debut album, Page Avenue, and though the LP still has that crunchy 2000s alt-rock feel about it, the angsty, sometimes fury-filled songs continue to speak to younger versions of ourselves. To celebrate the decade-plus milestone, the St. Louis band rerecorded fresh versions of Page Avenue tunes and launched a flashback tour last year, but the party is far from over. Though bassist Adam Russell left in September for other pursuits, Dan Marsala and the remaining crew keep cranking out the tour dates, giving St. Louis an extra dose of love by teaming up with fellow Gateway City band Greek Fire.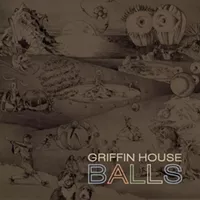 Griffin House Friday, December 5 Blueberry Hill 9 p.m. | $17.50/$20 By Roy Kasten Griffin House has the name of a made-for-NPR indie-folk band, but names can deceive. House is not a band; he's a young, Ohio-born, Nashville-based songwriter who shuttles between zeitgeisty gimmicks -- he details falling for a lesbian on "She Likes Girls" -- and Shins-esque atmospheres that never cloud his laid-back approach to the perils of making it through any given day. A line like "You can never get around what you gotta go through" isn't exactly a Zen koan, but in House's breathy, genial delivery, it's more than just clever. He's learned the neat trick of making contemporary folk music that's both accessible and subtly surprising.
Cracker Saturday, December 6 Blueberry Hill 9 p.m. | $20 By Roy Kasten From the RFT Music archives: Whether taking the helm of iconic ironic rockers Camper Van Beethoven, the sardonic janglers of Cracker or a smarty-pants solo project, David Lowery has consistently dug up the twisted roots of American music, always with dark humor and twangy intonations intact. If "alternative rock" ever had any meaning, it was defined by the energy of Lowery's withering social and sexual parodies and celebratory self-loathings. Ubiquitous hits such as "Teen Angst (What the World Needs Now)," "Take the Skinheads Bowling" and "Euro-Trash Girl" were principally political even as they made a mockery of the possibility of postmodern principles at all.
This City Of Takers CD Release Party w/ Recovery, Loses The Mighty, Shut In Saturday, December 6 The Demo 8 p.m. | $7 By Christian Schaeffer On its third release, the square-shouldered and dark-tinted local quartet This City of Takers isn't slackening its pace or softening its approach. The six-song We Can't All Live Forever compresses the best elements of its previous releases -- brickbat riffs, minor-key moodiness and singer Brandon Lee's affected yowl -- into a tight program. You can sense Lee's approach to relationships just by the title of "Never Leave a Bridge Standing," but it's the brief, simple meedly-mee riff in the middle that tips that band's hand as secret metal heads adept at playing brutal, brief, punk-inspired songs about love's darker corners. This show serves as the album-release show, its first recording since 2011's The Felt.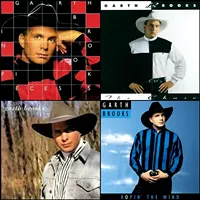 Garth Brooks w/ Trisha Yearwood Sunday, December 7 Scottrade Center 7:30 p.m. | $57.15 - $71 By Joseph Hess This is it -- the grand return to form country fans have been waiting for. Searching Garth Brooks and Trisha Yearwood through Youtube shows that the two aren't afraid to mix and mingle in each other's songs. Expect a star-studded duet or two, and of course, the hits that have made Brooks into the legend he is today. Keep in mind -- even if you have tickets to one of his four (yes, four) concerts this week, he may back out. Brooks canceled his scheduled appearance on the Tonight Show Starring Jimmy Fallon last week, and said it "seemed distasteful" to perform.
Note: Though we wish we could, we can't feature every great show happening in town in just one post. Look for plenty more recommendations this Friday in our weekend shows post, peruse the St. Louis concert calendar for more ideas and let everyone know what else you're looking forward to seeing this week in the comments below. To be considered for coverage in RFT Music, submit show info online or drop us a line anytime.
RFT MUSIC'S GREATEST HITS
Remembering STLPunk.com -- How to View the Site Today and Find Your Old Profile Page "Where Did My Dick Go?" The Gathering of the Juggalos' Best Overheard Quotations The Ten Best Dive Bars in St. Louis The 15 Most Ridiculous Band Promo Photos Ever
---