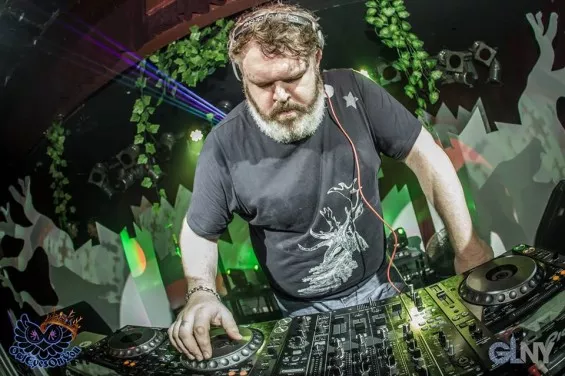 Photo provided by Central Entertainment Group
Kristian Nairn of Game of Thrones DJs in New York City. See him at Old Rock House on Wednesday, December 10.
What do you say when a star from one of television's most stunning shows announces that he's going to DJ an event in your city?
"Hodor," of course.
On HBO's fantasy hit Game of Thrones, Irish actor Kristian Nairn says nothing but "Hodor" -- a version of his mentally challenged character's name. But get him talking about house music and his upcoming St. Louis show, and Nairn has plenty to reveal.
"I don't like to classify myself. I love everything from soulful to harder-edged sort of electro," Nairn tells RFT Music. "I shy away from the term 'EDM.' I think it deserves a better classification than that."
Nairn will bring his popular "Rave of Thrones" DJ show to Old Rock House on Wednesday, December 10. Given the Gateway City's proclivity for cosplay, it's a pretty safe bet that Nairn may look down from the stage to see Game of Thrones characters Daenerys Targaryen, Jaime Lannister or even a direwolf-headed Robb Stark dancing frantically before him. But cosplay is just one of the things that contributes to his community of music fans, Nairn says.
"The whole idea behind 'Rave of Thrones' for me is it's not really a themed party, because the music doesn't have anything to do with Game of Thrones. People who might not necessarily like that sort of music might come together in this space and sort of let their guard down," Nairn says. "I've never seen a fight or anything like that; everyone's always been in an up sort of mood, so it creates a very special atmosphere and really sort of opens their minds to the music I'm playing.
"Or maybe I'm getting the wrong idea and people just drink a little too much Red Bull," Nairn jokes.
Nairn has found those hopped-up fans in nearby Chicago and Indianapolis, but this will be his first time spinning for St. Louis.
"One of my best friends lives in Poplar Bluff [about two and a half hours southeast of St. Louis], so I think he's going to come up to the show, since it's not too far away," Nairn says before pausing. "Well, in American terms. But it's a long way to travel for us in the U.K. I mean, we just wouldn't drive five hours here. We'd say, 'No, fuck that.'"
On page two, learn why Nairn hates weddings.
A longtime album collector, Nairn studied drama and music in college but hadn't envisioned the path his career ultimately would take. "I never really saw myself being a DJ, but then I never really saw myself being an actor, either. I started out wanting to be a guitar player," Nairn laughs. "I loved to DJ, I loved dance music, and an opportunity came up, so I never looked back."
Photo provided by Central Entertainment Group
Don't call it "EDM," Kristian Nairn says.
An accomplished musician in his own right and a DJ artist for more than fifteen years now, Nairn recognizes that music and acting both try to elicit emotional responses from audiences. But he'll take a night spinning in the club over an evening at a wedding reception any day.
"I've only done one wedding, and it was a nightmare," Nairn groans. "I was hired by a couple who was very fond of the music I play, but it's not just them who go to the wedding -- all the parents were there. So they ask for stuff, and I'm like, 'What? I don't have that!' So yeah, there's a bit of friction there."
When we caught up with Nairn via phone in November, he told us that he'd been home in Ireland for just an hour, jet-lagged after spinning tunes in clubs all over the world for months but still preparing to continue his tour after another day.
"I do get pretty homesick. I mean, it's been four months and I haven't spent more than a total of five days here since August," Nairn says. "And I miss my family and I miss my friends, but I'm living the dream in a way, as well.
"I cannot complain, but I definitely do complain," Nairn laughs.
Certainly, Nairn's Game of Thrones coworkers make the burden a bit easier to bear. And he knows just who among his fellow actors would most appreciate a DJ set from the beloved "Hodor."
"This could be read both ways, both character and the actor who plays him," Nairn begins. "It's definitely Finn Jones, who plays Loras Tyrell. He likes to party, and I think his character likes to party, as well.
"I've seen him dancing in real life, so I'm not pulling this out of thin air!" Nairn promises.
"Rave of Thrones," featuring Kristian Nairn 8 p.m. Wednesday, December 10. Old Rock House, 1200 South 7th Street. $22-$25. 314-588-0505.
RFT MUSIC'S GREATEST HITS
The 15 Most Ridiculous Band Promo Photos Ever "Where Did My Dick Go?" The Gathering of the Juggalos' Best Overheard Quotations I Pissed Off Megadeth This Week, My (Former) Favorite Band The Top Ten Ways to Piss Off Your Bartender at a Music Venue
---