Ryan Farber
Members of the Districts were victims of a break in during their October 15 show at the Old Rock House.
The Districts, a four-man, indie-rock group from Pennsylvania, had just finished playing the Old Rock House on October 15 when its tour manager called the band over to share some bad news. Sometime during its 40-minute gig that evening, a thief (or possibly thieves) busted the driver's side lock on the band's tour van and nabbed hundreds of dollars worth of personal gear. The list of stolen items included a GPS device, a duffel bag of clothes, an iPod, a power inverter and a phone charger.
See also: Venue Owners Meet with Police to Discuss Rash of Van Break-Ins
For the Districts, the news had the disagreeable familiarity of déjà vu. Just four months earlier the band was making a brief pit stop in St. Louis between shows in Indianapolis and Columbia when thieves targeted the same van. Only that time crooks stole the entire vehicle from a gated lot across from City Museum. Police recovered the van twenty days later — June 27 — near Fairground Park. Missing from vehicle was all of the Districts' musical instruments, personal effects and cash from the band's recent concerts.
Now the band was back in St. Louis and once more victims of crime.
"It felt like you just made dinner, sat on the couch and dropped it on the floor by accident," comments drummer Braden Lawrence of last month's incident at the Old Rock House.
And it wasn't as though the band's members were careless about their van during that October show. They placed a lock on the steering wheel. They drew the blinds on the van's windows so passersby couldn't see the contents inside. And they made sure the parking lot had an attendant.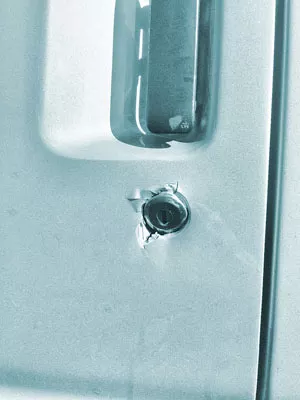 thedistrictsband.com
The lock on the Districts' van was punched in, and hundreds of dollars worth of gear was stolen.
"Our manager was there and went out to check like three times during our set. Plus the venue guard was there, so we thought we'd be fine," continues Lawrence in an email from London where the Districts was touring earlier this month.
Brian McCormac, manager and talent buyer at the Old Rock House, confirms that a parking-lot attendant was watching the Districts' van as well as another tour bus parked that night outside the club at South Seventh and Hickory streets.
"Literally, [the guard] was on one side of the vehicles, and I guess [the thieves] snuck up Sixth Street and hit the side he wasn't on," says McCormac, who estimates that the break-in took just fifteen seconds to complete.
The Districts' experience in St. Louis is not an uncommon one lately. Since May, at least twelve touring bands have had their vans broken into during visits to the Gateway City. The victims include Nashville metal act Yautja, whose members had passports and cash stolen from their van outside Schlafly Tap Room on October 11. A month earlier, Texas emo band Mineral lost thousands of dollars worth of equipment and cash when its van was broken into September 16 following a show at the Firebird. Five days before that, the Iowa-based folk-wave duo Field Division had its van broken into twice in the same night while parked outside Plush. The list goes on. And while the artists, genres and venues vary, the crime itself has the familiar punch of a three-chord hook: Vans with out-of-state plates are getting hit repeatedly outside downtown and midtown clubs.
See also: Felice Brothers Robbed in St. Louis; This Is Getting Ridiculous
It's a trend that some club owners say is already taking a toll.
"I've talked to booking agents who've said, 'I just got told by a band: Don't book me in St. Louis,'" says Mike Cracchiolo, owner of midtown club the Firebird. "That's going to put people out of business."
Spose, a hip-hop artist from Maine, is already one musical act who has sworn off St. Louis. The day after an October 19 show at the Firebird, he was eating lunch at Pappy's Smokehouse when a thief broke into his van in broad daylight and made off with musical equipment, a camera, an iPad, cell phones, multiple laptops and — worst of all — external hard drives containing music for his next albums.
"We were in the restaurant for 30 minutes. And they essentially took my job, all the work I had done for the past two years building up to 2015," wrote Spose in a Facebook screed that went viral. "There's no amount of likes or comments that'll bring anything back, I just wanted to let the people who robbed us know FUCK YOU and let our fans know I'll be performing the next few shows with limited resources on this tour." (Sympathetic fans later contributed $18,420 to a crowd-funding campaign to help Spose replace his stolen gear.)
Spose also wrote that the October 19 show would be his last in St. Louis.
"If you wanna see me perform in the future come to Chicago or something, cuz St. Louis is dead to me."
Steve Truesdell
Mike Cracchiolo: "I've talked to booking agents who've said, 'I just got told by a band: Don't book me in St. Louis.'"
Last month, venue owners and talent bookers representing some ten St. Louis music clubs gathered at KDHX's (88.1 FM) new midtown studios to address what they believe has become an epidemic. Among those in attendance were Cracchiolo, McCormac, Brett Underwood of the Schlafly Tap Room, Steve Pohlman of Off Broadway, Jill Cherkas of Plush, Joshua Loyal of 2720 Cherokee and Beverly Hacker of KDHX.
Standing before the group in his navy blue uniform was Dan Schulte, a community outreach officer with the St. Louis Metropolitan Police Department. Schulte leaned over a countertop railing that served as a makeshift podium and told the audience what he could about the van break-ins. The department believes a single group is behind almost all of the thefts, said Schulte, and it has "very, very, very strong, solid leads" on the people behind the break-ins. Schulte hoped this meeting at KDHX would create a dialogue between police and the music clubs.
See also: Police Say They Have "Strong, Solid Leads" On Tour Van Robbers
After the cop concluded his short speech, the venue owners and talent bookers turned to each other and began trading info on their own break-in woes.
"We've had it happen in the middle of the afternoon at three o'clock. We've had it happen at night. It's been different ranges of hours," said Erica Durbin, booking and promotions coordinator at the Old Rock House. "These are band vehicles..."
"...never trailers, never buses," Cracchiolo chimed in.
"It's always vans, yeah," Durbin continued. "They're looking for those white vans or [Dodge] Sprinter vans, usually when they have a trailer, but.... They're looking for laptops, GPSs and phones. They're not looking for guitars and amps."
What they're stealing is part of the problem, said Schulte. Unlike musical instruments, which often have identifying features, stolen electronics can be difficult to track down without the victims knowing the items' serial numbers. "The reports are loaded with laptops and cell phones and cash being taken out," Schulte said, gesturing to a stack of reports a couple inches high that sat on the counter next to him.
Several venues have now begun telling bands to bring all of the gear inside, and several clubs now staff an extra person every night specifically to watch the tour vans. Yet club owners can only do so much to protect the property of touring musicians. Both Spose and Mineral, for instance, had their vans broken into after they left the Firebird.
"I can't send a door guy with the band the entire time they're in the city," Cracchiolo told Schulte at the meeting. "These [thieves] are still finding ways around what we're able to control."
Moreover, having a guard on duty is not foolproof. Bob Fancher, owner of Fubar, didn't attend the meeting at KDHX, but he's all too familiar with the cat-and-mouse game the thieves play with venues and police. His club had an outside attendant on duty on October 2 when thieves broke into vans belonging to Michigan-based metalcore group For the Fallen Dreams and Atlanta-based rock band Favorite Weapon. Fancher says Fubar's guard had stepped into the club for three minutes to use the bathroom when the crimes occurred.
Fancher adds that "it's insanely difficult" for Fubar to afford staffing another employee every night to watch their vans. "We're a small venue," he says. "We do small bands that are just trying to get gas money to get to the next town. We're already over budget on 70 percent of the shows we do, so to throw another person on there, it's like I'm losing money every show."
In addition to battling the bottom line, Fancher is also fighting bad PR thanks to the thefts. Florida metal outfit Traitors was playing Fubar on August 20 when someone stole thousands of dollars worth of personal items from its Mercedes-Benz tour van. The band immediately took to Facebook to blame Fancher and Fubar for the incident. The post was shared nearly 200 times on Facebook, and the story got picked up by metal news site Lambgoat.
"Our van was just broken into at Fubar in St. Louis after we were promised security for our van by the promoter. Lost a ton of our personals & instruments. Not sure if we can finish this tour..." the band wrote in the caption to a photo of its broken van window. Traitors reported to police a stolen laptop, PlayStation 3, television, e-cigarettes and a debit card.
But Fancher disputes Traitors' claim that van security was promised. Moreover, he says, the band ignored his warning to not park where it did that night.
"It's not in front of our property. It's adjacent, on the other side of the street, a parking lot that has a sign that says 'No parking, permit only,'" Fancher says. "They made an adult decision and took it upon themselves to park there, and then someone throws a brick through their window and steals their PlayStation 3, and they want to cry on the Internet about it."
In his seventeen years of working in music clubs in St. Louis — eleven years at the now-shuttered Creepy Crawl and six at Fubar — Fancher says he can't remember a time when tour vans have been targeted like this.
For what it's worth, St. Louis isn't the only town getting a bad rap with touring musicians. This spring Chicago's RedEye published a story on that city's reputation as "the Bermuda Triangle of band gear" after several bands had their vans broken into. RedEye reported that between January and April, "more than four musicians and bands have had property — from guitars to vans — stolen while touring through Chicago, leading some to urge extra precautions to those traveling around the city. This March, heavy metal rocker Zakk Wylde said his $10,000 guitar was stolen from his tour bus outside the Chicago Theatre — the first time he had had an instrument stolen on the road in close to 25 years."
Back at the KDHX meeting on October 23, Steve Pohlman of Off Broadway suggested that it didn't matter whether St. Louis actually presents a greater risk for touring bands than cities such as Chicago. What's more important is how St. Louis is being portrayed.
"The perception doesn't have to be real," said the south St. Louis venue owner. "If their perception is, 'If I play St. Louis, my shit's going to get stolen,' it doesn't matter whether it's real or not."
Unlike neighboring Illinois, Missouri's laws on burglary make no mention of theft from motor vehicles. Instead, prosecutors in St. Louis most often turn to the charge of first-degree property damage when going after those accused of stealing from autos.
Rachel Smith, the chief prosecutor for the community affairs bureau of the St. Louis Circuit Attorney's Office, says the law has evolved over the years. No longer does a thief have to steal a certain dollar amount worth of valuables from a car in order to be charged with a felony. All prosecutors have to prove for first-degree property damage is that the thief knowingly damaged a car in order to get inside and steal contents from the vehicle or steal the car.
"And we do it," says Smith. "We get the convictions. So I think the law, and the prosecution end of it, is good. But it's a different question altogether in the difficulty for police in gathering the evidence they need. The more sophisticated criminals get in and out quickly and don't leave physical evidence. That's not a legal-system issue, it's an evidence issue."
RFT Photoillustration. Source material: CSA Images.
The cover of the November 14, 2014, Riverfront Times.
Crooks who do get convicted — often by eyewitness testimony, fingerprints, video surveillance or a confession — can get sentenced to up to seven years in prison for first-degree property damage. Though if the criminal has a light record, a more likely sentence is probation, says Smith.
Venue owners at the late October meeting called for police to use a bait van or electronics that could be tracked once stolen to help catch the thieves. Captain Dan Howard, of the police department's Fourth District that patrols downtown and midtown, says the department is coordinating with venue owners about using "technology strategies," along with increased patrols and undercover officers, to catch the burglars. However, Howard says, any kind of extra response by police "could definitely be put on hold" when a grand-jury decision comes out in the investigation of Ferguson police officer Darren Wilson and police are needed elsewhere.
Another option is to catch the crooks when they try to sell the stolen gear. Howard says that while some items are likely to be sold on the streets, he expects the rest to eventually end up in pawn shops. When the goods show up, pawn-shop merchants photograph the seller and scan the person's driver's license. The item's description and serial number is also entered into Leads Online, a nationwide database where police can look for stolen items.
Howard says he doesn't necessarily expect the stolen gear to travel far before being sold to a pawn shop. "It wouldn't surprise me for some of this stuff to show up right down the corner."
Sam Light Loan Company at the intersection of North Jefferson Avenue and Olive Street is indeed right down the corner. It's less than a mile from the Firebird, Fubar, Plush and the Schlafly Tap Room. Forest McClain manages the shop and says he's seen more laptops, tablets and other electronics pawned this year compared to years past, but most are used as collateral for short-term loans that get repaid — not outright sales or loans that are forfeited.
When police do come to seize stolen items that have been sold or loaned to the store, McClain says, nearly 75 percent of the time it concerns jewelry. The next most popular items are stolen bicycles. Police rarely come to pick up stolen electronics, he says.
Until police make an arrest in these cases, Cracchiolo says, venue owners will remain anxious about van break-ins. He's worried, too, that recent attention about the crimes might attract more thieves. "If it was a group of six guys who were doing it before, now there's sixty," Cracchiolo surmises.
"It's never going to go back to 'normal.' It's never going to go back to where it was,' he continues. "We're going to have to survive with increasing staffing and hyper-vigilance. All we have to do is assume the problem is over and let our guard down, and it'll happen all over again."
The Districts' Lawrence appreciates the concern of St. Louis venue owners and the police. "It's cool that the city is taking action," he writes. And he says the group, which performed at LouFest this year, would "for sure" be back after the band's new album is released in February, prior break-ins be damned.
"We've had really good shows in St. Louis. We'll just take more precautions knowing our luck," he notes.
Lawrence adds: "It's a shame the music scene has gotten overshadowed by this issue."
RFT MUSIC'S GREATEST HITS
The 15 Most Ridiculous Band Promo Photos Ever "Where Did My Dick Go?" The Gathering of the Juggalos' Best Overheard Quotations I Pissed Off Megadeth This Week, My (Former) Favorite Band The Top Ten Ways to Piss Off Your Bartender at a Music Venue
---