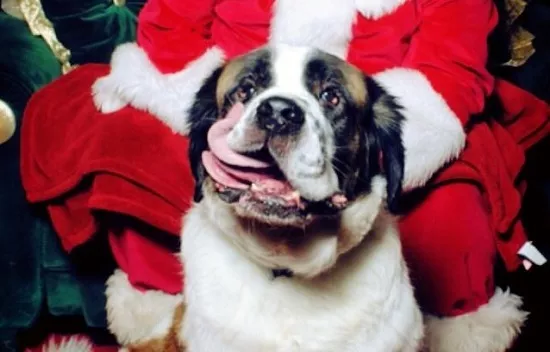 All photos courtesy of Kenny Snarzyk
All Walter the Dog wants for Christmas -- and his birthday -- is to be happy and healthy.
Today is Walter's birthday.
The giant St. Bernard pup turns six years old this November 11, which in human years would make him 42. Midlife, as they say. We'll probably see him gallivanting around with a little poodle princess half his age soon, price-shopping for luxury automobiles.
But first, though, he's got to beat that darned lymphoma.
Walter is the furry friend of St. Louis musician Joe Andert, well-known around town for his Indian Blanket folk project. And Andert is the half-brother of another St. Louis musician, Kenny Snarzyk, best-known for his work as bassist and vocalist of STL doom-metal act Fister. In keeping with his best pals' musical pedigree, Walter has a lot of friends in the local music community.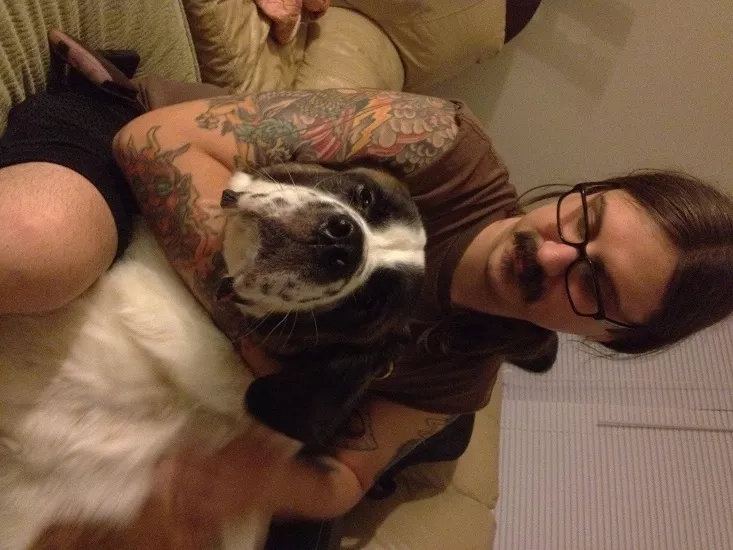 Fister's Kenny Snarzyk with Walter.
So when the pooch was diagnosed with the disease in late September, Snarzyk went to work creating an Indiegogo campaign to raise funds for costly treatments, calling upon those in the local scene for help. From the campaign:
From a conversation with my brother. He doesn't know I'm setting this up for him.

"It's expensive, but not insanely so. And the vets think in Walters case, it could really help him a lot, and won't make him sick to go through it or anything. They think if it goes really well, he could live another six months to a year and a half, depending. He's still happy and not in a ton of pain or anything right now, so I have to do whatever I can to help him while there is hope."
The crowdfunding effort has raised $1,162 of its $2,000 goal, with eleven days left. Snarzyk also says another $400 has been raised through Fister's label, through the selling of a re-press of the group's Bronsonic release for which all profits go to Walter.
We spoke with Snarzyk about the campaign, what it means to be in the "Cool Guy Club" and how you can help.
Walter hanging out with his best pal, Indian Blanket's Joe Andert.
Daniel Hill: What is the nature of Walter's illness? And what treatments does he need to receive?
Kenny Snarzyk: He's been diagnosed with lymphoma. He is on a 25-week chemotherapy protocol that started with something called vincristine, but the drug changes every few weeks. It kinda fucked up his kidneys too, so he's on special kidney food.
What incentives are in place for people wanting to help Walter out? I know Fister has been offering some stuff.
We agreed with Grimoire Cassette Cvlture to donate 100 percent of the profits of the Bronsonic tape re-issue. Also Kneeko at Grimoire wants to make Dogsonic shirts to sell.
Some of the incentives listed on the Indiegogo page make reference to the "Cool Guy Club." Describe for me the benefits of joining this elite organization.
You will finally be able to attain the "cool guy" status you seek. I started this crowdfunding page when I found out how hard my brother was struggling with the costs of Walter's treatments. Therefore the crowdfunding page doesn't have any physical "perks." If you donate, you can just know inside that you are a good person that doesn't need to be rewarded for your charity. This treatment will end up costing over $3,000. Maybe $4,000. It's hard to say.
So your brother didn't know that you started this thing, right? How did he react when he found out?
He was thrilled to see it. Joe's not the type of guy to ask for handouts. He told me he'd just figure it out when he found out the costs. This dog means more to him than anything, and I hate to see them suffer.
Tell me a kickass Walter story.
Walter is the neighborhood mascot. All the kids love him. He's also the surrogate father to two kittens. When his treatment started they gave him another six months with chemo. Now the specialist believes that he could even possibly beat this disease!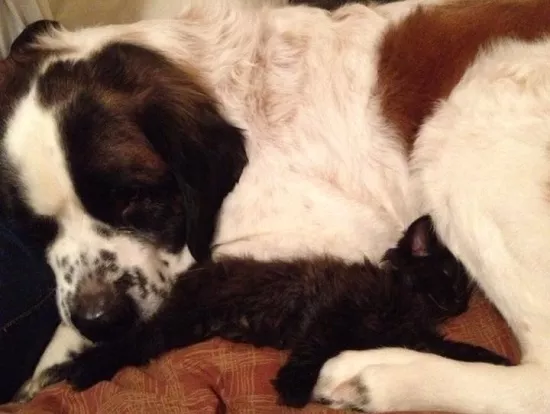 Walter the Dog: Kitten daddy.
....and neighborhood mascot!
Visit Walter's Indiegogo campaign now to contribute. It's his birthday, after all.
RFT MUSIC'S GREATEST HITS
The 15 Most Ridiculous Band Promo Photos Ever "Where Did My Dick Go?" The Gathering of the Juggalos' Best Overheard Quotations I Pissed Off Megadeth This Week, My (Former) Favorite Band The Top Ten Ways to Piss Off Your Bartender at a Music Venue
---