[image-10]
Ten days into November, and I haven't seen a single mention (or picture) of "No Shave November." Wonderful -- I'm really glad we, as a culture, were able to resist ingesting the same meme year after year. Really, you could sub the word "shave" for anything else. Let's see you try "No Pants November" in this cold. I have a better idea: Let's go out, every night. Like the cheesy name of this column, I challenge you to not miss a single show on this list. You'll have to show hop on Friday and Saturday, but you'll be able to brag about your worldly, diverse tastes.
New Pornographers w/ The Pains of Being Pure At Heart Monday, November 10 The Pageant 8 p.m. | $25 By Christian Schaeffer Bandleader A.C. Newman has said that the New Pornographers' latest album Brill Bruisers was his group's attempt at a thoroughly upbeat record -- a seemingly odd claim for one of the modern era's more celebrated power-pop acts. But coming after two mature but occasionally ruminative LPs, the new songs bristle with life. The title track is as relentlessly melodic as any song since "Sing Me Spanish Techno," and the band's reliance on the twin engines of acoustic guitar underpinnings and analog synth set dressing give weight to the usual hooks and pitch-perfect harmonies.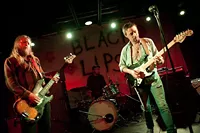 Natural Child w/ The Maness Brothers, Shitstorm Tuesday, November 11 Off Broadway 9 p.m. | $8-$11 By Joseph Hess This Nashville power trio plays straight-up rock & roll, frills be damned. The band's hometown plays a big part in its sound, which incorporates solid blues with chopped bits of country. But Natural Child rips through with red-hot guitars and a sharp rhythm section, and it doesn't drag on like many of its contemporaries. That brevity sets the band apart and will keep yours ears lusting for more.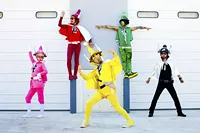 Peelander-Z w/ Scene of Irony Wednesday, November 12 The Firebird 8 p.m. | $12-$14 By Jaime Lees Peelander-Z is like Gwar on ecstasy. From Japan (via New York City), the members' bright color-block costumes make them look like after-hours Power Rangers. Described as "Japan action comic punk," the band is loved almost exclusively by those intrigued by novelty: comic-book addicts, professional wresting devotees, anime enthusiasts and Juggalos alike. Peelander-Z is a good time wrapped up in a j-punk box. With songs such as "Ninja-High Schooool," "Ice Cream!" and "Pun! Pun! Punkrock!," the band gets audiences bouncing like little kids on a sugar high. Come for the spectacle, stay for the smiles. Check out our four-panel comic about the band.
Caddywhompus w/ Cold Rooms, Early Worm, Travel Guide Thursday, November 13 Foam 8 p.m. | $5 By Joseph Hess New Orleans duo Caddywhompus breaks through the sheen of modern indie rock by deconstructing what would otherwise be perfectly fine pop songs. Vocalist Chris Rehm knows how to command a chorus, belting his voice over busy fret-tapping and triumphant builds. But the band isn't all moonlight and roses -- passages range from sappy to stoner-rock, with drummer Sean Hart providing the pulse. To his credit, he lends a rough edge that would feel right at home in a hardcore band, but here he punctuates pretty riffs with class and darker parts with thrash. Expect shades of '90s emo (the kind we're not embarrassed to say we like) without the drawbacks of, well, whiny white guys.
Follow through for the rest of this week's picks.
Press Photo from Mr. Gnome's Facebook page
Mr. Gnome plays the Firebird this Friday.
Mr. Gnome w/ Young Tongue, Whoa Thunder Friday, November 14 The Firebird 8 p.m. | $10-$12 From the RFT Music archives: Unless we're talking about Gilgamesh or Faith No More's big hit single, the word "epic" should be given its denotative due and used sparingly. Still, it's hard to think of a better word to describe what mr. Gnome is after on its latest album, Madness in Miniature. The Cleveland-based duo (Nicole Barille on guitar and vocals and Sam Meister on drums) makes a big, knotty, righteous sound with a few parts. "House of Circles" moves from a breakbeat rhythm and Barille's disembodied vox to Black Mountain-esque levels of martial heaviness and whip-smart riffage. If the word "epic" is off the table, then words like "badass" will have to suffice.
Painting by Dana Richard Smith
Old Capital Square Dance Club w/ Old Souls Revival, Old Time Assault Friday, November 14 The Gramophone 9 p.m. | $5 By Ryan Wasoba There's more than a little bit of cheekiness to the moniker Old Capital Square Dance Club, a name that conjures the sonic version of a browned Wild West photo souvenir from Six Flags rather than a good ol' American rock band with traces of Tom Petty and the Stones. The group, spearheaded by singers/songwriters Jesse McClary and Zach Anderson, has recently justified the "Club" portion of Old Capital Square Dance Club by morphing into a collective of sorts -- notably adding multi-instrumental virtuoso-in-the-making Zagk Gibbons, whose first name is not a typo. OCSDC shows range from acoustic songwriting showcases to seven-piece band jams. The fact that the band's songs work in such a variety of formats reinforces the strength and depth of McClary and Anderson's melodies and wordplay.
Blank Generation w/ Big Piph, Scrub Saturday, November 15 Schlafly Tap Room 9 p.m. | Free By Tara Mahadevan Blank Generation -- rapper-producer duo LooseScrewz and Hearskra-Z -- is back at the Schlafly Tap Room, serving up its rare blend of punk rock, hip-hop, funk, soul and pop fusion music. Blank Generation's goal is more than just unifying various genres to create one sound, but unifying a city made of many different kinds of people. The duo's aim is very honorable, having realized one thing music can do is bring together and unite St. Louis' diverse population.
Karate Bikini CD Release w/ Letter to Memphis Saturday, November 15 Off Broadway 9 p.m. | $7 From this 2012 review of Karate Bikini's Sauce of the Applehorse One of the ironies with power pop is that while it's the quintessential teenage soundtrack -- a mix of hormones, harmonies and bright-eyed optimism -- the best practitioners of the form are usually on the wrong side of eighteen. Tim McAvin is no teenager -- he has been playing in bands around St. Louis for the past twenty years, and that accumulated experience has sharpened his pop prowess. His most recent role was that of singer, guitarist and keyboardist in Tight Pants Syndrome, then and now a proving ground for lovers of sugary highs and hook-heavy choruses. So when McAvin assembled Karate Bikini with a host of other scene vets, he decided to act his age.
Dope Body w/ Roomrunner, Bug Chaser, Con Trails Sunday, November 16 Plush 8 p.m. | $8 By Joseph Hess It's hard not to draw comparisons between Dope Body singer Andrew Laumann and David Yow of the Jesus Lizard. Both men front killer noise-rock bands, and both men have the tendency to play shirtless, showing off their "awesome bods." But Laumann clearly spends more time at the gym. After all, six-pack abs don't come cheap. Dope Body takes cues from psych and grunge, but the band's hallmark sound comes from guitarist Zachary Utz. Standard pedals aren't enough -- Utz runs his riffs through a laptop, meticulously processing every one. Dope Body's latest album, Lifer, just released through Drag City, showcases a well-rounded sound but doesn't compromise the rough edges that makes the band so distinct.
Note: Though we wish we could, we can't feature every great show happening in town in just one post. Look for plenty more recommendations this Friday in our weekend shows post, peruse the St. Louis concert calendar for more ideas and let everyone know what else you're looking forward to seeing this week in the comments below. To be considered for coverage in RFT Music, submit show info online or drop us a line anytime.
RFT MUSIC'S GREATEST HITS
Remembering STLPunk.com -- How to View the Site Today and Find Your Old Profile Page "Where Did My Dick Go?" The Gathering of the Juggalos' Best Overheard Quotations The Ten Best Dive Bars in St. Louis The 15 Most Ridiculous Band Promo Photos Ever
---