Party Plates/Violent End flier by Beer Boi.
Are you sick of being responsible? Does it annoy you to have to follow rules or be pro-social? Do you like basements? Well, if you are a goofy, degenerate weirdo who doesn't quite fit in anywhere else, you might consider our city's hardcore/punk shows.Your underlying anger problems can be brought out to their fullest potential (in a positive way). These are my recommendations for great local and national bands that don't play five-minute (marathon!) songs or remind you about drink specials. General rule of thumb: If you have five bucks and can show up by 9 p.m., then it's go time in the pit. One, two, fuck you!
Party Plates, Violent End, Cardiac Arrest, Life Like at Ask A Punk November 8 $5 / 9 p.m.
The holiday season is upon us, and what better way to ignore all that familial dysfunction this time of year drudges up than getting drunk in an undisclosed basement with the best and brightest of the city's damaged goods? This year we give thanks for the history lesson that Party Plates is about to drop on us, hailing from the notoriously chaotic and entertaining Cleveland scene. Party Plates feature members from the Darvocets, Cinder and Inmates, and along with Chicago's Violent End (featuring alumni from the Repos, among others) this show will be a destructive crash course in vicious riffs and vocals that only Satan himself could bellow forth. P.S.: Cardiac Arrest somehow made it back through customs after a month-long European getaway. Come hear the decadent tales of red-light districts and foreign cheeses from Ruzicka & Co. live and in person.
Another historic Lumpy original.
The Stasi, the Holidays, Pink Sock, Cal and the Calories at Ask A Punk November 18 $5 / 9 p.m.
One if by slam, two if by van, the Philadelphians are coming to take our hard-earned merch money and make river folk run face first into one another. Honestly, let's just toss up that old white flag now, because we don't stand a chance. Look at this show any way you'd like: an East Coast invasion from tight, pissed-off hardcore band the Stasi and one-man band the Holidays, or maybe a Spotted Race Records label showcase. Regardless, it's a way to make sure that you can get pit-sweaty (both mosh- and arm-), then catch a cold when that sweat freezes out in the back yard. If anything, come see which shirt Travis from Pink Sock dusts off, or hear what jokes Martin... er, sorry, "Cal" has about mid-level DIY labels and bands. Support Philadelphia; it's the St. Louis of the East Coast, whether it likes it or not.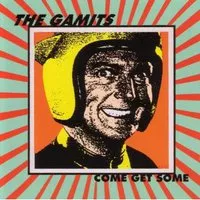 The Gamits' Come Get Some LP
The Gamits, Dwayne, Horror Section, Better Off Damned at Fubar November 25 $10 / 8 p.m.
Ladies and gentlemen, presenting this month's best offering in what will tickle your pop-punk sensibilities but isn't over-promoted or past any primes: The Gamits is probably a frontrunner in the field of that insanely catchy sound Masked Intruder is cashing in on, sans the gimmick. Regardless of the jaded Internet kings' overall pop-punk dismissal, this will be an immensely fun time. Listen to Horror Section, now. The brand-new split with Eaten Back To Life on Eccentric Pop Records is outstanding.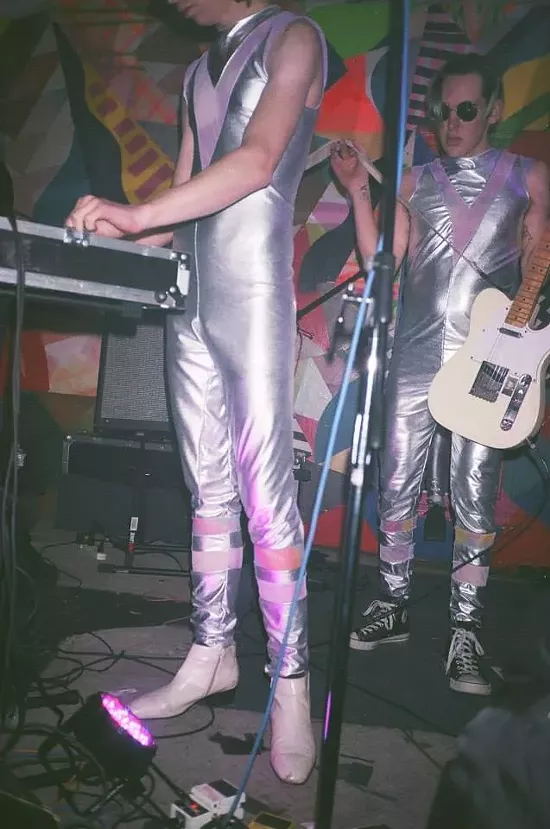 Future Punx living up to its name.
Future Punx, Trauma Harness, Skulls Mind at Melt November 30 $5 / 9 p.m.
This recommendation is any post-punk fan's awkward wet dream. Future Punx, which apparently hails from both Texas and New York City -- so, everywhere (still could be aliens, though) -- is beaming down to Cherokee Street with its brand of Gang of Four-esque jams that'll probably either make you dance like an unashamed nerd or think about breaking up with your significant other. Postpone either life-ruining situation for the night at the best venue in town to sell both waffles and booze. It should be noted that Trauma Harness deserves a medal for naming the above tape Dead and Loving It -- plus, in addition to being a great name, it's great tape. Anyway, come stare at your feet and gyrate wildly with aliens and VHS collectors.
RFT MUSIC'S GREATEST HITS
The 15 Most Ridiculous Band Promo Photos Ever "Where Did My Dick Go?" The Gathering of the Juggalos' Best Overheard Quotations I Pissed Off Megadeth This Week, My (Former) Favorite Band The Top Ten Ways to Piss Off Your Bartender at a Music Venue
---