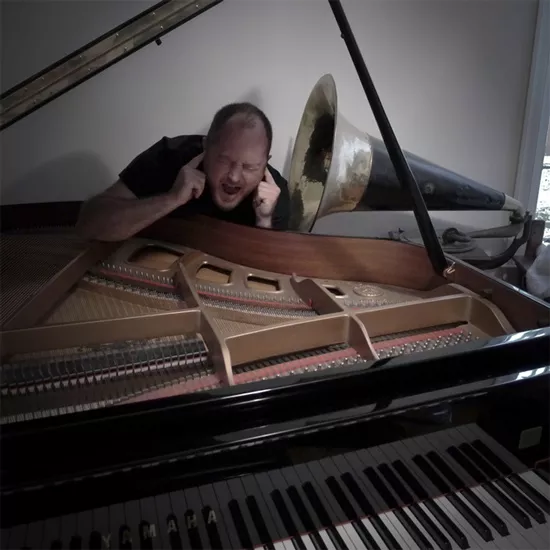 Thollem McDonas performs at the Tavern of Fine Arts later this month.
"Noise" has become a blanket term for bands that explore and experiment around the beaten path. The genre, like others, is huge and diverse, but it isn't without its share of hangups. That's why we're here. Every month, we supply a short list of sure bets in St. Louis, ranging from needlessly complex to minimalist drone. Connect the weird to your ears.
November 2014 is a great time to be living in St. Louis -- unless you're against same-sex marriage, that is. But you're not here for small talk about current events, you're here to read about outsider art, free improvisations and other things loosely referred to as "jazz." We typically feature three to five shows in this column, but this month is so densely packed and rich with great acts, we couldn't omit a single event.
Mincemeat or Tenspeed w/ Unguent, Spiritual Recess, DJ Eli Keszler, DJ Rashad Becker, DJ Ghost Ice November 6 Schlafly Tap Room 9 p.m. | free Davey Harms, the brains behind Mincemeat or Tenspeed, recently steered his project into a cleaner, more refined sound. Known for building beats by looping noise, MoT has evolved by making controlled songs through a distinct use of synthesizer. This lineup is a no-brainer for fans of odd dance tunes with three special guest DJs and two more featured performers: Unguent and Spiritual Recess.
Timeghost w/ Bernard Herman, Janet, Perverted November 7 The Revisionist Inn 9 p.m. | $8 Providence, Rhode Island, native Timeghost makes a viscous soundscape -- one rife with white noise and harmonious drone. While he works with dense walls to build an oppressive atmosphere, sets tend to break with rhythmic builds. By mixing abrasive bursts with structure, Timeghost brings an accessibility that is typically a rarity in this line of music. Opening acts include two of St. Louis' most provocative acts: Janet and Perverted.
New Music Circle presents: Eli Keszler w/ Rashad Becker November 8 The Luminary 7:30 p.m. | $10-$20 This night is the culmination of Eli Keszler and Rashad Becker's St. Louis residency, which includes both a workshop and DJ night (November 6 at the Schlafly Tap Room). Kezler has a textural approach to percussion, using pressure to build flourishes off of a standard drum set. His solo performances include an installation with piano strings, which he uses in tandem with a complex palette of sound. What he is able to achieve alone exceeds the breadth of many full ensembles. Berlin-native Rashad Becker will open the evening with a performance using samples and distinctive aural manipulations.
Follow through for more recommended concerts. Yowie w/ Sand, Omoo Omoo November 8 The Heavy Anchor 9 p.m. | $5 St. Louis locals Yowie deliver a brain-bending interpretation of rock music. By using two guitars and a slightly embellished set of drums, the trio crafts contemporary classical music through atonal sounds. Rather than focus on traditional forms of melody making, Yowie packs in more parts per song than most bands write for an entire album. Headlining this concert is drummer Dylan Ryan and his trio Sand. The progressive jazz outfit blends composition and improvisation in a seamless manner -- complexity meets accessibility.
Three Kinds of Wildness: A Play w/ Dan Talbot, Russian Tsarlag November 17 The Revisionist Inn 7 p.m. | $10 Der Vorführeffekt Theatre presents Three Kinds of Wildness, a traveling play by Donna Oblongata. This pocket presentation comes accompanied by a full lineup of experimental music. The Revisionist Inn is an intimate space, so expect a deeply personal performance. Russian Tsarlag has brought its gloomy wave through town before, so some showgoers might already be familiar with the act's wavey gloom and doom.
Katrina Stonehart November 19 Foam Coffee & Beer 8 p.m. | $5 w/ Banal Anml, Hylidae, Janet While calling Katrina Stonehart "noise" is a stretch, the Chicago solo artist takes an experimental approach to minimalist pop music. Songs begin with simple melodies that drone in calm succession and build to gripping movements. Self-proclaimed pop, Katrina Stonehart is certainly listener friendly and a solid segue into weirder realms of sound.
Thollem McDonas November 21 Tavern of Fine Arts 8 p.m. | free Last time Thollem McDonas performed in St. Louis, he formed last minute ensembles featuring Eric Hall, Dave Stone, Ryan Wasoba, Mike Herr (of Kisser) and more. Besides his collaborations with Nels Cline, William Parker, John Dieterich (of Deerhoof) and others, McDonas is known for his fierce, pointillist approach to the piano. On this evening, expect solo improvisations amid torrents of beautiful tones.
Honorable Mention: Vernacular String Trio w/ Nexus, Creative Delusions November 25 Tavern of Fine Arts 7:30 p.m. | free Let's call this one an honorable mention. Not because the acts are subpar -- far from it. All the groups involved feature local players in Greg Mills, Tracy Andreotti, Alexander Cunningham, Joshua Weinstein, Dave Stone, Ajay Khanna, Jeremy Melsha, Henry Claude, Tracy Andeotti and David Parker. We can't properly preview the show because none of these groups have prior recordings to share, but the collaborators here all have ample experience in delivering highly intricate, involved music.
Think I left something out? Piss off! No, actually, you're probably right. I usually cap this column at three or four shows. Share what you know in the comments below. For the future, drop me a line any time at joseph.hess@riverfronttimes.com
Joseph Hess is the editorial coordinator for the Riverfront Times. When he's not, you know, coordinating, he is the DJ of the experimental rock show Wrong Division over at KDHX (88.1 FM). Visit his personal blog here for more on this city's DIY and experimental music. Or stalk him on Twitter.
RFT MUSIC'S GREATEST HITS
The 15 Most Ridiculous Band Promo Photos Ever "Where Did My Dick Go?" The Gathering of the Juggalos' Best Overheard Quotations I Pissed Off Megadeth This Week, My (Former) Favorite Band The Top Ten Ways to Piss Off Your Bartender at a Music Venue