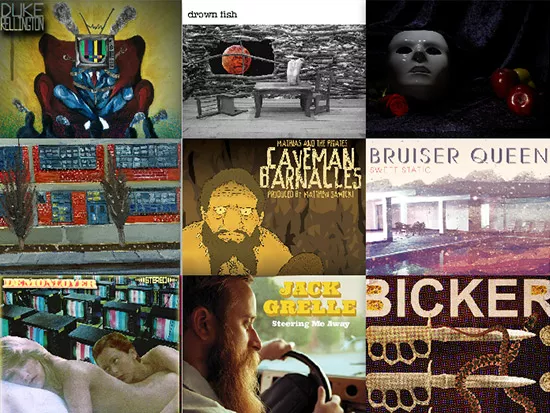 This is pretty self-explanatory, really -- here you will find every musical project released in the St. Louis area in October 2014 that we could get our hands on, listed in alphabetical order. There are links to information about the bands and places to buy these things as well as streaming previews wherever possible.
Note: We realize there are probably a few things we missed. If you know of an album, EP or compilation that came out last month, shoot us a message and we'll amend this post. Likewise, holler if you'd like to have your release included in the November installment or if you'd just like to put an upcoming local release on our radar. Simply e-mail us with "ATTN: St. Louis Release" in the subject line.
See also: Every St. Louis Release: September 2014
---
The Adoring Heirs - Beginning of the End of Days
---
Arthur and the Librarian - Hunters, Gatherers
---
Banks and Cathedrals - Crescent City Lights
---
Beauty Pageant - Nightmare Trio
---
Belleview - Give In To Reason
---
Bruiser Queen - Sweet Static
---
Choir Vandals - At Night
---
Ciej - Bicker Over Bread
---
Continued on the next page.
---
Demon Lover - Moody Future
---
The Domino Effect - Unknown
---
Drown Fish - If the Moon Had Teeth
---
Duke Rellington - #BeHUMAN
---
The Fuck Off and Dies - Young Punks/Old Drunks EP
---
GRGPNK Records - Countdown to a Breakdown - The Best of the GaragePunk Hideout, Vol. 10
---
Hurt Feelings - I'm In Love
---
Illphonics - Live: Unplugged
---
Jack Grelle - Steering Me Away
---
Continued on the next page.
---
The Jockstraps - Self-Titled
---
Kisser - Master Controller
---
La Bella Charade - Born to Crawl
---
Mathias & the Pirates - Caveman Barnacles
---
Old State - Leaving Home
---
Rough Shop - Lit Up Like a Christmas Tree
---
Stllegend - LaterDaze EP
---
Town Cars - Hearts and Stars
---
Zak M. - Pawn King Death March
---