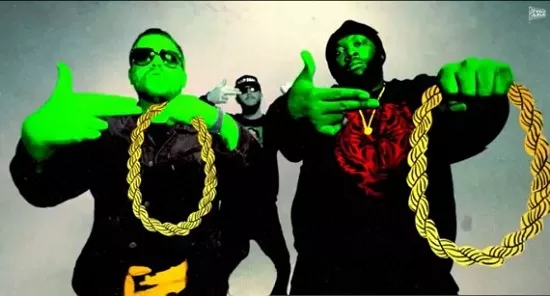 Christmas has come early this year: November's rap roster is only something the holiest of hip-hop gods could have bestowed upon our city. While this month's shows don't include as many local hip-hop acts as we like to see, a heap of national acts are coming through, bringing some reggae and R&B vibes with them. This is a great month for some rap music.
Bone Thugs-N-Harmony with AD, Almost Kings, Sir Trigga, Skinny, Yak Boy Fresh, Vince Sega and RIP James at Pop's Nightclub November 7 7 p.m. / $22-$25
Bone Thugs-N-Harmony has been around for a minute. Eazy-E discovered the group in 1993, after the debut of Creepin on ah Come Up, and promptly signed the five-member rap act. Since then the group has ebbed and flowed, with members leaving and re-joining and leaving and re-joining (we're looking at you, Krayzie Bone and Wish Bone). The harmonious thugs are now gearing up for a final album, which will drop in 2015 and only exist as one copy -- better yet, that copy is going to be auctioned off with a starting price of $1 million. Bone Thugs-N-Harmony's current tour -- which began in December 2014 -- might very well be one of the group's last.
Ty Dolla $ign with Lil Bibby, Joe Moses, A-Game and MARKOE at the Ready Room November 8 8 p.m. / $20.50-$23
Ty Dolla $ign has been on the come-up since 2010, when he wrote and produced the YG song "Toot It and Boot It." Since then, Ty (who is sometimes just as much of a crooner as a rapper) has become pretty well-versed in the mixtape game, dropping seven tapes from 2011 to 2014 before finally releasing his debut EP Beach House this past January. We're eagerly anticipating his premier studio album, which is supposed to drop sometime in 2014. Year's almost over and we're still waiting, Ty.
Continue to page two.
Blank Generation with Big Piph and Scrub at Schlafly Tap Room November 15 9 p.m. / Free
Blank Generation -- rapper-producer duo LooseScrewz and Hearskra-Z -- is back at the Schlafly Tap Room, serving up its rare blend of punk rock, hip-hop, funk, soul and pop fusion music. Blank Generation's goal is more than just unifying various genres to create one sound, but unifying a city made of many different kinds of people. The duo's aim is very honorable, having realized one thing music can do is bring together and unite St. Louis' diversified population.
Shaggy with Ay Musik at the Ready Room November 19 8 p.m. / $18-$22
Shaggy is best known for his pop-reggae-hip-hop fusion songs, "It Wasn't Me," "Angel," and "Boombastic." Now it seems our favorite purple-satin-robe-clad musician has veered a little from his fusion path and is creating solely reggae music. His latest offering Out of Many, One Music, released October 2013, only features one-drop reggae, a style that was revived by Bob Marley and the Wailers drummer Carlton Barrett. Shaggy debuted the album in Jamaica at the famed dancehall session Rae Town, deriving the album title from Jamaica's national motto, "Out of Many, One People." Shaggy is indeed going back to his roots, and with full-force.
Run the Jewels with Ratking and Despot at the Ready Room November 24 8 p.m. / $20-$25
Run the Jewels -- rappers El-P and Killer Mike -- is here to save music. After dropping a wildly successful and free debut album Run the Jewels in 2013, the duo came back swinging in 2014 with the follow-up (and also free) album Run the Jewels 2, which the rappers leaked a few days early for their beloved fans. And on top of that, RTJ launched a Kickstarter for a remix of RTJ2 called Meow the Jewels, made entirely out of cat sounds (El-P even auditioned cats for the album). El-P and Killer Mike far exceeded that project's goal, with about $25,000 to spare. The proceeds from the album will go to the families of Eric Garner and Mike Brown. RTJ is something to love, y'all.
RFT MUSIC'S GREATEST HITS
The 15 Most Ridiculous Band Promo Photos Ever "Where Did My Dick Go?" The Gathering of the Juggalos' Best Overheard Quotations I Pissed Off Megadeth This Week, My (Former) Favorite Band The Top Ten Ways to Piss Off Your Bartender at a Music Venue
---