Plenty of concerts and music-related events happen in St. Louis every night, and we try to photograph as many of them as we can. Each month, we'll look back at photos from the previous month's batch of concert photography and hook you up with a bunch of shots you may have missed. Below, check out our favorite music moments from October 2014, in no particular order.
Note: Though we'd like to, we're unable to send a photographer to every show in any given month.
See also: The Best Music Photos from September 2014
Pearl Jam kicked off October with one of the best concerts -- and St. Louis Cardinals rallies -- we've seen in quite a while. Certainly, it was one of the longest. The three-hour show felt like a love letter to fans and included hits and rare gems from the band's 25-year career. Read our review here.
Steve Truesdell
Eddie Vedder belts one out for his favorite St. Louis Cardinals fans. See more photos here.
Pole dancing is much more elegant than anything you might have seen in Showgirls. The art form relies on strength and flexibility from little-used muscles and body nooks, and instructor Michelle Mynx led her students and professional friends through a two-night display of talent in celebration of the acrobatic dance method.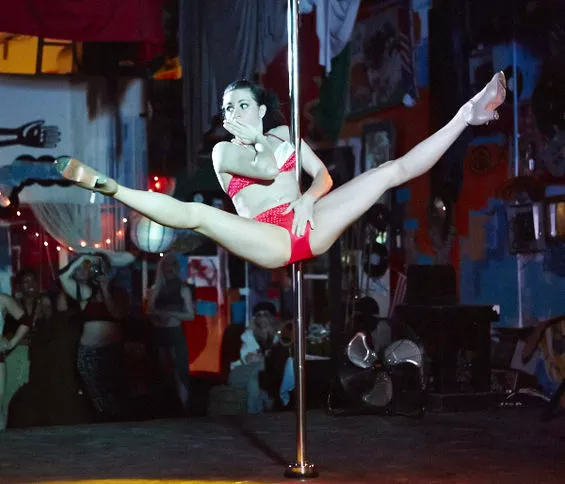 Theo Welling
Showing off sweet moves during the pole-dancing extravaganza at 2720 Cherokee. See more photos here.
It turns out that St. Louis is a haven for My Little Pony: Friendship Is Magic fans. During its second annual convention, Crystal Fair celebrated My Little Pony fandom through cosplay, art, panels and even MLP-centered musical events. Read our interview with My Little Pony tribute band the Shake Ups in Ponyville.
Theo Welling
Dancing and prancing for My Little Pony at Crystal Fair. See more photos here.
With tensions still high more than two months after Ferguson police officer Darren Wilson fatally shot eighteen-year-old Michael Brown, members of the music community raised awareness of the racial issues the incident has brought to light through a five-hour "Hip-Hop 4 Justice" concert at Fubar. Big-name rappers like Talib Kweli and Dead Prez joined scholar/activist Cornel West and local music talent for the show; West was arrested during a protest the following day.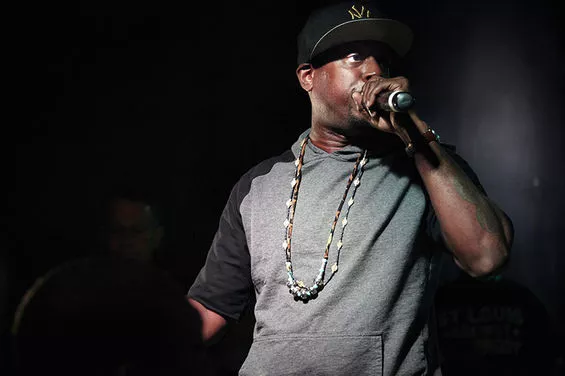 Steve Truesdell
Talib Kwelli performs during a #FergusonOctober event at Fubar. See more photos here.
If you love electronic music, you know that Crystal City Underground is the place to be -- especially around Halloween. To celebrate the spook-tacular holiday, Boogie Knights threw an "Underground Knightmare" with all-night EDM artists, fire dancers and the craziest costumes you've ever seen in a cave vibrating from mega-bass.
Steve Truesdell
Pretty much anything that you can imagine actually happens at Crystal City Underground. Anything. See more photos here.
On page two, see photos from Gwar, Weezer and more!
If there's one thing GWAR fans crave more than the band's music, it's blood. Often clad in white shirts to visibly soak up the ghastly gift, the costumed thrash-metal band's devotees reveled deliriously as new GWAR monsters Blöthar and Vulvatron squirted fake blood from their massive udders and nipples. Read our recap here.
Steve Truesdell
Members of GWAR prepare to squirt blood during a show at Pop's. See more photos here.
Burlesque often is performed to prerecorded music, but that wasn't strictly the case at the Mad Magician. While performers certainly danced to well-known songs, they also shimmied as hip-hop artists and DJs turned out tunes live, making this a Halloween-themed vaudeville/rap crossover show to remember.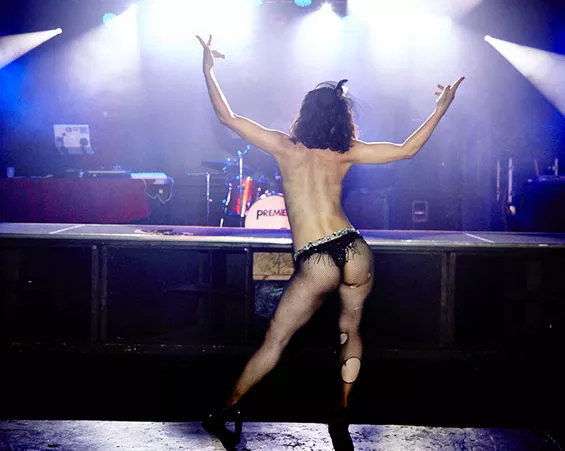 As the grace note to the Rock & Roll Marathon, Weezer's 75-minute performance at Plush may have been a nod to the runners who were ready to hit the hay by 10:30 p.m. But the brevity of the show didn't take away from the fun, as Weezer crammed plenty of hits and a few jangly ditties from its new album into the band's short set. Read our review here.
Steve Truesdell
Rivers Cuomo makes some notes before the Weezer show at Plush. See more photos here.
Halloween is the perfect time for horror punk, and who better to usher in the most ghostly night than the Misfits -- or at least, the area's best Misfits tribute band. St. Louis' own We Bite! has been garnering acclaim for its accuracy at portraying the influential group through both music and makeup, and fans left feeling spooky and satisfied on All Hallows' Eve.
Theo Welling
Steven Sluhan of We Bite! prepares for a Misfits tribute show at the Firebird. See more photos here.
Dirty Dancing, the stage musical based upon the 1987 film that starred Patrick Swayze and Jennifer Grey, gave movie fans a chance to recite their favorite lines and us a chance to sneak a peek at how the production at the Fox Theatre came together. After seeing Baby Houseman's wig to Penny's mambo shoes, we were ready to do The Lift. Read our review here.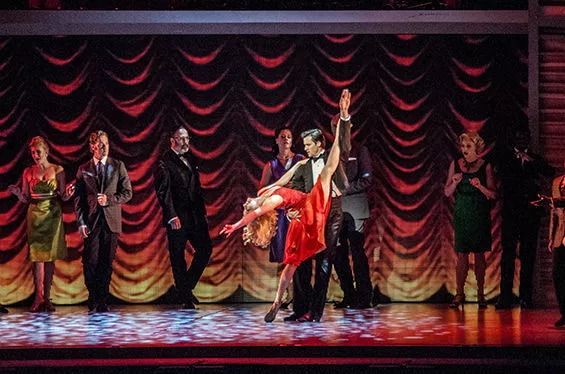 Caroline Yoo
Pleasing the Kellerman's guests during Dirty Dancing at the Fox Theatre. See more photos here.
Two straight nights of peace and love? Would St. Louis be able to stand it? Yep, the Gateway City passed along good vibes when jam band Widespread Panic performed fans' favorite songs from its 30-year catalog consecutive nights at the Peabody Opera House. Read our preshow story here.
Steve Truesdell
Widespread Panic kicks off a two-night stand at Peabody Opera House. See more photos here.
RFT MUSIC'S GREATEST HITS
The 15 Most Ridiculous Band Promo Photos Ever "Where Did My Dick Go?" The Gathering of the Juggalos' Best Overheard Quotations I Pissed Off Megadeth This Week, My (Former) Favorite Band The Top Ten Ways to Piss Off Your Bartender at a Music Venue
---