Even as punk rock inches toward the half-century mark, it still retains some of its old disruptive power. Last month, for instance, the band Nots appeared on Local Memphis Live!, a newsmagazine-type show on Memphis' ABC affiliate. Against a typically cheerful soundstage (complete with fake city views through fake windows), guitarist Natalie Hoffmann shouted her lyrics with controlled glee, keyboardist Alexandra Eastburn provided harsh synth squiggles resembling Eno at his '70s best, bassist Madison Farmer played rumbly, melodic lines and drummer Charlotte Watson held down the tribal beat. In between songs, the hosts came out and asked questions. "What kind of music would you say you're playing?" the male host asked. Hoffmann, shrugging her shoulders, answered, "Weird punk."
Hoffmann and Watson are both Memphis scene veterans. Hoffmann played in Ex-Cult, while Watson continues to drum for the Manatees. They formed Nots in 2011, and have settled into a definitive lineup this year with Farmer (who's played St. Louis before as part of Toxie and Chain & the Gang) and Eastburn. On We Are Nots, the group's Goner Records debut LP, there's more than a hint of early-1980s postpunk in the vocal chants and insistent drumming, while Hoffmann's guitar is thick and oblique in the vein of the Wipers or Mission of Burma. We Are Nots is a quick, bracing listen; the live show is even more frenzied.
Nots sets out on tour this month, hitting St. Louis' CBGB on Tuesday, November 11. RFT Music spoke with Farmer and Hoffmann in advance of the show.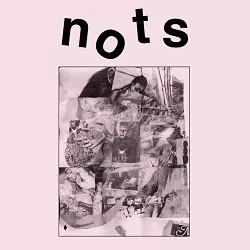 Mike Appelstein: How long have Natalie and Charlotte been playing together?
Natalie Hoffmann: We've pretty much been playing music together since we met. I think the first time we talked to each other was drunkenly at a party, and we decided we wanted to form a band that night. BFFs ever since!
Most of you have been in other bands before. What does Nots provide you that the others didn't, either pro or con?
Hoffmann: I love playing music across the board, whether it's jamming with someone who doesn't play in any bands or playing in a pretty serious band with musicians who are insanely skilled and have been in tons of bands. Collaborating with people's personalities and ways of playing in different bands will always leave a mark on your sound. Being in Ex-Cult definitely brought a heightened intensity and energy to the way that I play. I don't think I could ever go back to standing still during a live show. There's a great energy and openness to weirdness around here. Nots has always totally embraced this idea of not really knowing what's going to happen next and running with it, and that's something I really thrive on.
Madison Farmer: I adore all of the bands I've been in. The difference I feel in Nots stems from being a Memphis-based band. It provides me with a sense of community I guess I was kind of lacking when I first moved here.
How does songwriting work? You've mentioned a love of repetition.
Hoffmann: When we jam to try to figure out new songs, we don't really discuss any direction for what a song should sound like unless the song has already been written. Repetition is something I'm drawn to. I think that really came from playing bass and from writing songs off of bass lines. A repetitive bassline and drumbeat for the groove of a song is so important to me. It gives all of the other elements in the mix room to improvise and go off in different directions, but the song is still anchored by that groove. Visually I'm drawn to patterns, too. All of the art I make is ridden with repeating shapes. I'm not sure why -- maybe something about the rhythm massage it makes on your eyeballs, and of course the conceptual implications that can be present with repetition. Age of consumerism, baby. I trip out when I go to the grocery store looking at all of that stuff lined up on the shelves. It's completely overwhelming.
Continue to page two.
Over what period of time did the We Are Nots songs emerge? To what extent were they written before the lineup change? How did they change after that?
Hoffmann: It's all kind of a blur, honestly. I was writing the guitar and vocal parts for songs like crazy before the lineup change, and after it at an even more intense pace. The songs opened up when we added synth. It gave me more room to experiment on guitar, and it really filled out the sound. With Charlotte back on drums, her parts were changed for the way she plays, and the songs developed more intensity and speed. It was a pretty chaotic time to say the least. But everything fell into place, and I think the LP reflects that.
Tell me a little about Memphis as a creative hub. The little time I've spent there leads me to believe it's a fairly friendly place.
Farmer: It seems like most of the people I know in Memphis are musicians or are involved with music. Creating is part of living here, and there's a friendly competition in town that is motivating to keep on doing it.
Hoffmann: It's hard not to feel a strong creative energy here. The city is simultaneously ridden with both a weird charm and an ever-present tension, so it tempts you to participate and start creating something in reaction to it. I start to feel a little crazy if I don't work on things. It's almost like I have to keep myself out of trouble. Memphis has an incredibly rich history as well, and I think that is very present in people's minds here. Its a wild, old, tragic, totally magnetic city filled with characters.
Live versus recording: Which do you prefer?
Farmer: I love recording, but there's nothing like playing live, in front of people, and sharing that experience.
Hoffmann: I love to play live and to feel the energy of everyone in the band and in the crowd. It changes the way we play songs. Every night on tour is a new experiment, in some ways. I like to translate that mentality into recording as well. When I spend time by myself working on recordings at home, it feels a lot like making a collage, improvising with what I have and creating something new. Recording in a studio with everyone brings a whole new level of raw live energy, and I think Nots really thrives on that.
Do you have any touring advice or tips?
Farmer: Always help carry in gear. Help promote your shows: Send posters, invites and share events, do research on locals playing with you. If you borrow equipment, remember to return it to its owner!
Hoffmann: Find a way to stay sane. Don't lose your friends.
RFT MUSIC'S GREATEST HITS
The 15 Most Ridiculous Band Promo Photos Ever "Where Did My Dick Go?" The Gathering of the Juggalos' Best Overheard Quotations I Pissed Off Megadeth This Week, My (Former) Favorite Band The Top Ten Ways to Piss Off Your Bartender at a Music Venue
---