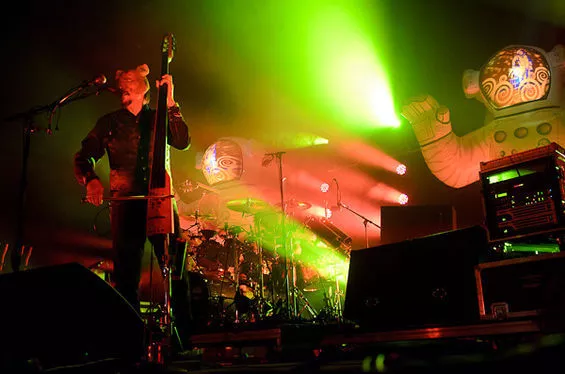 Todd Owyoung
Primus plays the Peabody Opera House on Wednesday.
This week we bring you sweaty garage rock, theatrical jams and plenty of kitsch (Pizza Underground anybody?). Although there's plenty of shows out there with a party vibe, heady acts like Mincemeat or Tenspeed come through to provide focused experiments in sound. If you're a music nerd or just looking for a mid-week break, we've got you covered for the next 7 days.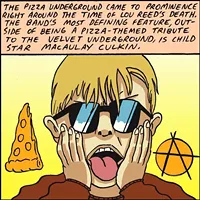 Har Mar Superstar w/ The Pizza Underground Monday, November 3 The Firebird 8:30 p.m. | $12.50-$15 By Joseph Hess When Lou Reed passed away, child star Macaulay Culkin made headlines. You see, the Home Alone star fronts a kitschy pizza-themed tribute to the Velvet Underground. The band doesn't reinvent the wheel, nor do they do an especially good job covering VU, but the show should be worth checking for fans of gimmicks and goofy rock n' roll. Har Mar Superstar is set to headline the show with an oversexed, sweaty mass of R&B. There's an obvious respect to the genre here, but band leader Sean Tillman propels the songs with high energy. For more about this show, check out this comic by St. Louis artist Curtis Tinsley.
Anberlin Tuesday, November 4 The Ready Room 8 p.m. | $25 Check out this show preview from the Riverfront Times archives: As always, the quartet sounds like what would happen if MxPx and the Starting Line had a baby, with a bit of pop that's heavy on rock & roll harmony. But Anberlin promises to stay the course with its high-energy melodic performances: You'll probably end up singing along halfway through each song, or at least screaming along when the boys call for crowd response.
Primus and the Chocolate Factory Wednesday, November 5 Peabody Opera House 8 p.m. | $32-$52 By Joseph Hess Les Claypool's latest endeavor is his own childhood dream come true. He cites Willy Wonka & the Chocolate Factory as a major inspiration - so his warped musical take on the beloved 1971 film is deeply personal. Arguably the best Primus line-up is back on this tour with Larry LaLonde and Tim Alexander in tow.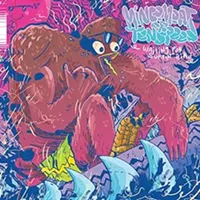 Mincemeat or Tenspeed w/ Unguent, Spiritual Recess, DJ Eli Keszler, DJ Rashad Becker, DJ Ghost Ice Thursday, November 6 Schlafly Tap Room 9 p.m. | Free By Joseph Hess Davey Harms, the brains behind Mincemeat or Tenspeed, recently steered his project into a cleaner, more refined sound. Known for building beats by looping noise, MoT has evolved by making controlled songs through a distinct use of synthesizer. This line-up is a no-brainer for fans of outsider dance music with 3 special guest DJs and two more featured performers: Unguent and Spiritual Recess.
Read on for shows on Friday through Sunday.
Bone Thugs-N-Harmony w/ Mac Lethal Friday, November 7 Pop's Nightclub 7 p.m. | $22-$25 From this 2010 concert review: What was so incredible about the show was the energy - both from the performers and the audience. The floor was crowded from wall to wall, and everybody was participating in the show. Most of the fans (myself included) knew almost every lyric, and every call-and-response was as loud as the first one. Flesh-n-Bone worked the far corner of the stage, engaging people in the back rows, and Layzie did a little bit of crowd-surfing towards the end. BTNH's set lasted about an hour and a half, and the crowd loved every minute of it.
Kisser (Tape Release Show) w/ The Brainstems, Pop Crimes, Prude Boys November 7 Melt 9 p.m. | $5 By Joseph Hess Spastic and heavy, Kisser approaches psychedelia with punk fervor. The trio creates a head space while taking on progressions of early kraut rock. The drums feel airy while feeding room to brainy bass riffs. The guitar reeks with noise, drawing from organic sounds to paint on schizophrenic songs. Kisser keeps a psych-rock core with deep hooks and spaced breaks. Vocals are subtle while disparate, lending a helping hand to Kisser's heady but approachable sound. Take in the cross-hatching of the old and new, and bring your earplugs.
Jon Gitchoff
Lucinda Williams at the Pageant in 2009.

Lucinda Williams w/ The Kenneth Brian Band Saturday, November 8 The Pageant 8 p.m. | $30-$35 By Roy Kasten Her voice has become a gnarled visage of its former Lake Charles, Louisiana, glory, her politics have grown more feverish and her band has become a vamping blues machine. But so what? Lucinda Williams, at the age of 61, remains the American songwriter against which all songwriters are judged. This year she released her first double album that wasn't a live concert, and even at twenty songs, Down Where the Spirit Meets the Bone has little filler -- and that goes for the nearly ten-minute long take on J.J. Cale's imperishable "Magnolia." Low-down and tender, bitter and ever bittersweet, Williams reminds us that popular music really can be poetry when it's this body-shaking and soul-refreshing.
Quintron and Miss Pussycat w/ Babes, Demonlover Saturday, November 8 The Firebird 8 p.m. | $10/$12 By Joseph Hess The duo of Quintron and Miss Pussycat brings a vaudevillian slant to southern N'awlins soul. While Quintron provides the base with his patented spinning drum machine (the famous "Drum Buddy"), Miss Pussycat animates onstage through backup vocals and percussion. The whole sound gets swamped in riffs played through a custom organ/synth combo, which gives natural highs and wobbly, bassy undertones to every song. But the hidden draw here lies in the onstage banter between husband and wife -- it's equal parts endearing and nonsensical.
The Brainstems w/ Bad Cop, Penicillin Baby Sunday, November 9 Off Broadway 9 p.m. | $7 From Garage Rock: Meet the 2014 RFT Music Award Nominees: The band bleeds garage-rock essence. Its new EP, Cold Sweatin', finds the Brainstems playing in higher fidelity without sacrificing its ramshackle charm. All the players have become better soloists, and a few tracks find the group stretching out with repetitive, near kraut-rock grooves. If only all hiatuses could end so gloriously.
Note: Though we wish we could, we can't feature every great show happening in town in just one post. Look for plenty more recommendations this Friday in our weekend shows post, peruse the St. Louis concert calendar for more ideas and let everyone know what else you're looking forward to seeing this week in the comments below. To be considered for coverage in RFT Music, submit show info online or drop us a line anytime.
RFT MUSIC'S GREATEST HITS
Remembering STLPunk.com -- How to View the Site Today and Find Your Old Profile Page "Where Did My Dick Go?" The Gathering of the Juggalos' Best Overheard Quotations The Ten Best Dive Bars in St. Louis The 15 Most Ridiculous Band Promo Photos Ever
---