Theo Welling
We Bite as the Misfits.
True tribute bands have it rough. In their quest to bring an authentic experience to die-hard fans, they attempt to recreate everything perfectly, from the music to the costumes to the makeup. It's not an easy thing to pull off, especially if you're celebrating one of the most influential artists in recent decades.
But that's exactly what We Bite has been doing as its members share their love for horror-punk pioneers the Misfits. Billing itself as "the Midwest's premier Misfits tribute," the band already has earned a reputation for authenticity after just a few months of playing the local music scene.
See also: - Slideshow: We Bite Transforms into the Misfits at the Firebird - Slideshow: Gwar Gets Growly at Pop's
"I can say the look and feel of it is extremely important," says We Bite drummer Steven Sluhan, whose band stage name is Steven Damage. "People want to see the next best thing, and we want to give them the best possible experience all around from sound to appearance."
Becoming the Misfits is no simple task, thanks to the copious makeup and leather that the original band sported back in the 1970s and 1980s. We were curious about how it all goes down, so we sent Riverfront Times photographer Theo Welling to nab some exclusive shots of the transformation before We Bite performed at the Firebird on Halloween night.
We Bite vocalist Rob Austin [stage name Rob Whitman] tells RFT Music that the band's prep time takes about an hour, and band members have been practicing and tweaking their looks even before the group began playing out. "Everybody really puts a lot of research and resources into what we should be wearing to be as authentic as possible," Austin says, adding that he has recreated some of the iconic DIY graphics and clothing that Misfits singer Glenn Danzig had worn.
Theo Welling
Vocalist Rob Austin shaves before turning himself into the Misfits' Glenn Danzig.
"The Jerry Only and Doyle [Wolfgang von Frankenstein] transformations take the longest," Austin says. "The hair for both of those guys take a while to accomplish, and the makeup that is used to do Doyle takes a while as well."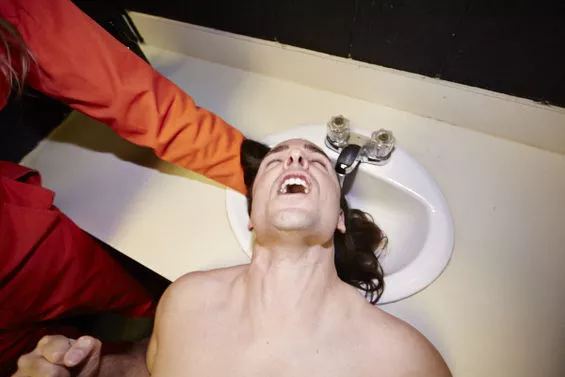 Theo Welling
Bassist Nikki Strychnine, who performs under the name Nikki Only, gets the salon treatment before styling himself as Jerry Only.
"This last show was the first time I wore makeup and did it in the spirit of Halloween," Sluhan says. "Looking at all the old Misfits drummers, none of them dressed up in the early era when Glenn Danzig fronted the band."
Theo Welling
Steven Sluhan applies makeup in tribute to post-Danzig drummers Brian Damage and Robo.
"Over time, our look has gotten more and more spot-on, and the fans that come out to our shows notice it," Austin says. "I can't count how many times we have been complimented for going the extra mile from Misfit fans. They really appreciate us doing what we do to make their experience the best possible."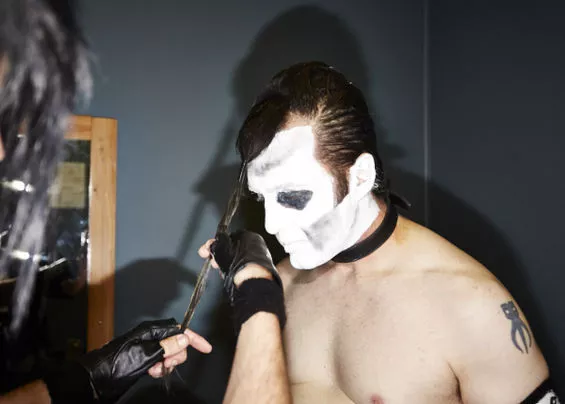 Theo Welling
Band members attach extra hair to guitarist Wade Durbin's [stage name Durbin Wolfgang Von Frankenstein] head, helping him achieve Doyle's twisted "devilock."
Austin says that longtime fans have been enthusiastic about We Bite's dedication. "The best compliment was from a show a few months back when a guy came up to me and said, 'I saw the Misfits back in '82 and you guys are WAY better then they were. You are more Misfits than the Misfits were!'" Austin says. "It was the best compliment that you could get."
Theo Welling
Some of the elements We Bite uses to become the Misfits, including a Danzig-like wig for Austin.
"The time it takes us for the transformation process is actually pretty fun, as we get to hang out together and watch ourselves become this iconic band that we all love. Sometimes it can be quite surreal," Austin says. "There are still things I would like to work on to make it even better -- mostly little things that no one else would ever notice, but I think it is the attention to detail that makes the difference!"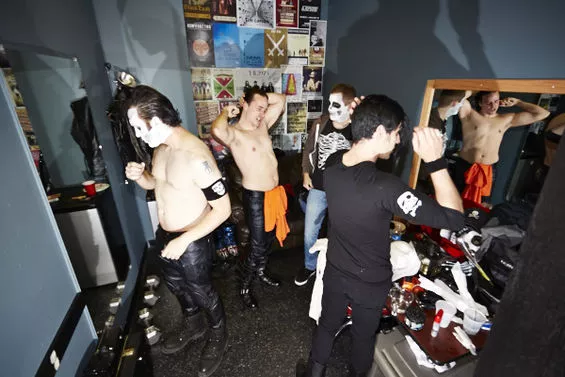 Theo Welling
We Bite in the middle of the transformation into the Misfits.
We Bite is planning to take its Misfits act to cities beyond St. Louis. Follow the group's Facebook page for updates, photos and tunes.
RFT MUSIC'S GREATEST HITS
The 15 Most Ridiculous Band Promo Photos Ever "Where Did My Dick Go?" The Gathering of the Juggalos' Best Overheard Quotations I Pissed Off Megadeth This Week, My (Former) Favorite Band The Top Ten Ways to Piss Off Your Bartender at a Music Venue
---