If you are going to go to a Gwar show, such as the one last night at Pop's, you better be prepared to wind up covered in blood. Gallons of the stuff.
In the past, one primary source of crowd-drenching bodily fluids would have been the massive and disturbing penis of former lead singer Oderus Urungus, but the Gwar leader was sent off viking-funeral-style earlier this year after his earthly analog, Dave Brockie, died of an accidental heroin overdose at the age of 50.
See also: Our complete slideshow from the event
In Brockie/Urungus' absence, two new front-monsters have stepped up: Michael Bishop/Blöthar, a hideous antlered viking beast with a huge set of blood-spraying udders on the front of him, and Kim Dylla/Vulvatron, a "high-ranking scumdog assassin" from the year 69,000, who also happens to fire blood from her frontside as well.
Any long-time Gwar fan will tell you to wear a white shirt when you go see the group, so as to wear your battle scars with pride: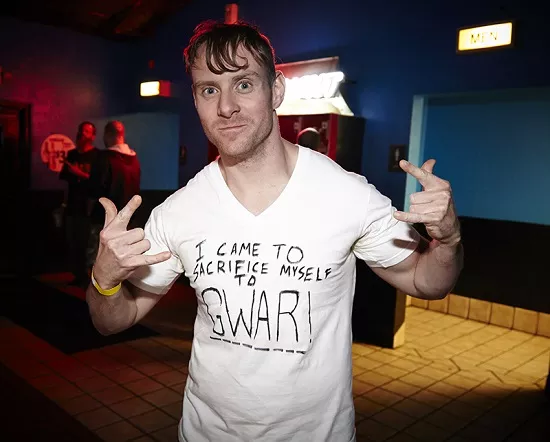 (Spoiler: They won't be, pal. Sorry.)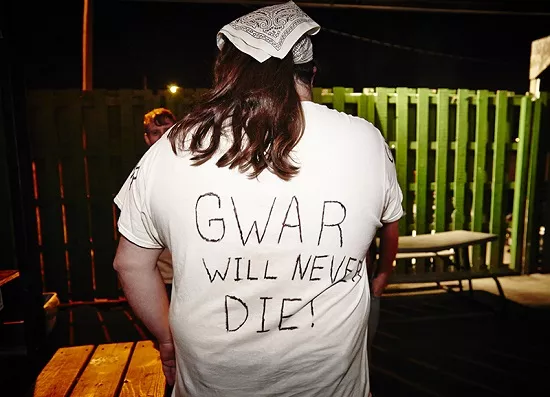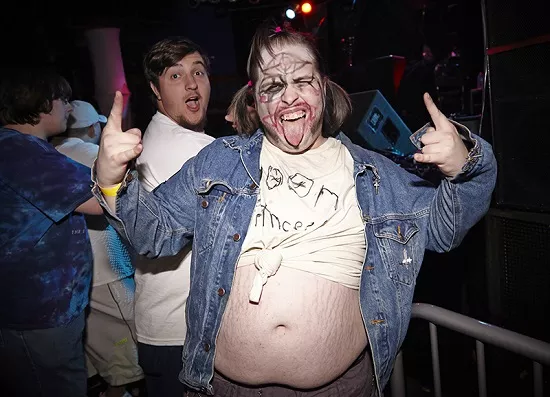 Uh oh. Things are about to get real:
Continue to page two.
OH YEAH!!
Take that, human scum!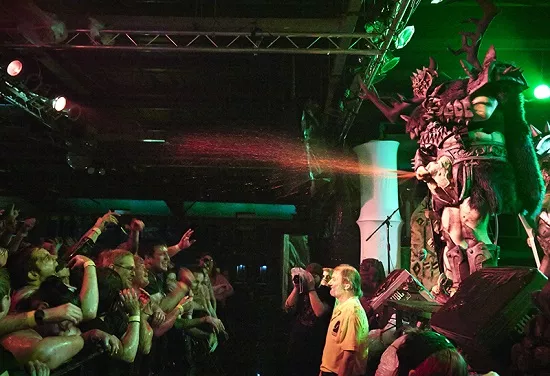 Even the security guards are not safe! With ICP soaking everything in Faygo last night and now this, you'd have to imagine Pop's employees were less than stoked about the mess.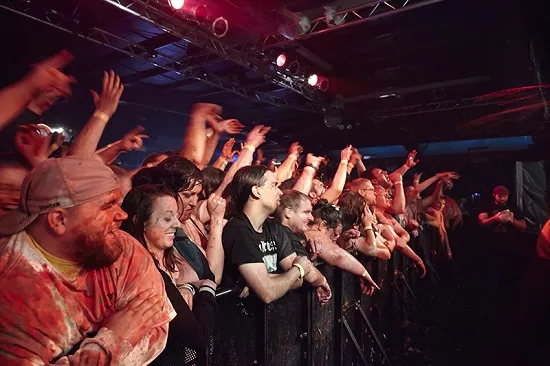 The fans sure loved it though.
Vulvatron gets in on the action.
Gwar: Come for the music, stay for the gallons of nipple blood. Rock on forever, scumdogs.
RFT MUSIC'S GREATEST HITS
The 15 Most Ridiculous Band Promo Photos Ever "Where Did My Dick Go?" The Gathering of the Juggalos' Best Overheard Quotations I Pissed Off Megadeth This Week, My (Former) Favorite Band The Top Ten Ways to Piss Off Your Bartender at a Music Venue
---