Copyright Ross Haflin/Simon & Schuster
Joe Perry tells his life story -- before and after the gray streak -- in ROCKS.
While they may not be blood brothers, Steven Tyler and Joe Perry, singer and guitarist for Aerosmith, respectively, might as well be, given the relationship they've had for more than 45 years.
It's a love/hate story that Perry details extensively in his new autobiography, written with David Ritz, ROCKS: My Life in and Out of Aerosmith (432 pp., $27.99, Simon & Schuster). And, if you've been following the saga of the "Toxic Twins" today, the future of one of America's greatest hard-rock bands is still in flux. At the time we spoke with Perry, just days before publication, neither Tyler nor any other band member had seen a copy of the book.
See also: The Drug That Helped Turn the Beatles into the World's Greatest Band
"Steven has said and done every possible thing to hurt me emotionally," Perry says. "But we work our way through it. He holds on to things longer, but we're not going to change. We have the ability to work together. We have a civil time. We don't not talk, but we might dance around certain things."
Those "things," as Perry writes, might include more recent episodes in which Tyler started using drugs again, let his girlfriend get involved with band business, took a judging gig on American Idol, and even tried out for the Robert Plant-vacated slot as singer of Led Zeppelin. Without bothering to tell his current band.
"Our relationship is like a family," Perry offers. "You love your family, but you don't always get along with them. And you can like or dislike your brother, but you love him.
"And this band is an exclusive club, with just five members," he explains. "That will hold us together no matter what. It's like any other brotherhood. That's one of the things that I wanted to get across in the book."
While Tyler and drummer Joey Kramer have written their own memoirs, and the band has produced an authorized biography, Perry's ROCKS offers scores of anecdotes and insights that will be new. And how far he's come: from the skinny, bespectacled nature-lover who wanted to be a marine biologist to the wild-eyed, drug-gobbling, guitar-shredding maniac to the settled and stable low-key family man.
"I was looking for thrills, and thrills came from a guitar," he writes, while describing certain makes and models lustily.
Perry is brutally honest about his struggles with drugs, which take up almost as much page space as his triumphs with music. He details bender after bender that affected the entire group. "We had been musicians fooling around with drugs. And now we were druggies fooling around with music," he writes of one period in the late '70s.
It was a time that also saw him abandon an idyllic vacation in Montserrat to rush back to Boston when his dealer called to say he'd scored some heroin. Ultimately, it was a fight between band members' wives, literally involving spilled milk (though details among all participants remain hazy), that led to his quitting the band in 1979.
Continue to page two.
Copyright Ron Pownall/Simon & Schuster
The Toxic Twins in the '70s: High on music and various other substances.
Aerosmith has continued along a wild ride of ups and downs since then, and Perry discusses encounters and relationships with bizarre managers, therapists, other musicians, fans and Run-DMC. And he's thoroughly compelling when dishing on the music that appeared on the band's "holy trinity" of records: Toys in the Attic, Rocks and Draw the Line. (FYI, the riff from "Walk This Way" was Perry's attempt to replicate the funky sound of the Meters. And the title comes from the signature saying of Marty Feldman's Igor in Mel Brooks' Young Frankenstein.)
Aerosmith was also cast as the "Future Villain Band" in the 1978 Peter Frampton/Bee Gees movie Sgt. Pepper's Lonely Hearts Club Band. Enticed by the offer to cover the Beatles' "Come Together" for the soundtrack (as well as the chance to "kill the Bee Gees," which didn't actually happen in the script), Perry took away one memory that has nothing to do with the plot or the music.
"The thing that made the biggest impression on me was the incredible amount of money that was wasted. I was standing in the doorway and there were so many assistants. I even saw two of them standing back to back, using walkie-talkies to try and find each other. They were literally five feet apart!" Perry says. "And there were six limousines always on call in case someone wanted to go somewhere. What a waste."
A much more pleasant memory has been Perry's relationship with Texas blues giant Johnny Winter: from seeing him as a fan to meeting him to appearing as a guest on what would turn out to be the recently deceased Winter's final record, the just-released Step Back.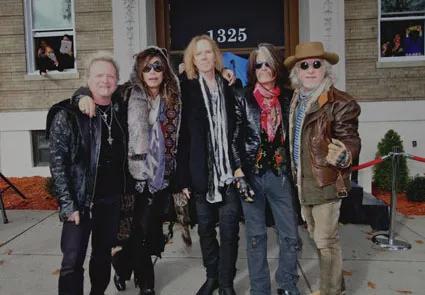 Copyright Melissa Mahoney/Simon & Schuster
Aerosmith recently, when the City of Boston recognized the group's old crash pad/rehearsal space as a city landmark: Joey Kramer (drums), Steven Tyler (vocals), Tom Hamilton (bass), Joe Perry (guitar) and Brad Whitford (guitar).
"I'd seen him at the Boston Tea Party before. Then I was at one of the first gigs he did after getting out of rehab in 1971. At the time, I had no idea what rehab even was or how a group could end up in one. The stories in the press were a puzzle at that point," Perry recalls. "He was a special guest of [his brother] Edgar. And there was nothing but energy from the time he got onstage until the time he left."
Perry adds that Winter "took blues up a notch and was a unique character." He also set Perry on a course to learn everything he could about slide guitar.
"So when I got a call to be on his record, I thought, 'Holy shit, things have come full circle!' It was such an honor," Perry says. "When he passed away, I was stunned and saddened. He had gotten his life together and cleaned up."
But back to Brother Steve Tyler. Surely by the time you read these words, he will have devoured ROCKS on his own, or at least read or been told the bits about him. What that may or may not mean for the continuing saga of Aerosmith, who knows? But Perry is clear on the page how he feels about him.
"Steven Tyler is my brother," he writes. "Together, we have forged and maintained a great band; together, we have changed each other's lives. Our stories are intertwined. For that, I'm grateful."