[image-10]
Cover bands might be shunned outside of their native bar gigs and tribute nights, but Halloween gives us all a chance to be something we're not. On Friday, Melt hosts a full lineup of local punk and psych bands covering a huge range of genres, while We Bite! A Tribute to the Misfits hits the Firebird. Catch the Schwag and its Grateful Dead jams at 2720 on Friday or Saturday.
In keeping with the spirit of the season, I wonder if juggalos will show up to the ICP show on Tuesday clean-faced, wearing freshly pressed polos. Even if you're not a fan of the ghoulish holiday, there's still a lot to love in this week's list of recommended shows.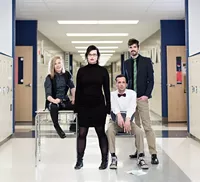 Middle Class Fashion w/ Tristen, American Wrestlers Monday, October 27 @ Off Broadway 8 p.m. | $10-$13 From Pop: Meet the 2014 RFT Music Award Nominees: It's been a breakout year for Middle Class Fashion. With the August 2013 release of Jungle, this quartet took its place as one of the area's best bands. Lead singer/pianist Jenn Malzone, already an impressive songwriter, outdid herself, wrapping lyrical sentiments of loneliness and cynicism in increasingly streamlined, hook-laden compositions. MCF has done some touring, shot a few videos and had its song "Stuck" featured on the public-radio series This American Life. Most recently, the band contributed "Focus" to a split seven-inch single (with Sleepy Kitty) on Tower Groove Records. Malzone's most recent songs suggest further ambition and experimentation. Live, its shows are engaging and fun.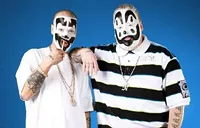 Insane Clown Posse w/ Mushroomhead, Da Mafia 6ix, Madchild, JellyRoll Tuesday, October 28 @ Pop's Nightclub 6 p.m. | $28-$32 Maybe it's their outlandish, drug-laden festival or the duo's tendency to make headlines for the stupidest of reasons (remember "Miracles"?), but we here at RFT have a special place in our hearts for the Insane Clown Posse. Say what you will about the music, but you can't ignore a band who single-handedly spawned an entire sub-culture. This event will be closer to religious experience than a concert for some.
Photo by UnderCurrentMPLS
Pen Test w/ Hylidae, Wax Fruit Wednesday, October 29 @ Plush 9 p.m. | $5 By Joseph Hess The Pen Test crafts slow-burning songs by working through looping patterns. A basic beat is established, then the band builds as it goes, sliding short melodies inside tight pockets of sound. This gradual climb into busy electronica gives the ear space to adjust and latch on, giving the Pen Test freedom to explore. The sound is instantly accessible, but offers much more as it evolves live, in real time. This concert is a closing party for Apop Records, the niche music store on Cherokee Street. The full line-up features Hylidae and Wax Fruit, two local acts that bring their own blend of dark synth-based jams.
(Also, per the recommendation of RFT Music writer Michael Dauphin: Roughly 45 years into its legacy, the Muscle Shoals/Fame Studios sound is very alive and well. St. Paul & the Broken Bones will gladly prove it Wednesday at the Ready Room. Consider it an awakening as much as it's a revival. )
Lazy w/ Baby Sun God Thursday, October 30 @ Melt 9 p.m. | $5 By Mabel Suen Lazy plays laidback Midwest fuzz punk laden with pop and simple, fun-filled subject matter. Reminiscent of a carefree era they probably weren't even alive yet to see themselves, the Kansas City rockers present the finer points of lo-fi power-chord pounding in short but sweet basement-born party anthems.
Halloween 2014 Covers Show w/ w/ So Many Dynamos (as Devo), Demonlover (as Prince), Trauma Harness (as Orchestral Manoeuvres in the Dark), The Humanoids (as the Damned), Escalade, Shaved Women (as Rudimentary Peni), Mark Willey and friends (as Roxy Music) Friday, October 31 (Halloween) @ Melt 9 p.m. | free By Jaime Lees Halloween is all about dressing up and pretending to be something else, so fittingly, this All Hallows' Eve will see entire bands dressing up and pretending to be completely different groups. The yearly event always brings out a big crowd, and this year it will attempt to fit a large chunk of the south-city music scene (and their costumes) into Melt. The lineup features sets from So Many Dynamos as Devo, Demonlover as Prince, Trauma Harness as Orchestral Manoeuvres in the Dark, the Humanoids as the Damned, Shaved Women as Rudimentary Peni and Mark Willey and friends as Roxy Music. The show also promises unannounced surprise performances and guest stars (including Escalade as an unknown performer). It's a free show, but just like last year, organizers will be accepting donations for a charity cause at the door.
We Bite! A Tribute to the Misfits Friday, October 31 @ The Firebird 8 p.m. | $9 By Christian Schaeffer In a town overloaded with cover bands and full-scale tribute acts honoring classic rock's hoariest riffs, it's a blessing that We Bite! has emerged as this city's pre-eminent tribute to the Misfits. These four locals own their roles -- shirtlessness, forelocks, face paint, leather pants -- and tear through the band's Glenn Danzig-led golden era. For a band with hits like "Night of the Living Dead" and "Horror Business," Halloween night is the perfect time to re-up your membership in the Misfits Fiend Club. In addition to enjoying a night of New Jersey-bred horror-core, you can take home $100 in the Firebird's costume contest.
Bobby Bare Jr. w/ Union Rags Saturday, November 1 @ Off Broadway 9 p.m. | $12-$15 From the RFT Music archives: If you thought you had a handle on Bobby Bare Jr., think again. The Nashville misfit can do country-soul, sure -- it's literally in his blood, given his paternity, and few can wrench heartbreak and humor like he. But his alt-rock past asserts itself with his occasional passes through town with his Pixies cover band, Is She Weird-Is She White. Hell, he even resurrected some AM Gold chestnuts with tossed-off flair but plenty of love on the American Bread EP, full of (you guessed it) songs by America and Bread. But the portrait of the artist in the documentary Don't Follow Me (I'm Lost) tries to capture his multitudes and finds Bare to contain the humor and pathos in his songs -- he's a singer who can opine about "emotions and feelings," as he's fond of saying, and then proceed to fray nerve endings with full-bore rock & roll.
The Schwag Saturday, November 1 @ 2720 Cherokee Performing Arts Center 9 p.m. | $10-$13 By Joseph Hess Grateful Dead-inspired jams come by way of psychedelic-guitar guru Jimmy Tebeau and his group of masterful players. This is the second night of a weekendlong Schwag blowout. And since tribute and cover bands are all the rage on Halloween, it's only fitting that the Schwag holds the holiday in such high esteem.
Carcass w/ Obituary, Exhumed Sunday, November 2 @ Pop's Nightclub 7 p.m. | $20 to $24 By Rick Giordano All right, cavemen, it's time to reconnect with all those forbidden cassette tapes you loved so much in junior high, and this time you won't even have to hide them from your mom. Carcass and Obituary are both known for wearing some of the bloodiest gloves in the operating room during the gory birth of death metal and grindcore during the late '80s and early '90s. Distortion-caked guitars, machine gun drums and throat-shredding vocals with lyrics about the darkest, ugliest sides of life and death all add up to the perfect cocktail for your reptile brain to release it's inner neanderthalian rampage. Californian goregrind pioneers Exhumed and the young bucks of Baltimore's Noisem will open the show for an added blast-filled bonus.
Note: Though we wish we could, we can't feature every great show happening in town in just one post. Look for plenty more recommendations this Friday in our weekend shows post, peruse the St. Louis concert calendar for more ideas and let everyone know what else you're looking forward to seeing this week in the comments below. To be considered for coverage in RFT Music, submit show info online or drop us a line anytime.
RFT MUSIC'S GREATEST HITS
Remembering STLPunk.com -- How to View the Site Today and Find Your Old Profile Page "Where Did My Dick Go?" The Gathering of the Juggalos' Best Overheard Quotations The Ten Best Dive Bars in St. Louis The 15 Most Ridiculous Band Promo Photos Ever
---