Courtesy of Tiffany Minx
Beryl, the Apop Records store cat.
By Joseph Hess and Mabel Suen
Patrons of Apop Records found a wide range of intriguing things to peruse and amuse the years, from half-naked no wave bands to Beryl the grouchy-yet-lovable store cat. When Tiffany Minx opened the store in 2004, she planned on running the operation for maybe five years. Now, after a decade of slinging counterculture ephemera, she's ready to move on. The brick-and-mortar storefront on Cherokee Street will offer up its last slabs of wax on Monday, October 27.
See also: Apop Records Celebrates Ten Years at Plush: Photos
Minx and business partner Dustin Newman opened Apop's original location in Columbia. Through merging their own record collections with gems picked up from other enthusiasts, the two offered a selection of niche music along with oddities including rare books and obscure VHS tapes.
The shelves were densely packed with industrial noise, lo-fi electronic, and outsider punk and metal via vinyl, cassette tape, and even handmade CD-Rs. The store stocked mail-order rarities from across the globe -- work from artists including Jandek and Peter Sotos, known for their hyper-reclusive nature, found a home between Apop's walls.
"It was inside of a 600-square-foot little shack. It was a crummy building, but we had a lot of fun there," Minx says. "It was crammed to the gills with stuff. It was like Apop is now, but condensed. It looked like it had been worn over time."
Since both were deeply involved with music, Minx and Newman booked many in-store performances. The shows themselves reflected Apop's early days in a nutshell, attempting to cram too much music into a space that couldn't necessarily accommodate it. Punk and experimental artists would play on top of display cases and occasionally even on the roof of the shop.
"We had a really hot day in Columbia. The air conditioner was broken, and we decided to leave the shitty landlord and just box everything up and move to St. Louis," Minx says. The entire store's stock sat in a local basement for months until the two found the right space for Apop to grow.
Courtesy of Tiffany Minx
Tiffany Minx and Dustin Newman at Apop's fifth birthday.
Minx credits Sheri Ford, former owner of the now-defunct record store Tension Head, for Apop's move to Cherokee Street. With her suggestions, Minx and Newman checked out spots in the neighborhood before settling on a building at the corner of Cherokee Street and Oregon Avenue in 2006.
"While Dustin was working another job, I was painting. We pulled out shelves from other stores. We were constantly salvaging and building stuff all the time. It was really cold that winter -- it sucked," Minx says of the move.
Apop opened the following spring and gradually built a loyal customer base, and with it, a reputation for carrying stock other record stores might not touch or even know what to do with. Newman relocated to the Pacific Northwest in 2013, leaving the store to Minx. He still operates the Apop record label and runs Web store distribution from his new home in Washington. Following Apop's tenth anniversary, Minx is gearing up to move on as well.
"I am ready to do something new," she says. "I actually tried going to school while doing the store once before, and it was just too overwhelming. I love this place, but I'm not intellectually stimulated by it enough. I need to be constantly challenged, and I don't feel like I can get that just by running a store."
Apop established a long legacy for underground music in St. Louis over the years. Through Record Store Day and its many in-house performances, it was known for its off-the-wall parties and events. We've reached out to past performers, patrons and employees, hoping to squeeze out a little history. The story of Apop Records and its impact on music and art in the Midwest is best told through the words of the people who loved the shop and what it provided.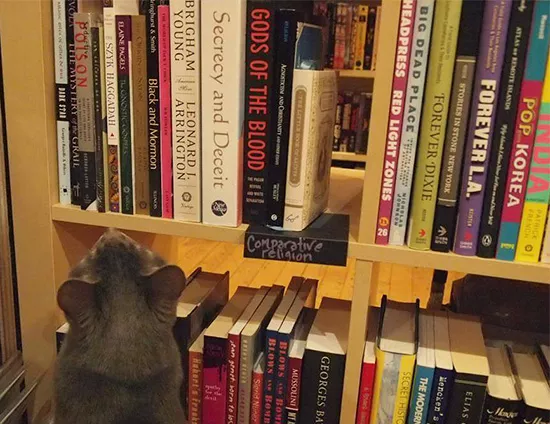 Clint McDaniel (Apop regular): I was there to witness Apop's repugnant, slithering birth in the heart of Columbia, Missouri. I remember blundering across some Merzbow in consignment at Whizz Records and immediately knew something was amiss. After all, respectable stores don't stock this filth, and how dare they poison the minds of all these erstwhile young folk? Soon after, a fire-code violation -- erm, excuse me, a record store -- opened its doors next to a church and proceeded to horrify everyone with its noisome presence. I thought they were all creeps. Naturally, I was delighted.
Michaella B. (Wax Fruit, Apop regular): The first time I set foot in Apop was on Elm Street in Columbia. Tiffany and Dustin were pelting my future husband with empty beer cans and yelling at him while he performed as -- I dunno, was it "Turdgrinder"? I think that was it. Anyhow, at first I was a little taken aback by that sort of gruff exterior, but the selection was amazing, and after awhile I came to know both Tiffany and Dustin. Over time Apop and its owners have grown on me like a really bad rash -- in a good way?
Dominick Dufner (Wax Fruit, Apop regular): My favorite show was probably twodeadsluts onegoodfuck, during which I was hit in the head with a Casio keyboard by a naked guy flinging from the exposed beams of the store. There was a point there one of the members was pants off in front of the store and yelling at some rozzie frat girls across the street to see the show. Good times.
Josh Levi (Radiator Greys, former Apop employee): When I first arrived at Apop, I was a bit nervous. I had, of course, heard a number of unsavory rumors about the store owners and knew that Dustin was in Eugenics Council, one of America's most controversial noise acts. Upon entering, I was ecstatic to find a whole collection of Jandek and tapes and CD-Rs of noise acts. The first record I ever bought from Apop was a copy of "The Age of Quarrel" by Cro-Mags. I vividly remember picking up a book of concentration camp photos and feeling excited to know that there was a place completely filled with tomes and recordings from the underbelly of the world.
Rotten Milk (performance artist, musician): We once played inside the shop, crammed into that place. The night's standout moment came later when our touring mates, Carpet of Sexy, played in the middle of Locust Street while Bubblegum Shitface scaled the building and launched fireworks at them and the crowd for the duration of their twelve-minute set. This kind of behavior can get you banned from most places, but when we came back a couple months later with our new group, America's Meth Problem, Tiffany told us: "Some teenagers were asking if you guys were any good. I promised them there'd be fire, so you better not disappoint."
It was always very clear that Tiffany and Dustin did what they did out of a love for music and community, no matter how hard they tried to hide it under a mask of nihilism and misanthropy.... Sure, one time Dustin jokingly pointed a handgun at me, but one other time he let me borrow his PA on a moment's notice and drag it to a dock suspended over the Mississippi River to play a rock show on acid in the middle of the night. What more can you ask for in a record store?
Ben Jones (Apop regular): Dustin and Tiffany put in amazing amounts of sweat, energy and money to turn a storefront that was once inhabited by gypsies (pretty sure this is true) into my favorite record store in Columbia. And then they did it again (this time, sans gypsies) in St. Louis.
Mark Medley (Apop regular): To a stranger, I'd say Apop is the store with all of the music and books that you didn't know you needed -- a place well worth taking a chance on something you're completely unfamiliar with.
Jeremy Kannapell (Ghost Ice, Skulls Mind, Apop collaborator): I'm finding it difficult for me to summarize all that Apop has encompassed. It certainly went above and beyond being just a record store. I remember going to their opening weekend in St. Louis and just being amazed at the space they had and what they did with it. The physical space it occupies really is quite amazing between the upstairs and basement-show space. It's a rarity to see something like that, and even in such a big space it always felt comfortable and something like a compound for underground music.
Josh Jenkins (Trauma Harness, Egg Chef, Apop labelmate): The first time I finally went in, I was wearing a red windbreaker jacket and a Chrome T-shirt, had hair down to my shoulders and horrible acne, and had a bloated feeling from eating a big meal of pasta a few hours prior. The first thing that happened was Jeremy complimented me on my T-shirt, and Circle X was playing over the speakers. I felt at home immediately!
William Liebermann (property manager): Apop was one of the first businesses that I leased to on Cherokee. They were consistently uncensored and had a strong following by many. Apop made considerable efforts to buck the trend and provide an alternative to mainstream media, entertainment and publishing. Tiffany made many personal sacrifices to keep this project going. While one could be sad for the end of an era, I am happy that Tiffany has chosen to pursue something that is important to her.
Ben Salyers (Shaved Women, Apop employee and labelmate): I discovered many bands that are now very important to me through Apop. It's also been a great meeting place for people interested in fringe and weirdo music. From early on it's been an integral part of our local scene and helped put St. Louis on the map at a time when the city wasn't getting a lot of attention from the rest of the country.
Gabe Karabell (Bad Dates, Wild Hex, Apop employee): Tiffany and Ben's expertise and dedication built a record store that is more than the sum of the sounds contained inside. A friend from Springfield, Illinois, told me that Apop "is a place where punk lives." That statement speaks to a lot more than just one style of music. Bands and tourists from all over the world make a special point of visiting the store while they're in St. Louis, and working the counter has led to some surprising meetings and conversations.
Shaved Women 4.21.12 Apop, St. Louis from Chizmo.tv on Vimeo.
Chris Eck (Shaved Women, Apop employee and labelmate): To me, it's always felt like a sort of meeting place for the DIY musicians and artists in town. I've met so many people at the store who happened to be shopping there when I was and are people I have become friends with or have worked with on projects.... The store is small but open, so it just feels pleasant to be in. The weird shit on the walls and shelves helps, too.
Mark Willey (Apop regular): I've lived above the shop for over five years, and Tiffany has been my roommate and good friend during that time. It has been a daily presence and has had an incalculable influence on me. Over the years I've met incredible artists of all different stripes, the band I'm in, an ex-girlfriend and many others through the shop. Apop Movie Night was always a source of tremendous fun. Sharing and enjoying films (drunkenly) that ranged from beautiful to horrible, cerebral to idiotic, and any other dichotomy you like to a (mostly) receptive audience was always a special thrill. And, oh my god, they have this cat there...
K Robert Schlüter (The Lonely Procession, Apop regular): Apop has long been one of my favorite places to perform as well as one of my favorite places to see others perform. It's the ideal environment for doing weird things or watching other people do weird things. I'm really going to miss walking down that hallway and those steps into the darkened basement, anxious for whatever was about to happen down there.
Chad Eivins (Chizmo.tv videographer): People discuss symbols of freedom and meanings all the time. Apop was a place where this physically existed, and you could feel and experience it. I really loved the 2012 Record Store Day event. Tiffany asked me to document the bands who were playing in the street next to the store. The day had various crowds of people dancing in the streets but ended with Shaved Women's bassist, John Birkner, being wrapped in tape and dragging his bass in the streets. Another event ended with the lead singer of Skarekrau Radio being naked and rolling around on broken glass in Apop's basement.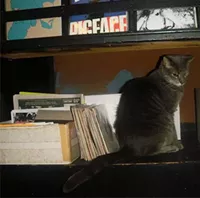 Robert Severson (Googolplexia, Pancake Productions, Apop regular): Apop Records' Record Store Day is the only Record Store Day I have ever known! I drank Four Loko for the first time there -- back when it was still all dangerous -- and released a Pancake platter there. I terrorized or at least annoyed people in the street and on the top floor there. What am I supposed to do on Record Store Day now?
Chad Hickman (Kingston Family Singers, Apop regular): During a Eugenics Council show -- lots of metal and glass thrown around with explosives and drills, welders, etc. -- Tiffany threw a big metal duct piece into the audience and cut my leg open pretty good. Consumer Electronics' performance was "offensive" enough for my ex-girlfriend to almost break up with me at the time. She was legitimately traumatized for a while after that. She ended up breaking up with me anyway, but not because of Consumer Electronics, I don't think.
David Bell (Jaded Evil Lambs, Apop regular): "Hello Tiffany," I said. "Hello, Mr. Bell," she replied. "Got an odd request for you -- we were wondering if we could come get married in your store tomorrow evening?" "Really? Do I have to do anything?" We knocked it out in about ten minutes, kicked back some champagne, and bounced out to dinner. It was beautiful and I wouldn't have changed a thing -- plus we're the only ones out of our friends whose wedding pictures include a creepy mannequin and the words "gas chamber" prominently displayed behind us as we exchanged vows.
Tom Moeckel (Apop regular): People call me a geek or freak and ask why I like to watch horror and science-fiction films. I go down to Apop just to be around kind people that are into the same things I'm into, and sometimes I just go down there just to pet their kitty cat. They're a terrific group of people and I'm very happy I met them.
Rick Wilson (Skarekrauradio, Apop labelmate): The latest Skarekrauradio release, Coital Mass of the Kuu Poo, was rejected by many labels that our producer Cooper Crain tried to get in touch with in the Chicago area. They all had a problem with the vocals, but Dustin told me the very reason Apop released it was 'cuz of said vocals. Because of this, it reaffirmed to me that Apop "got" Skarekrauradio for whatever reason only our god Kuu understands.
Ben Steggman (Beauty Pageant, Freezerburn artist, Apop regular): [Apop] makes useful information accessible without moralizing it. It's a place with a comfortable couch where I can read smut comics in the afternoon. Every now and then there's a beer in the fridge.
Rick Weaver (Form a Log, the New Flesh): They have a nice grill. The hardwood floor has a fine finish. The paint job ain't so bad either. The basement is a little dingy. Cute crocodile, though.
Melissa Debus (former Apop employee): One time I was working on mail order and accidentally switched the address labels on two separate packages of expensive LPs -- one going to a Mr. Henry Rollins. He complained about the mix-up, but refused to send back the pricey records I'd sent him in error. We mailed out his correct order, but the damn thing ended up costing 80 bucks out of my pocket.
I will never forget the people who would walk in asking for pill capsules, cell-phone upgrades or where the booths were (because apparently we were mistaken for a glory hole by one weaselly gentleman). Or the ladies who would booty dance to harsh noise or noise rock. Or the guys who just didn't get it and would argue about how the music I was playing over the speakers wasn't actual music. I would describe Apop as a place where trash is celebrated, where the transgressions that are usually stowed away in embarrassment are examined in daylight, and where you'd find nothing safe or benign.
Apop Records' last full business day is October 27. Apop also hosts two closing parties on October 29 at Plush and at November 15 at Melt featuring live music. Details available via the Apop Records Facebook page.