Press photo
Then Nelly keeps it real by enjoying a heart-healthy breakfast with his bee pal.
This past week, St. Louis rapper/shoe salesman Nelly has teamed up with cable network/unwatchable blight on humanity BET to release a sixteen-second video in which he awakens at the crack of 10 a.m., slowly rises from his bed, and then adjusts his shorts a little bit. The short film was published on Tuesday, October 14, and has already garnered nearly 20,000 views on YouTube, along with the fawning praise of critics on the site.
See also: Nelly Speaks at Site of Ferguson Unrest, Many in Crowd Unimpressed
As with any piece of True Art, it serves us well to analyze this offering with a critical mind. In keeping, we break the video down frame by frame in an attempt to more fully understand the director's vision.
Screenshot from the video.
0:00 - The piece opens on a silver, battery-powered alarm clock in need of charging. It reads "10 a.m." and begins beeping as a hand enters the frame, fumbling about in realistic fashion as a man we cannot see attempts to silence it. When he finally does so, the score rises in the background -- a slinky beat drenched in reverb and consisting of guitar, drums, bass and a tambourine.
Screenshot from the video.
0:02 - At the two-second mark we see the man's body lying facedown on a bed, a comforter pulled up around his waist and his head lying on one of four overstuffed pillows within the frame. He is turned away from the camera, leaving an air of mystery as to his identity. Bright sunshine peeks through an unshaded window and covers everything in the room with a warm glow.
Screenshot from the video.
0:05 - Five seconds in, the film slyly alludes to just who this man is by revealing the edge of the artwork hung on the wall above him. In a classic case of foreshadowing, the countenance of rapper/good friend of bees Nelly can be seen no less than seven times within the framed work. Could this be a clue? A master of suspense, the director keeps his audience in the dark...for now.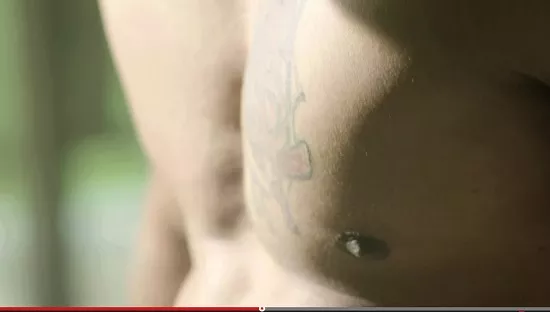 Screenshot from the video.
0:07 - OH YEAH, I'M ALMOST POSITIVE THAT'S NELLY. I'd recognize that nipple anywhere. Interestingly, the director artfully chooses to reveal only one of Nelly's two confirmed nipples, focusing in on it close, while the other is left blurry. It is a tasteful juxtaposition of the known and the unknown, the seen and the unseen, serving to remind the viewer that nothing can truly be sure.
Screenshot from the video.
0:10 - Finally, more than 3/5s of the way through the film, the director reveals the identity of our mystery man. Rapper/master of face-related fashion Nelly displays his cute new mutton chops, giving the side-eye to the full camera crew that is in his bedroom as if to say, "Oh, hello guys. I didn't see you there. I just woke up from bed, you see, and I am still sleepy."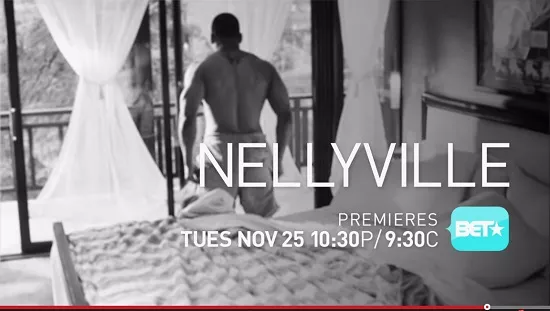 Screenshot from the video.
0:12 - With a jarring transition, the piece shifts from full color to black and white as Nelly -- who just woke up a minute ago and is just now getting out of bed -- stands facing the window and adjusts his shorts a little bit. According to an unconfirmed rumor I heard myself starting earlier today, that part of the film was actually unscripted. In an improvisational turn showcasing the artist's considerable range, rapper/upstanding citizen whose friends totally probably don't sell heroin Nelly said to the director, "What if I tug at my shorts a little bit like they are riding up on my balls and buttcrack? I do that shit all the time when I wake up." The result is compelling, an intriguing extra layer of detail that makes it all the more believable that we as an audience are sitting on YouTube and watching a man get out of his bed.
Then the end credits roll, informing us that this is but a short preview into the upcoming BET reality series Nellyville, set to air next month. Which, if this stunning short film about a guy waking up, getting out of bed and adjusting his clothes a little bit is any indication, is going to be really, really good.
Watch the powerful video for yourself below.
Follow the author on Twitter at @fatrobocop, if you are into that sort of thing.
RFT MUSIC'S GREATEST HITS
The 15 Most Ridiculous Band Promo Photos Ever "Where Did My Dick Go?" The Gathering of the Juggalos' Best Overheard Quotations I Pissed Off Megadeth This Week, My (Former) Favorite Band The Top Ten Ways to Piss Off Your Bartender at a Music Venue
---