Ok, so maybe when it comes to music, length really doesn't matter.
In stark contrast to Pearl Jam's recent three-hour show, Weezer sprinted through its headlining set at Plush in just over an hour. Then again, perhaps this was appropriate, with the band's performance being the grace note of the Rock 'n' Roll Marathon on October 19, 2014, though lead vocalist/guitarist Rivers Cuomo readily admits to failing P.E.
"I was never much of a runner... but for some reason, you picked Weeeeeeee-zer," Cuomo sang during an instrumental interlude. "You're not asking us to run or do calisthenics or push-ups or anything but play muuuuuuu-sic. That's what we dooooooo. That's all we dooooooooooooooo."
See also: - Photos: Weezer at Plush - Pearl Jam Grunts Out an Incredible Three-Hour Set at Scottrade Center: Review, Setlist, Photos
Athletic or not, Cuomo and friends performed a tight, hit-laden set and became more animated and enthusiastic as the show went on, but intrigue began even before Weezer played a single note. As the band's crew set up instruments and equipment, Cuomo and two team members taped about ten sheets of paper near the singer's spot on the stage floor. Bands often post setlists to guide their shows, but we've confirmed that last night's sheets actually contained lyrics to songs from Weezer's newest album Everything Will Be Alright in the End (released October 7), including the tune "The British Are Coming." Cuomo also sat on the floor and wrote notes with a Sharpie.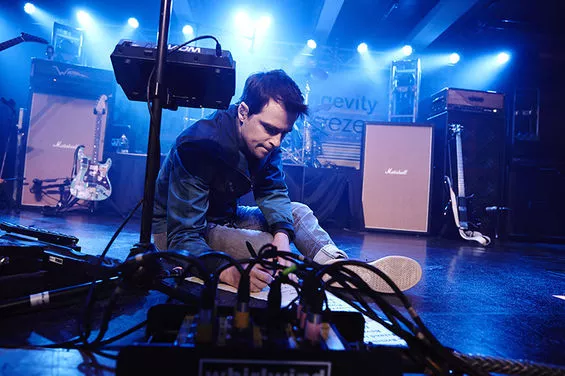 This precluded what ultimately felt like an intimate performance. In the low-capacity confines of Plush, Weezer seemed like just another band as group members tuned their own instruments and casually walked around the stage. Don't mistake that notion as a gripe; Weezer is big business. But with many of its shows over the years also employing some level of spectacle or conceit, last night's "Celebrities: They're just like us!" feeling was refreshing.
When the show finally did start, Weezer kicked things off with Everything's "Ain't Got Nobody," a throwback to the group's poppy alt-rock style of the '90s. One of the classic elements of a Weezer song is three-part harmony, and Cuomo, guitarist Brian Bell and bassist Scott Shriner complied beautifully during the tune's bridge. The band seemed a bit bored or tired, though, perhaps failing to eat the energy bars that the Rock 'n' Roll Marathon supplies to runners.
Next, Weezer went into "Hash Pipe" from 2001's Weezer ("the Green Album"). The song sounded pleasantly grimier than usual, with a bit more amped-up bass. As band leader since 1992, Cuomo proved throughout the night that his voice was nearly as strong as ever, only becoming raspy periodically during the verses to this song (yet surprisingly keeping the falsetto intact here and elsewhere).
On page two, see more photos, plus the setlist!
The band perked up considerably during crowd favorite "Perfect Situation," bopping around the stage and waving at the crowd, and Cuomo then looked genuinely excited to perform two more new songs from Everything: "I've Had It up to Here" and "The British Are Coming." The audience on the floor seemed to dig it, but from our spot in the balcony, all we heard was a dude screaming "Fuck the 'Red Album!'" for the first of seven times, which didn't even make sense since the songs the band currently was performing weren't from the much-maligned 2008 LP.
From there, Weezer strung together several of its singalong hits and new songs in a combination that worked: a slightly rocked-up "Island in the Sun," the fan-dividing "Beverly Hills," a dramatic "Say It Ain't So" and the peppy "(If You're Wondering if I Want You To) I Want You To," perhaps one of the only tunes from 2010's Raditude that fans have embraced.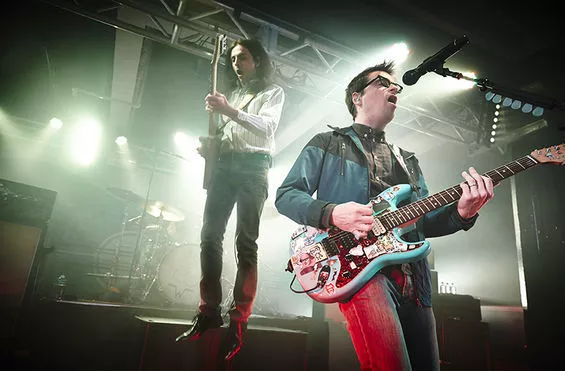 Cuomo removed his jacket to introduce "Eulogy for a Rock Band," his voice as serpent-like as a young Alice Cooper's. He beamed as he finished up the tune, an exclusive for the St. Louis crowd. "That was the first time we ever played that song for an audience, so thank you!"
Toward the end of the 75-minute show, Weezer treated fans to "The Waste Land," an instrumental song that featured bassist Shriner and ran through styles fit for a haunted house, a Queen biopic and a battle march. "This is mostly instrumental stuff from the new album, sorry. Indulge us," Cuomo begged. Fans certainly didn't seem to mind.
The band naturally closed out its short set with "Buddy Holly," 1994's alt-rock anthem and the darling of music video countdowns. Cuomo handed an audience member "The Blue Album" on vinyl and stomped all over his remaining lyrics sheets as he performed the crowd favorite. At the end, Cuomo, Bell and Shriner joined drummer Patrick Wilson on the kit platform for an exciting finale in which every Weezer member simultaneously banged on percussion. The band obviously knew that while length sometimes matters, happiness is more about using what you've got and then exploding out a great ending. So as Weezer finished up its mini-marathon, we were just as exhausted and elated as they were.
SETLIST:
CRITIC'S NOTEBOOK:
* Though Cuomo-style glasses have been deemed fashionable over the years, much of the audience was surprisingly spectacle-free.
* When the crowd went nuts for 2005's "Beverly Hills" (a song we personally loathe), we realized that this was the introductory Weezer single for many of the night's attendees. It suddenly dawned on us that a ton of people weren't even born when the original Weezer album was released in 1994. And then we felt ancient.
* Cuomo waved his hands left and right like Kermit the Frog more and more as the night went on. Also, he sort of pulled Jeckyl-and-Hyde move, with smartly combed hair during his pre-show maneuvers and tousled fuzz once he returned to the stage for the main event.
* PSA: Don't hold your camera in someone's sightline and record video for four minutes straight -- and then proceed to do so for the next six songs in a row. #rude
* The photographers traveling with the band were awfully friendly, smiling and chatting with fans on the rail throughout the night.
* Sleeper Agent opened the show.