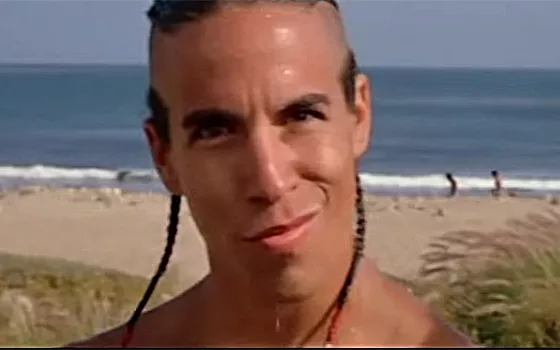 Anthony Kiedis, Point Break (1991).
Not all cameos are equally coveted: A good cameo creates an undeniable rush (I know that person!) that widens the eyes and forces the viewer to blurt out the musician's name when he or she appears on the big screen, like Anthony Kiedis in Point Break. An even better cameo, in which the musician is cleverly disguised or appears so briefly, leaving you puzzled, forces you to rewind. (Was that just Alex Van Halen in Robocop?!) A bad cameo, like Vanilla Ice's dance routine in 1991's Teenage Mutant Ninja Turtles 2: The Secret Of The Ooze, is a mockery. Despite which kind of cameo we find, one thing is certain: We always enjoy seeing a familiar face in an unfamiliar territory.
Let's test your knowledge where movies and music collide. Can you correctly name which musician appeared in the following films? Check your answers on the last page.
See also: Quiz: Can You ID These Bands From Their Famous Typefaces
1. This musician offers advice to Rob, played by John Cusak, during a daydream sequence in High Fidelity (2000). A. Bob Dylan B. Bruce Springsteen C. Neil Young D. Paul Simon
2. This singer/songwriter plays God in Dogma (1999) and uses her vocal cords to behead Bartleby, played by Ben Affleck. A. Fiona Apple B. Alanis Morissette C. Joan Osborne D. Sarah McLachlan
3. Yes, this musician really did show up at the New Years Eve party in 200 Cigarettes (1999), and accidentally left his infamous glasses behind. A. Elvis Costello B. Roy Orbison C. Elton John D. Bono
4. This famous blonde did a hella good job portraying another famous blonde, Jean Harlow, in The Aviator (2004). A. Blondie B. Madonna C. Courtney Love D. Gwen Stefani
5. This musician told Marty McFly and the Pinheads they were just "too darn loud" during their Battle of the Bands audition in Back to the Future (1985). A. Huey Lewis B. Rick Springfield C. Robert Palmer D. Eddie Money
6. This Red Hot Chili Pepper licks LSD from Raoul Duke's sleeve during a scene in Fear and Loathing in Las Vegas (1998). A. Anthony Kiedis B. Flea C. Chad Smith D. Josh Klinghoffer
7. This Seattle rocker with luxurious locks appeared in Singles (1992) as a neighbor who checks out Cliff's sweet car stereo. A. Kurt Cobain B. Nikki Sixx C. Chris Cornell D. Layne Staley
8. This Rolling Stone appears in Pirates of the Caribbean: At World's End (2007) and was the partial inspiration behind Jonny Depp's Captain Jack character. A. Mick Jagger B. Keith Richards C. Charlie Watts D. Ronnie Wood
Continue to page two for more.
9. This rocker and founder of Probot, a heavy metal side project, portrays Satan in Tenacious D: In The Pick Of Destiny (2006). A. Dave Grohl B. Marilyn Manson C. Ozzy Osbourne D. Josh Homme
10. "Just forget you ever saw it; it's better that way," says this country singer who plays the hillbilly pool boy caught shagging the director's wife in Mulholland Drive (2001). A. Garth Brooks B. Toby Keith C. Billy Ray Cyrus D. Tim McGraw
11. This musician played 'the Wanderer' in Domino (2005), and provided music for the film's soundtrack. A. Leonard Cohen B. Nick Cave C. Bob Dylan D. Tom Waits
12. This alt-rock punk band watches Jim's online sexapade during their cameo in American Pie (1999). A. Blink 182 B. Green Day C. The Offspring D. Sum 41
13. This rapper illustrates the following type of smoker in Half Baked (1998): "The Scavenger Smoker never has weed of their own, but as soon as you smoke it, here they come." A. Wiz Khalifa B. Rick Ross C. Snoop Dogg D. Juicy J
14. "See _____ gets it, I don't know why she doesn't get it," says Robbie (played by Adam Sandler), speaking of this famous front man who appears in The Wedding Singer (1998). A. Adam Ant B. Steven Tyler C. Prince D. Billy Idol
15. This famous artist begs Zed to become 'Agent M' in Men in Black II (2002), but is denied. A. Michael Jackson B. Madonna C. Moby D. Meat Loaf
16. The lead singer of this ska band gets scalped by the evil severed hand in Idle Hands (1999) during a performance at a high school dance. A. 311 B. The Offspring C. No Doubt D. The Mighty Mighty Bosstones
Answers on the next page.
Answers: 1. B. Bruce Springsteen 2. B. Alanis Morissette 3. A. Elvis Costello 4. D. Gwen Stefani 5. A. Huey Lewis 6. B. Flea 7. C. Chris Cornell 8. B. Keith Richards 9. A. Dave Grohl 10. C. Billy Ray Cyrus 11. D. Tom Waits 12. A. Blink 182 13. C. Snoop Dogg 14. D. Billy Idol 15. A. Michael Jackson 16. B. The Offspring