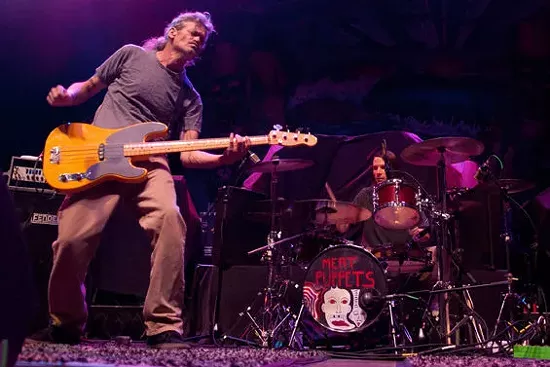 Meat Puppets - Tuesday, October 21 @ Blueberry Hill.
This week we've got a mix of punk and funk with legendary metal (King Diamond) for good measure. Local post-hardcore players Anodes will kick off their tour on Saturday along with busybodies Blight Future and Heavy Horse. The weather's nice, so get out there before the next polar vortex (or maybe not).
Shitstorm Monday, October 20 w/ Gnarly Davidson, Path of the Might, Van Buren, Janet @ Melt 9 p.m. | $5 By Joseph Hess From this 2014 profile: As Shitstorm, Stuttler is a total force of lo-fi rock 'n roll and he does it alone by playing to -- you guessed it -- a cassette. Instead of hauling around a drum machine, he jams to pre-recorded backing tracks. As is the nature with tapes in general, natural degradation occurs, but that's part of the charm with Shitstorm. But that's not to say Stuttler eschews the idea of a live band altogether.
Meat Puppets Tuesday, October 21 w/ Cass McCombs @ Blueberry Hill 9 p.m. | $15/$17.50 By D.X. Ferris From this 2011 show preview: The Meat Puppets' improbable gold album Too High to Die has a title both accurate and true. The band's main men are brothers Cris and Curt Kirkwood, who began playing punk in the '70s, turned hardcore in the early '80s and landed the deal with SST Records, which was bankrolled by Black Flag. Hopped up on weed and classic rock, the longhairs slowed down and began playing creaky tunes that caught the ears of young musicians like Kurt Cobain. Nirvana covered the Puppets' "Lake of Fire" and "Plateau" on its MTV Unplugged on New York album, and new interest led to a major-label deal for 1994's Too High to Die. Drug problems have haunted the band, but it has soldiered on in one form or another. Lollipop, released earlier this year, is a loopy tour de force that ranges from acoustic country-kissed songs to keyboard-backed rockers.
King Diamond Wednesday, October 22 w/ Jess and the Ancient Ones @ The Pageant 8 p.m. | $30-$37 By Rick Giordano Dude. Dude!! Most metalheads thought it would never happen again, but after a grueling nine-year wait the one and only King Diamond is returning to St. Louis. Seven studio albums with Mercyful Fate, twelve as a solo artist, a Grammy nomination and the distinction of having influenced every metal band on Earth since 1980 is only a taste of what qualifies Denmark-born Kim Peterson as a living legend. If you're not already familiar it may be too late for you; you might think falsetto singing and face paint and lyrics about evil grandmothers are funny. They're not. They're fucking badass. And if you are a fan, you'd be a fool if you assume you'll just catch him when he visits St. Louis again in another nine years at the age of 67. Grandmaaaaa!! The King is touring in support of Dreams of Horror, an upcoming best-of compilation, ensuring a night of nothing but prime cuts to go with the "full European theatrical stage show" he promises to bring.
Micky and the Motorcars Thursday, October 23 w/ Sampson Jones Gang @ Off Broadway 8 p.m. | $13-$18 By Roy Kasten With a name that evokes Depression-era cartoons of the little mouse that could and a history that has both crossed paths with second-generation outlaws Reckless Kelly and traced a course from Idaho to Texas, Micky and the Motorcars sounds as good on the lost highway as it does while keg-standing at a UT tailgate party. Play the band loud either way, and the flashes of Tex-Mex accordion, honky-tonk fiddle, brother harmonies -- courtesy of founders Micky and Gary Braun -- and can't-be-improved-upon-so-don't-try Telecaster melodies will provide ample rewards. Micky and the Motorcars breaks zero new ground, but still reminds you why that well-trod Americana terrain is still worth exploring. Micky and the Motorcars has original material to burn, but it's hard to deny the triumph of the group's cover of Alejandro Escovedo's classic "Sister Lost Soul."
Sidewalk Chalk Friday, October 24 w/ DJ Nune is Lamar Harris, Looprat, Jbomb @ The Demo 9 p.m. | $10-$13 By Tara Mahadevan Chicago-bred group Sidewalk Chalk provides its listeners with a well-rounded concert experience, combining live instrumentation, rapping and singing. Because of the diversity of the instrumentation and vocals, Sidewalk Chalk is able to cover a wide range of genres, including hip-hop, soul and jazz. The group's latest release Leaves speaks to the fundamentals -- it's an album about growing up and growing past your history to move forward.
Mavis Staples Friday, October 24 @ The Sheldon 8 p.m. | $40-$45 By Christian Schaeffer St. Louisans (and nearby Bellevillians) don't need another reason to like Wilco's Jeff Tweedy; our local boy made good a long time ago and has proven a restless talent ever since. But his work as producer, songwriter and musician on Mavis Staples' last two records has brought fresh perspective to a voice that shines regardless of the setting. The mix of gospel numbers and contemporary fare (including cuts by Tweedy's friends Alan Sparhawk and Nick Lowe) proves that Staples' deepened and wonderfully burnished voice makes every song a spiritual experience whether or not the Son of God gets a name-check.
Bootsy's Rubber Band Saturday, October 25 w/ Shock G @ The Ambassador 8 p.m. | $35-$55 By Josh Levi Rising through the ranks as the backing bassist of '70s-era James Brown and into interstellar funkhood with Parliament, P-Funk royalty and all-around badass Bootsy Collins has cemented himself in both history and time. Known for his sly low-end thumps and hip-gyrating rhythm, Collins still commands stages worldwide even in his early 60s. St. Louis is serving as one of only two shows in the Midwest, so Collins is sure to pull out all of the stops. With universally throbbing hits like "Stretchin' Out" and "I'd Rather Be With You," Collins bridges generations of motherfunking lovers to ensure the groove continues far into the future.
Anodes Saturday, October 25 w/ Blight Future, Heavy Horse @ Foam 9 p.m. | $5 By Ryan Wasoba Like the greatest bands of its ilk, Anodes lives on the edge of impending collapse. The quartet taps into the cathartic scariness of screamo's forefathers, pushing the intense end of its dynamic to a collective breaking point and reassembling the scraps via reserved, atmospheric passages that would not feel out of place on an Isis record. The contrast works because Anodes never relaxes. Listening to a gorgeous interlude in a song like "Fall and Rise" is akin to staring at the pretty flame eating up the fuse of a bomb. We all know it's going to explode, but the tension is its own reward.
New Found Glory Sunday, October 26 w/ We Are in the Crowd, Fireworks, Red City Radio @ The Ready Room 7:30 p.m. | $20-$24 From this archived write-up: Its musical style -- a fast, pop-punk hybrid with dashes of hardcore -- has evolved, but rarely wavered. New Found Glory's success has come from working hard as opposed to trying hard -- rather than chasing sub-subgenre trends, the band has mostly stuck to its guns. Consequently, New Found Glory occupies the rarefied privilege of moving units and packing bodies into its shows while still enjoying something of a cult status bolstered by healthy punk-scene cred.
Note: Though we wish we could, we can't feature every great show happening in town in just one post. Look for plenty more recommendations this Friday in our weekend shows post, peruse the St. Louis concert calendar for more ideas and let everyone know what else you're looking forward to seeing this week in the comments below. To be considered for coverage in RFT Music, submit show info online or drop us a line anytime.
RFT MUSIC'S GREATEST HITS
Remembering STLPunk.com -- How to View the Site Today and Find Your Old Profile Page "Where Did My Dick Go?" The Gathering of the Juggalos' Best Overheard Quotations The Ten Best Dive Bars in St. Louis The 15 Most Ridiculous Band Promo Photos Ever
---