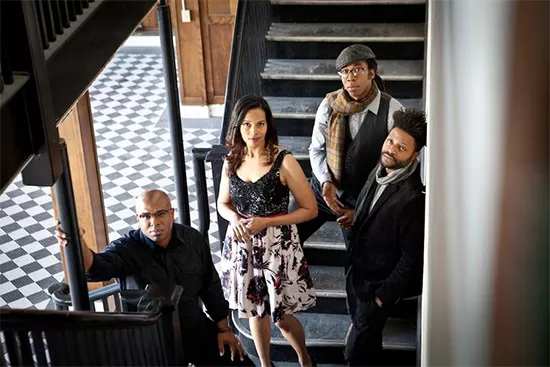 Carolina Chocolate Drops - Sunday, October 19 @ Off Broadway.
This weekend features some heavy hitters, including sold-out shows for both the Carolina Chocolate Drops at the Old Rock House and Weezer at Plush. Not to worry, though. There are still plenty of worthwhile concerts to check out over the next few days. Choose from Crushed Out or Shonen Knife at the Firebird, Jason Derulo at the Pageant, Allen Stone at the Ready Room and more. Our recommendations await after the jump.
Friday (October 17):
Crushed Out w/ The Maness Brothers, Mister Blackcat, Youngest Children @ The Firebird 8:30 p.m. |$8-$10 Brooklyn duo Crushed Out is touring on its new album, Teeth. Get a taste of its unique brand of self-proclaimed "honky-tonk surf blues" via Bandcamp. (MS)
Farout w/ Second Hand King, Prettygirlhatemachine @ Cicero's 8:30 p.m. | $8-$10 Local hip-hop artist Farout returns from his If We Could Prove It's Possible Tour with a homecoming lineup featuring special guests Julz Vurn and Apollo. DJ Mahf hosts. (MS)
Los Straitjackets w/ Deke Dickerson, Jon Paul Keith and the 145s @ Off Broadway 8 p.m. | $15-$18 There's a strange masked man sitting on in the JD McPherson's most recent music video. Who could he be? There's only one way to find out. (MS)
Also on Friday, consider shows recommended by our critics: Jon Mueller at Foam, the Jayhawks at the Ready Room and Alarm Will Sound at the Sheldon Concert Hall. Just click the links to learn more via extended previews.
Saturday (October 18):
Allen Stone w/ Bad Rabbits, Tommy & the High Pilots @ The Ready Room 8 p.m. | $22-$25 Washington-based soul singer Allen Stone has been compared to the likes of Bill Withers and Marvin Gaye, despite the fact that he looks like the hipsteryest white dude I've ever seen in my life. A testament to his raw talent, to be sure. (DH)
The Glitch Mob w/ The M Machine, Chrome Sparks @ The Pageant 8 p.m. | $22-$27 Watch this video. Glitch Mob parked a subwoofer next to some water and then filmed the H2O in extreme closeup. The result will make your Windows Media Player screensavers jealous. (DH)
Borgore @ Old Rock House 9 p.m. | $25 EDM, all the way from Israel! That's a long ways away, in case you were unaware. (DH)
For another option on Saturday, read about Shonen Knife, performing at the Firebird, from our Out Every Night post.
Weezer
Sunday (October 19):
Carolina Chocolate Drops w/ Birds of Chicago @ Off Broadway 7 p.m. | $25-$38 Hopefully you already have your tickets, because this show is officially sold out! And with good reason, given the band's immense talent. (DH)
Jason Derulo w/ Wallpaper @ The Pageant 8 p.m. | $28-$43 Derulo hit big with this year's Talk Dirty, snagging a bunch of awards, climbing the Billboard charts, and headlining world tours and all. Safe to say he will be filling venues larger than the Pageant soon enough; don't miss out. (DH)
MC Chris w/ MC Lars, Spose @ The Firebird 8 p.m. | $15-$17 We are still holding out to see a giant spider in a diaper, but would settle for the real deal, I guess. (MS)
Weezer w/ Sleeper Agent @ Plush 6 p.m. | $50-$100 Say it ain't so. This show, put on as part of the Rock 'n' Roll Marathon is sold out as well. But hey, stand outside and maybe, just maybe, you'll catch a glimmer of Rivers' voice and can live to tell your grandkids about it. (MS)
Also check out Ryan Adams at the Peabody Opera House on Sunday as well as the new Living Like Kings hip-hop multimedia exhibit at the World Chess Hall of Fame. More info awaits behind the links.
Note: Though we wish we could, we can't feature every great show happening in town in just one post. Peruse the St. Louis concert calendar for more ideas, and let everyone know what else you're looking forward to seeing this weekend in the comments below. To be considered for coverage in RFT Music, submit show info online or drop us a line anytime.
RFT MUSIC'S GREATEST HITS
Remembering STLPunk.com -- How to View the Site Today and Find Your Old Profile Page "Where Did My Dick Go?" The Gathering of the Juggalos' Best Overheard Quotations The Ten Best Dive Bars in St. Louis The 15 Most Ridiculous Band Promo Photos Ever
---