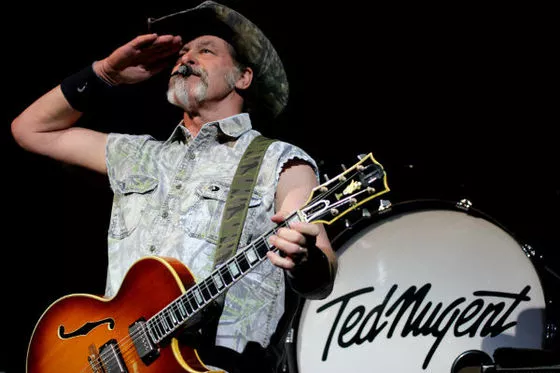 These days, rocker Ted Nugent is probably as well known for his outspoken views on politics and nutty interviews as he is for his music. After taking heat earlier this year for calling President Obama a "subhuman mongrel," Nugent is now speaking out about the shooting of a police officer in Ferguson in late September. In an editorial on the site World Net Daily, he shares his thoughts in a rant about the "plague of black violence that has infested our inner cities."
See also: Ted Nugent's Outrageous Remarks at the NRA Conference: What the Videos Don't Show
"Based on crime stats in Ferguson and elsewhere, it would be a safe bet to assume the two thugs the police are looking for are black males between the age of 15 and 25," Nugent writes. "It would also be a safe bet the two thugs being searched for were raised by a single parent, have criminal records, are high school dropouts, don't have jobs and are very likely to be members of a gang. Just a random Nuge hunch."
Here is what has been released on the shooting: An unnamed officer was shot on the evening of September 28 in Ferguson while approaching two men at the Ferguson Community Center. He was reportedly shot in the arm and suffered no life-threatening injuries. Police have made no arrests, and no descriptions of the suspects have been released to the public.
Using those scant facts, Nugent not only blames African Americans for the officer's injuries but also segues nicely into blaming them for most of the violence in America.
"The Ferguson thugs aren't alone," he added. "The overwhelming majority of violent crime across America is conducted by young, black males who, sadly, are on the self-inflicted expressway to prison or an early grave -- or more often than not, both."
According to Nugent, the "War Against Poverty" is to blame, namely the welfare system (which he colorfully refers to as "Fedzilla welfare crack"). He insists that Democrats used the system to sway black voters.
"Money is the bait," he writes, "and they took it, hook, line and sinker."
RFT MUSIC'S GREATEST HITS
The 15 Most Ridiculous Band Promo Photos Ever "Where Did My Dick Go?" The Gathering of the Juggalos' Best Overheard Quotations I Pissed Off Megadeth This Week, My (Former) Favorite Band The Top Ten Ways to Piss Off Your Bartender at a Music Venue
---