photo courtesy of the band
Meet Twi-fi Sparklecaster and Professor Savvyshy of the Shake Ups in Ponyville.
St. Louis has no shortage of tribute bands. Elevation channels U2, the newly formed We Bite! personifies the Misfits, and at least ten acts impersonate their big-name heroes every year during An Under Cover Weekend. Plus we've got countless cover bands like Dance Floor Riot and the VCRs that expertly play the best hits without sporting the crazy costumes and makeup.
But what the Gateway City doesn't have is a tribute to My Little Pony, that '80s toy bastion of friendship and sparkles. Thankfully, that temporarily will be remedied this weekend when Indianapolis power-pop band the Shake Ups in Ponyville performs during Crystal Fair, St. Louis' own MLP convention. Hooves up, Bronies!
See also: I Watched Four Hours of Brony EDM So You Don't Have To
Celebrating its second year, Crystal Fair will lure hundreds of My Little Pony fans to the Sheraton Hotel in Westport for three days of cosplay, live music, panel discussions, gaming tournaments, vendor swag (get an exclusive My Little Pony plush from Build-A-Bear!) and a preview of the documentary A Brony Tale. Though the family-friendly event caters to fans of all My Little Pony eras, Crystal Fair centers around Friendship Is Magic, the 2010 animated series that launched the widespread acceptance of bronies (adult male My Little Pony fans, though the term has expanded to include women and children).
"Bronies are generally very warm and accepting people. The animated series is a big part of brony culture, obviously, but since its debut in 2010, the movement has really taken on a life of its own," says Patrick O'Connor, vocalist and guitarist for the Shake Ups in Ponyville. "The best brony events really come down to the idea of friendship being magic, and what's amazing is that a lot of people who call themselves bronies really apply the lessons from the show to their lives."
Friendship also is a key theme in the songs that the Shake Ups in Ponyville write, but O'Connor -- known as "Twi-fi Sparklecaster" in the band -- says that the craftsmanship of the Friendship Is Magic television show took him by surprise. Introduced to the show by his wife Savannah ("Professor Savvyshy," who plays keyboards), O'Connor quickly became a fan of FIM's wit. When another My Little Pony convention asked O'Connor's band the Shake Ups to perform in 2013, he changed lyrics to some of his songs to be about MLP characters and themes, launching a whole new career.
"The response we received was very positive, and our music seemed to fit in well with the playful tone of the show, so we decided to make it an ongoing project," O'Connor tells RFT Music. "I've wanted to do an all-ages music project for some time, and Savannah has a background in education, so it's just a natural fit for us."
On page two, get tips for being a brony!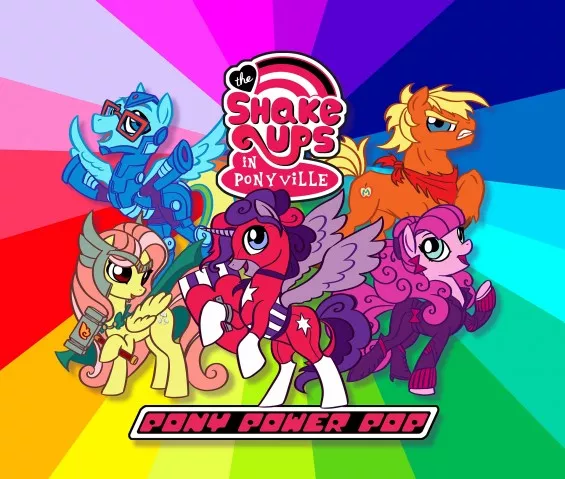 The cover of Pony Power Pop, available from the Shake Ups in Ponyville in November.
Now that the Shake Ups in Ponyville -- which sometimes performs as a duo, like O'Connor and his wife will this weekend, and sometimes performs as a five-piece band -- is prancing on stage regularly, O'Connor has been writing original songs about Friendship Is Magic characters.
"I find it very easy to write from Spike's perspective. On our new album Pony Power Pop (available in November), I have a song about Spike's journey of self discovery, which basically mirrors what I believe a lot of bronies experience [when] trying to find their place in the world," O'Connor says. "We're also big sci-fi fans, so we were chomping at the bit -- pun intended -- to write a song about the Doctor Who-related character, Doctor Whooves. The resulting song, 'Our Little Timelord,' has been one of our most well-received."
See also: - Story: Sonic Boom in St. Louis: Inside The Nerd Convention for The World Famous Hedgehog - Photos: Sonic The Hedgehog Brings The Boom to The Pageant
The Shake Ups in Ponyville performed at major conventions such as Wizard World and GenCon as well as My Little Pony film premieres and community events throughout the Midwest. O'Connor says that reactions to the band's music can "run the gamut from over-the-top excitement to utter confusion," but a stampede of enthusiastic horse lovers makes it all worthwhile.
"I've played at a lot of conventions with different bands, but it's really only been over the past summer that we have fully delved into brony events," O'Connor says. "It is thrilling to look out into a sea of smiling cosplayers, and after a show like that, I usually can't stop smiling."
So how does an adult dip a hoof into brony culture for the first time?
"Just be yourself and don't worry too much about what people think," O'Connor advises. "Have fun with it! Whether it's dressing up as your favorite character, seeking out a collectible or just enjoying a screening of the show with like-minded people, it's about having fun. Find the aspects of it that you enjoy most and go from there."
Just remember one thing, O'Connor says: "Fluttershy is best pony." The Shake Ups in Ponyville will perform Saturday, October 18, during Crystal Fair at the Sheraton Hotel in Westport. Crystal Fair runs Friday, October 17, through Sunday, October 19. For more information, visit theshakeups.net or crystalfairstl.com.
RFT MUSIC'S GREATEST HITS
The 15 Most Ridiculous Band Promo Photos Ever "Where Did My Dick Go?" The Gathering of the Juggalos' Best Overheard Quotations I Pissed Off Megadeth This Week, My (Former) Favorite Band The Top Ten Ways to Piss Off Your Bartender at a Music Venue
---