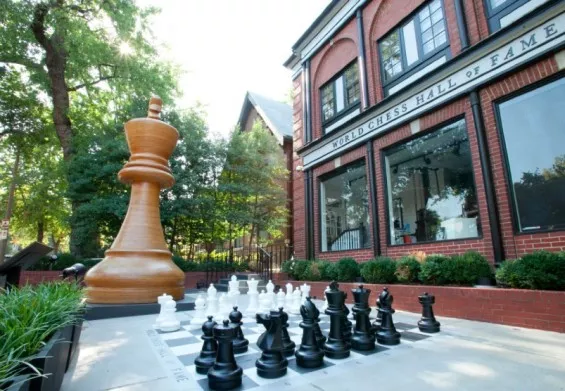 via Facebook
World Chess Hall of Fame
When it comes to chess, hip-hop is king.
That's one of the ideas behind the World Chess Hall of Fame's new exhibit Living Like Kings: The Unexpected Collision of Chess and Hip Hop Culture. Exploring the connections between the game of kings and what is arguably music's most strategic lyrical genre, Living Like Kings demonstrates the creativity needed to achieve checkmate on a number of levels.
It doesn't hurt that Wu-Tang Clan leader RZA is one of the exhibit's most passionate backers, either. The influential rapper and producer is the director of outreach at the Hip-Hop Chess Federation and recently visited St. Louis to celebrate the opening of Living Like Kings.
See also: Circus Flora's "The Pawn" Makes All the Right Moves
"I was deeply impressed with RZA and his dedication to the game. He is a genuine person and a great talent," says Shannon Bailey, chief curator at World Chess Hall of Fame. "St. Louis clearly touched him, and we can only hope he will continue to support us and our efforts throughout this exhibition. His dedication to chess is real, and he talked extensively about the benefits of playing chess and the lessons you can learn from the game."
Grandmaster @BenFinegold playing @Rza last night at #STL #chessclub Ben I appreciate you taking the time to hang with us.
The World Chess Hall of Fame describes Living Like Kings as "an exhibition that explores the surprising ways in which the ancient game of chess intersects with the powerful, creative expression in hip-hop culture, which includes music, fashion, art, dance and spirituality." A record-breaking crowd of chess enthusiasts experienced all of that for themselves during the opening gala, which showcased the exhibit's powerful multimedia experience from artist Benjamin Kaplan as well as a learning lab that presently displays chess- and graffiti-related art, and invites the public to contribute to the show. It's an exhibit that's already generating plenty of word of mouth for the World Chess Hall of Fame.
"We broke our opening night attendance record by a landslide, and we had a line stretching around the block most of the evening," Bailey says. "The crowd has been our most racially diverse, which was a goal of this exhibition -- to bring chess to a large audience. It has been wonderful to see."
Indeed, chess is something anyone can enjoy, and the game is played on stoops and in pocket parks everywhere. But hip-hop and the game of kings have a special connection, with rappers like Jay-Z, Will Smith and GZA of Wu-Tang Clan studying the game and becoming fierce competitors. Chess even makes it into performers' lyrics, such as these by Jay-Z:
This Life Forever

Poppa raised me to chess moves And though your gone I'm not bitter you left me prepared We got divided by the years, but i got it from here Don't sweat that, sounds bump from Marcy to Lefrak To that pocket in DC where my man caught his death at Over my years I've seen Rooks get tooken by the Knight Lose they Crown by tryna defend a Queen Checkmate, in four moves the Bobby Fischer of rap

via MetroLyrics
The World Chess Hall of Fame worked with Hip-Hop Chess Foundation founder Adisa Banjoko to bring Living Like Kings to life. An author and educator, Banjoko uses his nonprofit foundation in the San Francisco Bay area to promote peace, strength and good decision making among youth. It's no surprise, then, that a key element of Banjoko's and RZA's trip to St. Louis included visits to organizations where young people especially could benefit from the lessons that chess can impart.
"Chess teaches you to believe in the power of your mind, to respect history and to look a few moves ahead before you act," Bailey says. "Adisa talked to students about how you can use chess to create a better life for yourself. RZA shared real stories about growing up in New York and how having the ability to look ahead and think for himself rather than fall in with what's going on around him was life-changing."
It seems that the trip to St. Louis affected RZA and Banjoko just as deeply.
Living Like Kings runs through April 26 at the World Chess Hall of Fame, 4652 Maryland Avenue. The exhibit's next special event will feature hip-hop artist and educator Mahogany Jones at 7 p.m. Wednesday, October 22. Tickets are $10 and include valet parking, a drink ticket and hors d' oeuvres. For more information, visit worldchesshof.org.
RFT MUSIC'S GREATEST HITS
The 15 Most Ridiculous Band Promo Photos Ever "Where Did My Dick Go?" The Gathering of the Juggalos' Best Overheard Quotations I Pissed Off Megadeth This Week, My (Former) Favorite Band The Top Ten Ways to Piss Off Your Bartender at a Music Venue
---