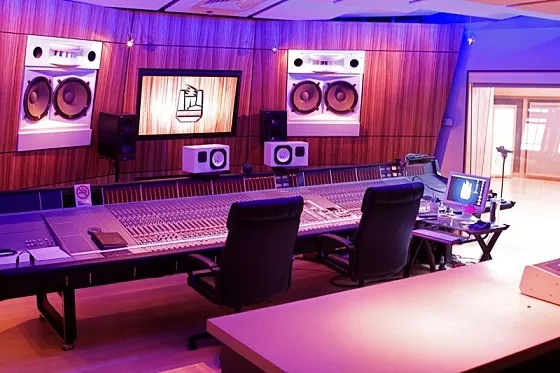 Shock City Studios' head honcho Doug Firley stands on chair in a dim hallway and screws a light bulb into the ceiling. He gives a sharp exclamation when the bulb sears his fingers. From his burnt state, the discomfort seems to jog his memory.
"It's so much harder nowadays to get recognized as a band then it was when I was your age," he says as the light flares and illuminates with a final twist. Firley, a veteran of industrial rock act Gravity Kills, saw the band's rise into radio play during the '90s.
"105.7 the Point was a radio station that had been on the air for a couple years. We turned in a song for The Point Essential and got signed out of St. Louis. We had a record deal based on one song that played on the radio. That doesn't happen anymore."
Firley's solution? Have his ice factory turned $5 million recording studio curate $1500 Kickstart Live campaigns for St. Louis musicians. Shock City, located in South City, and its chosen acts will use Kickstarter, an online crowdfunding platform for creative visionaries, to establish a narrative for funding a live album and video via donations.
After his success with Gravity Kills, Firely switched focus to recording. As Shock City developed and started to interact with contemporary recording companies, Firley noticed a paradigm shift. "Record companies used to do your thinking for you," he explains. "When you would get signed, you'd immediately have handlers and management and booking agents and tour managers. That's not around anymore."
With an influx of internet file sharing and record sales in decline, record companies are less apt to sign a band. "The money is not there the way it used to be 25 years ago. [Bands] have to do the work. You did it for the love of the music back then; you really have to do it for the love of the music now. Record companies won't sign you unless they see effort and results. Record labels don't have street teams, or call up radio stations and ask about who is buzzing like they did for Gravity Kills. They take to the internet to see who is creating their own traction, fanbase. It's up to bands now to market and shop themselves."
"The nice thing about Kickstarter is it helps you develop your pitch," says Firley. "You're able to focus a plan and show initiative. It's one thing to go to parents or friends and ask for money for a project; it's something else to show that you have the follow-through and you have thought it out. There is no 'Give me money, I have a dream.' You show you have an objective."
Shock City's Kickstart Live includes a seven-song live album and a live video recorded and shot inside the studio's spectacular live room. "This is the perfect studio for bands to do Kickstarter campaigns in, because this room is great for live recording. We have a lot of booths -- just a lot of room for everybody. A full band plus audience plus cameras, gear and microphones. There's just no other studio in town that can offer that." The bands who are chosen will work with Shock City to make a multimedia promotional campaign targeting record companies and national audiences.
Continue to page two for more.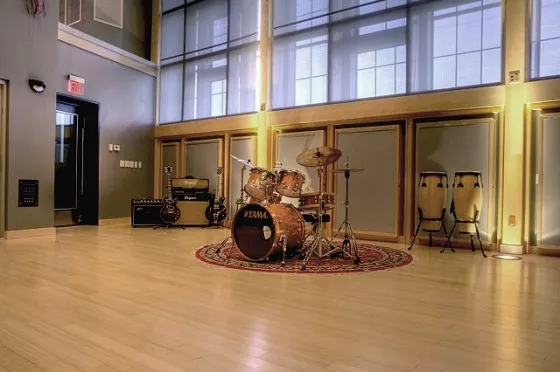 Blair Stiles
Shock City's expansive live room.
Selected acts receive time with one of Shock City's staff engineers, who assist the band's Kickstarter campaign. "Everything from pre-qualifying a band to helping to collect all the deliverables we have to help put on the Kickstarter site: bio, pictures," says Firley, "Once the two weeks of campaigning are done, then the real work begins."
The acts with successful campaigns play a 60-minute set surrounded by fans, friends and family who donate. "The entire set is recorded from multiple locations using HD equipment. The best song being spliced into a highly shareable -- and clickable -- music video for the digital age. Bands are then given the extra footage to do as they wish. Firley sits down in a chair, still under the refreshed light and adds, "It's your money and your material, y'know? Don't leave it here. Walk with all your hardrives and if you want to take that footage and make your own video, good. If you want us to edit the rest of the videos for you, we can negotiate that, but the first one is built into the campaign."
The goal of Shock City's assisted Kickstart Live campaign is to give bands the products they need to market their music like a business, seeking better opportunities and larger audiences. "There is the product they get out of the campaign, the sense of satisfaction they get out of completing the campaign and what's most important: confidence. I would want them to have the confidence to keep going and think bigger."
"A band is absolutely a business," he continues. "With this campaign, you've come up with a project and you have marketed it then sold it."
Firley repositions himself under the light. From beneath his weathered cap, his eyes widen, "That's why we are doing this Kickstarter campaign. To give bands the tools they need to get to that next level."
RFT MUSIC'S GREATEST HITS
The 15 Most Ridiculous Band Promo Photos Ever "Where Did My Dick Go?" The Gathering of the Juggalos' Best Overheard Quotations I Pissed Off Megadeth This Week, My (Former) Favorite Band The Top Ten Ways to Piss Off Your Bartender at a Music Venue
---