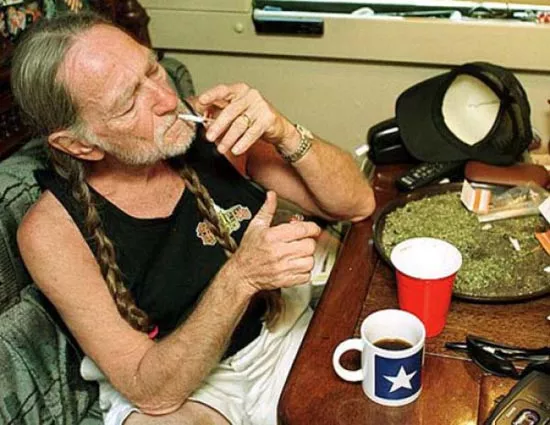 Willie Nelson will NOT perform tonight at Lindenwood's J. Scheidegger Center for the Arts.
UPDATE: Willie Nelson's show has been canceled due to "artist illness." Organizers of the show are planning a make-up date.
This weekend sees new local releases from Jack Grelle, Hurt Feelings, and Banks and Cathedrals. For some other exciting events, check out the last show at Apop Records, see the Fifteen Keys: the Guitars of St. Louis exhibit, or choose from a long list of concerts happening across town including Merchandise, Vice and a free show featuring Dead Prez and Talib Kweli. Read on for our recommendations.
Friday (October 10):
Lou Gramm @ River City Casino 8 p.m. | $35-$50 Dude it's the singer of Foreigner! This photo says more than any words I would write ever could. (DH)
Willie Nelson & Family @ Lindenwood's J. Scheidegger Center for the Arts 8 p.m. | $69.50-$99.50 THIS SHOW HAS BEEN CANCELED DUE TO "ARTIST ILLNESS."
Also on Friday, Jack Grelle releases a new record at Off Broadway, Phonocaptors plays its last show while Hurt Feelings releases a new album at Plush, and CaveofswordS performs at Schlafly Tap Room. Just click the links to read more about the artists.
Saturday (October 11):
Bad Boy Bill w/ JCruz, DJ Hurley, DJ Dev @ Europe Nightclub 9 p.m. | $10-$15 Sometimes Chicago DJ Bad Boy Bill plays on six turntables at a time. That's, uh, really fucking hard. Makes sense that he's won so many awards, then, huh? (DH)
Banks and Cathedrals CD Release w/ Wildeyed, Other People @ The Demo 8 p.m | $8 Check out "Jazz Funeral" from the upcoming Crescent City Lights EP. It'll be available with five more rockin' songs on CD at this show for only five bucks. (MS)
Brotha Lynch Hung w/ Wally Kuhlenberg, Kommon Groundz, Major Money Mafia, Baytron, John Boi, Frodo the Ghost, Kodakk the Boss, Brian G, Sawblade @ The Mad Magician 8 p.m. | $20-$25 A Strange Music joint, so you know what to expect. Give the people some friendly "woop woop"s while you're there. (DH)
Jealousy Mountain Duo w/ Don Vito, Yowie @ Schlafly Tap Room 8 p.m. | free This bill features not one but two bands all the way from Germany. Jealousy Mountain Duo does some intense semi-improvised pieces that wax and wane with shapely guitar and drum parts built around a looping pedal, while Don Vito plays funky, heavy noise rock. Click the links to hear 'em. (MS)
Merchandise w/ Lower, Demonlover @ The Luminary 9 p.m. | $10 Merchandise coins itself as "punk misanthropy" and "pop genius" while Lower from Copenhagen's descriptors include choice tags "rock" and "downer." Hear what they mean here and here. (MS)
SLLAW-IV w/ DinoFight! @ Way Out Club 8 p.m. | $5/$7 This installation of the St. Louis Lady Arm Wrestlers throws down a wrestling booth, half-time entertainment by local rockers DinoFight! and more to benefit Magdalene House. More details available via Facebook. (MS)
Water Liars w/ Union Electric, Old Capital Square Dance Club @ Off Broadway 9 p.m. | $10-$13 St. Louis ex-pat Justin Kinkel-Schuster performs with his group Water Liars this weekend -- check out this Homespun review to learn more about them -- and returns to Off Broadway for a solo set in December. (MS)
For more options on Saturday, consider catching Skulls Mind and more at Apop Records' last show ever, head to Tick Tock Tavern for a Town Cars listening party, check out the Fifteen Keys: the Guitars of St. Louis exhibit at the Stage at KDHX, or see Chick Corea at the Sheldon.
Sunday (October 12):
Vice w/ Resolute, Dissention, Freak Out @ Fubar 8 p.m. | $8 Show up early -- like, 8 hours early, at noon -- and catch a FREE show featuring DEAD PREZ and TALIB KWELI. Rally for peace in relation to Ferguson October, then mosh all of your friends to death to the hardcore stylings of Vice. (DH)
The War on Drugs> also plays in town this Sunday at the Ready Room.
Note: Though we wish we could, we can't feature every great show happening in town in just one post. Peruse the St. Louis concert calendar for more ideas, and let everyone know what else you're looking forward to seeing this weekend in the comments below. To be considered for coverage in RFT Music, submit show info online or drop us a line anytime.
RFT MUSIC'S GREATEST HITS
Remembering STLPunk.com -- How to View the Site Today and Find Your Old Profile Page "Where Did My Dick Go?" The Gathering of the Juggalos' Best Overheard Quotations The Ten Best Dive Bars in St. Louis The 15 Most Ridiculous Band Promo Photos Ever
---