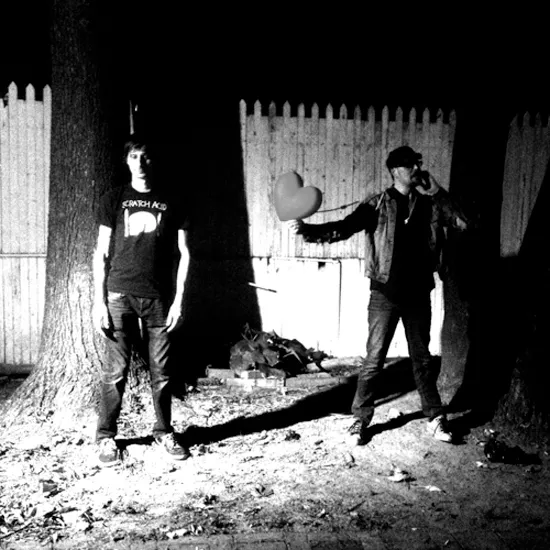 Photo by Jaime Lees
Jeff Robtoy and Jason Hutto team-up tonight at Plush.
In this column, RFT Music gets to know local creatives, musicians and their missions. Get a slice of the local scene, complete with a snippet of sound and info about upcoming releases and shows. Stick around to see what St. Louis artists have to say whenever they Fill in the Blank.
"I just make records that I feel represent the world around me. Is everything going to be OK?" asks local artist and musician Jeff Robtoy. While that's a rhetorical question, he'll ask it again tonight at Plush with the record release and first live performance of his project Hurt Feelings. This show is also a sendoff to fellow musician Jason Hutto, who helped out and played on Robtoy's new album I'm in Love.
See also: Jason Hutto Leaves Considerable Legacy Behind in St. Louis With Farewell Show
"Jason Hutto was paramount to the project. I engineered everything and then had him clean up my mess. 'Make this sound like an album.' I'm very demanding of the people around me, it seems," Robtoy says.
While Hutto played a major role, Robtoy also brought in members of Bug Chaser, Forteana, Demonlover and even his other band Tone Rodent to contribute. Many artists on the album also played in the now-defunct Glass Teeth and Pillow Talk -- two of Robtoy's former bands.
"I feel like it's an extension of everything I've done with all of those groups. I take influences from everything -- my past and current bands, my peer's bands," he adds.
Hurt Feelings sounds like a somber confession of past musical crimes. Elements of Robtoy's earlier, snarky punk bands come mixed with outsider rock. Spoken word permeates layers of guitar on some songs, while vocals take a back seat to intricate instrumentation on others.
Wood engraving by Tim Robtoy
As a frontman, Robtoy was known to jeer at the crowd, daring them to be anything other than bored and unaffected. He insulted the uninterested, skewered barflies and owned every ear in the room with rough-edged vocal growling. Hurt Feelings retains that prodding tone, rife with dark humor.
"I've been doing home recordings since I've been playing music. It just felt like time to put some of it out there," he says. While Robtoy has been releasing solo records as Hurt Feelings since mid-2012, I'm in Love is the first with an emphasis on production and collaboration.
Although he still performs guitar in Tone Rodent, it's been more than a year since Robtoy took a leading role. At first, Hurt Feelings was meant to be a recording project, but he's all set to perform live tonight with a rotating cast of backing bandmates.
"I was just making some music I hoped people would like or relate to. I was trying to figure out how to have a release show for the album -- like maybe a listening party or something -- and Chris Keith said, 'We should just play it live!' So, It's his fault."
Read on for more with Jeff Robtoy as he Fills in the Blanks ahead of tonight's show at Plush.
Jeff Robtoy
What I like most about St. Louis is... the incredible amount of good music coming out of St. Louis the last five to six years. We finally beat the alt-country bar rock scene!
I make music because... I don't know what else to do.
I've learned the most from... everybody all the time.
I'm most productive when... I'm focused on a goal.
Eight current artists worth listening to are... Lumpy & the Dumpers, Maximum Effort, Trauma Harness, Bug Chaser, Broken Prayer, Protomartyr, Black Panties, Black Panties!!!
The best post-show food in St. Louis is... I had to answer this question a few months ago for a different band, and it's a hard one. I think I said something to the effect of: "People eat after they play? What do they say? Pizza?" I still feel like that's the correct answer. It's funny that you ask all these deep questions and then finish with "What food do you like?"
Follow Jeff Robtoy and his project Hurt Feelings via Bandcamp or Facebook.
Hurt Feelings Record Release Friday, October 10 w/ The Phonocaptors and Bug Chaser @ Plush 9 p.m. | $5
Previously from our Fill in the Blank series: - Perfect People - Hands and Feet - What We Won't See - Travis Bursik - Black James - Shitstorm - Shark Dad - The Uncredibles - The Ded Bugs - Stonechat - Les Gruff and the Billy Goat - Nato Caliph - Jah Orah & KD Assassin - Zagk Gibbons - Britches - The Maness Brothers - Con Trails - This City of Takers - Syna So Pro - Eric Hall - Pink Sock - Scrub - Pet Rock the Musical - The Glass Cavalry - The Blu Skies - Animal Teeth - Popular Mechanics - Brotherfather - Bad Dates - Beauty Pageant - Pillow Talk - The Tennis Lesson - The Funs - Brothers Lazaroff - Quaere Verum - MME - Sarah Bollinger - Little Big Bangs - Everything Went Black - Lions Eat Grass - Kevin Harris - Laika - Heavy Horse - Barely Free Partial Prisoners - The Defeated County - Lizzie Weber - Kenshiro's - B.E.L.L.A. - Superfun Yeah Yeah Rocketship - Humdrum - The Blind Eyes
---