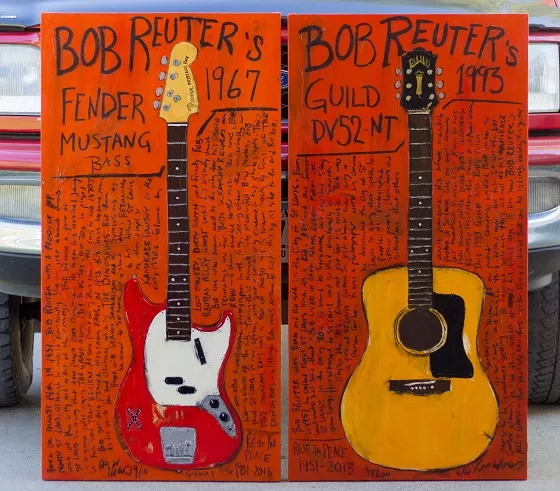 Courtesy of Fugitive Art
Karl Haglund's paintings of the late Bob Reuter's guitars.
We all know that a musician makes art, but in some cases, a musician makes art. Tangible art. Visual art.
Karl Haglund is just such an artist. A painter from Charles City, Iowa, Haglund grew up with creative parents, forging his own paths through both music and craftsmanship. As an adult, though, Haglund has managed to merge his interests, painting extremely detailed guitars and sharing musicians' stories of what makes these instruments so personal and special.
"I see an old guitar that's beat up, and I think of it as a work of art instead of just an instrument," Haglund tells RFT Music. "I see the guitar as its own piece of art in itself."
See also: Painter Karl Haglund Brings St. Louis Musicians' Guitars to Life On Canvas
In this week's music feature, Haglund explains how he got into this specific type of art and why it's meant so much to him. Estimating that he's painted 140 to 150 guitars, Haglund has immortalized the famous axes of Billy Bragg, Jay Farrar, Jeff Beck and many more. He'll paint just about anything, no matter if it's for a musician or for an art lover. But the man does have some standards.
"I turn down some commissions that I just don't want to do," Haglund insists. "I don't want to do a Taylor Swift guitar. I don't want to do a John Mayer Strat."
Below, Haglund shares with RFT Music a few stories behind some of the more famous guitars he's painted, as well as for the St. Louis guitars represented in his October 11 exhibit, Fifteen Keys: The Guitars of St. Louis, which takes place at the Stage at KDHX (3524 Washington Avenue). Tickets are $5.
Courtesy of Fugitive Art
Will Johnson's Water Tank Custom
WILL JOHNSON
Haglund's favorite band is Centro-matic, the Texas outfit fronted by Will Johnson. A guitarist himself, Haglund struck up a friendship with Johnson, whose own art later inspired Haglund's work.
Will Johnson creates baseball paintings. He also has this water tank custom guitar built by Creston Lea in Vermont, and these are really cool guitars made from an old stave off a train, hence the name. So I'm looking at Will's art one day -- how he does the baseball player with the bio and the history -- and I thought it would be cool to do. At the time, I thought, "Well, I'll just do Will's guitar like this," because I'm pretty much a Centro-matic nerd of the highest order. I painted the guitar and pretty much took the story straight off the website; this was just going to sit in my basement like a lot of my other artwork. But then I decided to contact Will's manager to see if Will would like the painting. I ended up just giving it to Will, and it hangs in his house. That was really the start. I thought, "Will really liked this," and I respected his musicianship and his art. His art has a lot of soul, which is something I always go for -- I hope that my art has more soul than anything else. So it just was an affirmation for me.
Courtesy of Fugitive Art
Billy Bragg's 1983 Burns Steer
BILLY BRAGG
As Haglund painted more and more guitars on canvas, word began to spread. You know you've made it when Billy Bragg asks you to replicate a beloved instrument through paint.
The Billy Bragg one, I did that as a commission for him. When he played St. Louis last year, he did an in-store at Vintage Vinyl. He saw my prints hanging up there and sent me an email the next day. That's one of those emails you get where you try not to use the F-word -- you're so excited, but your kids are in the room and you try to come up with alternative ways to express your joy.
See also: - Billy Bragg Performs Surprise Set at the Royale For Ferguson: "Liberty and Justice for All!" - Photos: Billy Bragg at the Royale
Continue to the next page for more.
Courtesy of Fugitive Art
Ryan Adams' Buck Owens American Acoustic
RYAN ADAMS
Sometimes the artists themselves commission Haglund to immortalize their guitars through art, and sometimes they simply are excited to supply him with information about their favorite instruments. Ryan Adams was one such musician in the latter camp.
I did Ryan Adams, his Buck [Owens] acoustic -- the red, white and blue Buck Owens guitar. I was able to get hold of him, and he loved it. He gave me all the information and told me the story about what that guitar meant to him, so that was really cool. I did that as a commission, so I didn't get to enjoy having that painting around; a lawyer down in Texas commissioned that one. I sell a lot of paintings to lawyers. I don't know what it is with that, but they have the means and they all love music.
See also: - Ryan Adams at the Peabody Opera House, 1/31/12: Review, Illustrations and Setlist - Why Ryan Adams Isn't Allowing Photos On His Current Tour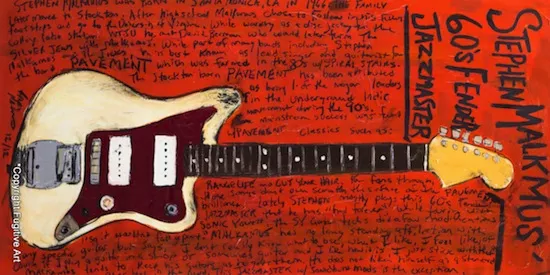 Courtesy of Fugitive Art
Stephen Malkmus' '60s Fender Jazzmaster
STEPHEN MALKMUS
Haglund pours a ton of research into his work, trying to find photographs that show the guitars' nuances and interviews where musicians speak lovingly about their instruments. Sometimes, though, even the brain thwarts even the best efforts, as Haglund found out while painting the Jazzmaster of Pavement's Stephen Malkmus.
I ended up going back to college and then doing my master's degree, and I think that really taught me a lot about research. The internet is a tangled web -- I have to double source and triple source things, and I know there are things I get wrong. I misspelled Stephen Malkmus' name. I added an extra "U" or something.
Courtesy of Fugitive Art
Chris Grabau's 1989 Gretsch Duo Jet
CHRIS GRABAU
Haglund is an old-fashioned artist's artist. Sure, getting money for his craft is nice, but he also barters for swag from bands and other artists. That's how the "transaction" with Chris Grabau went down earlier this year, just before Grabau's album-release show with Magnolia Summer.
I met him at the Centro-matic show a year and a half ago, and I'd already known Chris as a Gretsch player. I'd admired that Gretsch, so it was as fun to see Chris play live as it was to see the Gretsch being played live. And he made a joke, "Are you going to do a Gretsch painting?" I started thinking about it, and I did the painting. I traded it for some Magnolia Summer stuff. I'm a collector, myself, so I like to collect concert posters and vinyl and CDs. I'm fine taking a lot of cash for a painting, but I'm also fine taking some really cool art.
See also: - Magnolia Summer Returns with The Hill or the Climb - Magnolia Summer Made the Clash's Mick Jones Run Away: Feature Extras
Continue to the next page for more.
Courtesy of Fugitive Art
E.J. Fitch's 1986 G&L Broadcaster
E.J. FITCH
In St. Louis, musicians famously lift each other up, standing front and center at each other's concerts and offering their own local RIYL ("Recommended If You Like") suggestions. That's how Haglund ended up painting E.J. Fitch's guitar and incorporating so many great St. Louis musicians into the art exhibit.
Doing Grabau's guitar got me thinking, and he's how I initially found the other musicians [for the show]. I had Chris recommend somebody, so I'd contact them, and then I'd ask them to recommend somebody else. So instead of just painting the musicians or bands that I already knew about, it was each musician recommending the next person. I found one of my favorite bands that I didn't even know existed, which is E.J. Fitch and Soma Jet Set, and I've been listening nonstop. I never would have discovered that band had I not been letting the musicians tell me who they admire. I think it makes the show more legit instead of just from my point of view.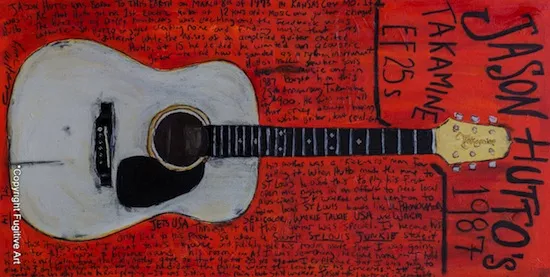 Courtesy of Fugitive Art
Jason Hutto's 1987 Takamine
JASON HUTTO
In his particular type of art, Haglund has learned that guitars are treasured keepsakes that represent a cherished person or nostalgic era. He says that Jason Hutto, who soon will depart the St. Louis music scene after seventeen years, has just such a guitar.
He's got a white Takamine. That's his cherished guitar. His mother bought it for him, and he kind of views it as his only real connection to his past. At first he was a little embarrassed because he didn't really want a white guitar at the time, but he loved his mom, and he's held onto it ever since. It's probably the guitar he thinks about more than any other.
See also: Jason Hutto Leaves Considerable Legacy Behind in St. Louis With Farewell Show
In the video below, Haglund demonstrates the steps that went into painting Fitch's guitar, from building the frame to sketching the instrument to applying modeling paste and paint. Oh, and there's more than one beer step, too.
RFT MUSIC'S GREATEST HITS
The 15 Most Ridiculous Band Promo Photos Ever "Where Did My Dick Go?" The Gathering of the Juggalos' Best Overheard Quotations I Pissed Off Megadeth This Week, My (Former) Favorite Band The Top Ten Ways to Piss Off Your Bartender at a Music Venue
---